What to read this summer if you enjoyed the Man Booker longlist
Already devoured the Man Booker longlist, which was announced on Wednesday? Here are our summer reading awards chosen by our Literary Editor
Katy Guest
Saturday 01 August 2015 23:10 Comments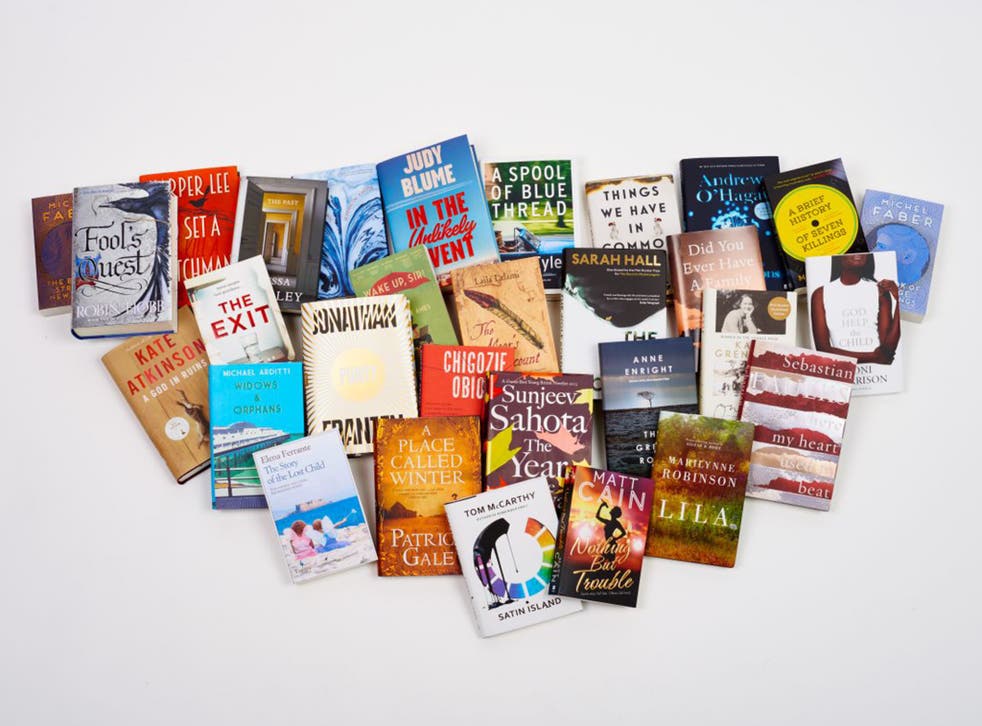 THE BEST NOVEL YOU HAVEN'T READ YET
British publishers often bring out their best Man Booker contenders in September, the last eligible month, perhaps to leave them fresh in the judges' minds. American Bill Clegg's Did You Ever Have a Family was due to be published on 17 September, two days after the shortlist is announced, but his publisher brought forward publication to August once it was put on the longlist.
Jonathan Franzen, whose novel Purity is published on 1 September, must be licking his wounds after his longlist snub, as must the former shortlister William Boyd, whose Sweet Caress is out on 27 August. Elena Ferrante's The Story of the Lost Child and Salman Rushdie's Two Years Eight Months and Twenty-Eight Nights are also published in September, and might have made worthy Booker contenders in a less strong year.
ANNE ENRIGHT AWARD FOR THE BOOK MOST LIKELY TO MAKE YOU BLUB ON THE BEACH
… this year goes to The Green Road by Anne Enright, who was described by this paper's reviewer as "that rare thing: a very, very good writer".
It's good to see Enright back on the longlist (she won in 2007 for The Gathering), but many of this year's saddest books have been non-fiction: Clive James's possibly last collection of poetry, Sentenced to Life; Terry Pratchett's "complex and angry" collection of non-fiction, A Slip of the Keyboard; and Xinran's Buy Me the Sky, in which she examines the effects of China's one-child policy on this unique generation of "single shoots".
THE BOOK WITH THE MOST GLAMOROUS LOCATION THAT MOVIE MAKERS WILL BE QUEUING UP TO FILM
This year, sees the Booker's first Jamaican contender: Marlon James for A Brief History of Seven Killings. That is a fictionalised account of the attempted assassination of Bob Marley (but who would play him in the film?) and submerges the reader in the Jamaica of the 1970s and early 1980s.
Location is equally key in Elif Shafak's The Architect's Apprentice, in which 16th-century Istanbul "is the real star, the teeming bustle of the streets, the whorehouses and palaces, the markets and mosques, the dungeons and bridges". And personally I'd be intrigued to see a film of Michel Faber's The Book of Strange New Things, set on a distant planet with a Christian missionary, a longed-for wife and the most credible aliens in recent fiction. It's a heartbreaking work – not least because Faber says it is his last – and a surprising omission from this year's longlist.
THE BEST FICTIONALISED VERSION OF REAL EVENTS
The Moor's Account by Laila Lalami is set in 1527, when the Castilian conquistador Pánfilo de Narváez sailed from Spain to claim La Florida for the Spanish. Much like Americans are claiming the Man Booker Prize, now, with their five out of 13 authors on the longlist in only their second year of being allowed to join in, bah humbug.
Some Brits have been secret fans of American fiction for ages, and will remember Judy Blume for her teenage novels. In the Unlikely Event is a book for adults, about a town left reeling after three planes crash there. It was inspired by Blume's childhood. If you prefer your real events unfictionalised, Orange Prize-winner Kate Grenville's One Life, a memoir of her mother, is wonderful. But for truly fictional fiction, the collection of lost fairy tales The Turnip Princess, and Robin Hobb's latest fantasy Fool's Quest (13 August) are unbeatable escapism.
THE ALWAYS-THE-BRIDESMAID AWARD FOR NOVELISTS WHO HAVE BEEN SHORTLISTED BEFORE
Congratulations to Tom McCarthy, who was shortlisted for C in 2010 and is now longlisted for Satin Island (and also to Andrew O'Hagan, see Granta category right, who has been longlisted twice and shortlisted once).
Bad luck to Kazuo Ishiguro, who for once won't have to worry about dry cleaning his Booker-night tux. Despite having been shortlisted for An Artist of the Floating World, When We Were Orphans, and Never Let Me Go, and winning in 1989 with The Remains of the Day, he has not been longlisted this year for The Buried Giant. Its medieval setting and fantasy tone (it has real dragons) will surprise some fans, but this is classic Ishiguro, about love, memory and forgetting, a couple on a quest, and a delightfully scatty Sir Gawain. Its ending will have you blubbing into your sangria.
BEST NOVEL NARRATED BY A CHILD
The Fishermen, by Chigozie Obioma, is set in a small town in Nigeria, and tells the story of four brothers. It could hardly be more different from Things We Have in Common by Tasha Kavanagh, which is set in a small town in Britain and tells the story of 15-year-old Yasmin who is overweight and bullied at school. The strength of each is the voice of its young narrator. Yasmin is a teenage fantasist – not likeable, exactly, but compelling. She fixates on Alice, the pretty girl at school, and then on a man she sees watching her … and then Alice goes missing … I read it en route to a holiday cottage at Easter, and had to sit in the car on arrival to finish it. It has the most chilling last line you'll read this year.
THE 'GRANTA' TOP 20 NOVELISTS FULFIL THEIR PROMISE
Every decade, Granta magazine publishes a list of 20 Young British Novelists to watch, and usually we don't have to watch them for long. Andrew O'Hagan was tipped in 2003, and now he is Booker longlisted (for the third time) for his cross-generational family story, The Illuminations.
Pat Barker (Granta 1983) might have expected a sniff of a Booker longlisting for Noonday, her first Second World War novel, published on 27 August, as could Louis de Bernières (Granta 1993) for his First World War saga, The Dust That Falls from Dreams.
A L Kennedy (Granta 1993 and 2003) has a new Dr Who novel out soon called The Drosten's Curse – she's a fan, but if you're not, read Kennedy anyway for her unique humour. Sarah Hall (Granta 2013) has been both longlisted and shortlisted for the Booker, but this year The Wolf Border missed out. It's a vibrant, beautifully written novel about the "rewilding" of Britain with wolves, and its muscular, sexy prose – "glistening light on the hills … the myrrh of autumn … upland pheromones" – will make you wish you were holidaying in the Lake District.
THE ALL-AMERICAN BEST READ
Marilynne Robinson has been shortlisted for the Man Booker International Prize twice before, so now that the Man Booker accepts American novels she was a shoo-in with Lila.
The most talked-about US novel of the year was undoubtedly Go Set a Watchman by Harper Lee, a novel that had the unique misfortune to be judged against To Kill a Mockingbird. It's not as good as Mockingbird, but as an angry, political account of 1950s America in a young woman's voice, it's not bad.
Reading it reminded me of Attica Locke's Pleasantville, an intelligent thriller set in one of the black communities that Watchman's Atticus Finch so feared. It's smart and challenging as well as a real page-turner.
THE PERSONAL-MEETS-POLITICAL NOVEL SET IN THE MOST UNLIKELY COMBINATION OF COUNTRIES
Well done to Anuradha Roy, who has managed to set her teeming and movingly beautiful novel Sleeping on Jupiter in both India and Norway.
The South African-British novelist Justin Cartwright manages Notting Hill, the New Forest, Cape Town and California, Boer leaders and Scientologists, in his brilliant Up Against the Night, published on 27 August, and while Patrick Gale only has two countries in A Place Called Winter, it is a wonderful read about a gay English man in a Canadian prairie town in the early 1900s.
THE TOURIST INFORMATION AWARD FOR the MOST DEPRESSING NOVEL ABOUT LIFE IN THE UK
Sunjeev Sahota brings a group of very different Indian men to a cramped house in Sheffield in his fascinating and shocking The Year of the Runaways.
Michael Arditti, meanwhile, chooses an unnamed seaside town for the setting of Widows & Orphans, about the struggling editor of a failing local newspaper whose travails reflect those of modern Britain, while Helen FitzGerald uses a care home in Glasgow for her cross-generational, morally ambiguous thriller, The Exit. Samantha Shannon's dystopian Oxford and London in The Mime Order – the second in a seven-book series which began with The Bone Season – will make a bit of holiday rain look like nothing.
JAMES KIDD's PICK OF THE YEAR
In January 2014, The IoS's ace reviewer first contacted me about the American novelist Karen Joy Fowler, urging me to consider her "massively enjoyable and pleasingly odd" We Are All Completely Beside Ourselves. It was published in March, was a word-of-mouth hit and made last year's Booker shortlist. This January, James was on at me about The Chimes by Anna Smaill (see Interview, page 24), a Young Adult crossover novel about which he had a feeling .... Lo and behold, it is Booker longlisted.
Next year, I'm putting a bet on James's top tip, but in the meantime I'll be reading his other favourite novels from 2015: the wickedly funny Woody Allen/P G Wodehouse homage, Wake Up Sir, by Jonathan Ames, and Tom Drury's "masterpiece", The End of Vandalism, "the finest [novel] published this year".
THE 'THIS BE THE VERSE' AWARD FOR FAMILY SECRETS AND LIES
You might look askance at the person in the next deckchair while reading Anne Tyler's A Spool of Blue Thread, a novel about lies and self-deception in family life.
Tessa Hadley's gentle but riveting The Past also flits between a group of siblings both as children and as grown-ups, gradually revealing what has been hidden, including something nasty in the woodshed. Fans of Kate Atkinson's Life After Life will want to catch up with brother Freddy in her new novel, A God in Ruins. The best novel ever to start with a lesson about sperm motility, The Kindness, by Polly Samson, is brutal, brilliant and beautifully written – but remember that your family is probably not quite so mucked up.
BIG BOOKS ABOUT GRIsLY SUBJECTS (AND ONE GLITTERY ONE)
A Little Life by Hanya Yanagihara explores graphic scenes of self-harm and sexual abuse in more than 700 haunting pages.
In many American novels this year, race and identity are key to characters' troubled pasts: the boxset of Mislaid and The Wallcreeper by Nell Zink, newly (re)discovered in this country, was a brilliant example, and Toni Morrison's God Help the Child is a much smaller novel exploring similar themes. Don't be put off by the tough subject matter … but if you need something light-hearted after all that heartache, swap the grit for glitter with Matt Cain's Nothing But Trouble. Between ourselves, the scene in which his pop star character shoots her video is based on the day he spent behind the scenes while Kylie Minogue made "Love at First Sight".
Register for free to continue reading
Registration is a free and easy way to support our truly independent journalism
By registering, you will also enjoy limited access to Premium articles, exclusive newsletters, commenting, and virtual events with our leading journalists
Already have an account? sign in
Join our new commenting forum
Join thought-provoking conversations, follow other Independent readers and see their replies