When among Roma, do as the Roma do
Stef Penney reluctantly tells Christian House how she researched her gypsy thriller follow-up to 'The Tenderness of Wolves'
Sunday 04 September 2011 00:00 BST
Comments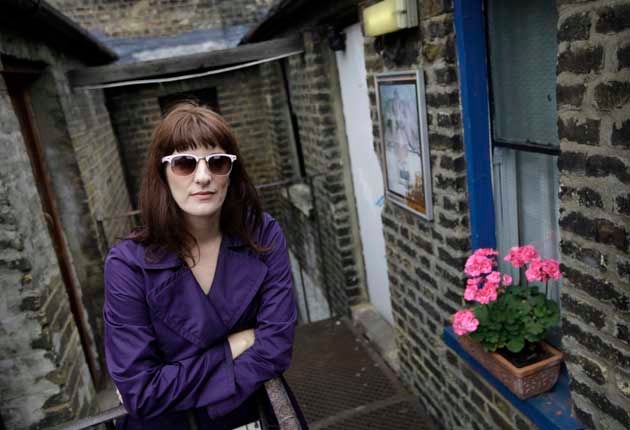 'I don't remember saying that," says Stef Penney.
I have just repeated her comment from her last interview, four years ago. It was the day after her debut novel, The Tenderness of Wolves, won the Costa Book of the Year award, and she reportedly said that she hoped it was the last interview she would ever do.
"I don't like them, I must say," she admits, calling them artificial and unfair. Both seem accurate when I compare her reputation as being cold and closed with our pleasant hour drinking tea at a tie-dyed Islington café in the charcoal gloom of a drizzling London afternoon.
Penney has agreed to discuss her new novel, The Invisible Ones, a detective story set in the gypsy community of 1980s Britain, and she is gracious and open – perhaps even cheeky in a head girl kind of a way. This may be due to my enquiries being kept to her books, writing style and influences. Several publications have complained to her publishers about her reticence to answer personal questions. ("A passive-aggressive clam," said The Scotsman.) Such is the lot of prize winners. Especially ones not willing to play ball.
The Tenderness of Wolves shot Penney to literary stardom due to its unusual milieu – it is a murder mystery set in the wilds of 19th-century Canada, with an agoraphobic farmer's wife for sleuth – and its author's own struggle with agoraphobia. She was both congratulated and criticised for not actually having visited Canada.
So was she nervous about the response to her follow-up. "I had some sleepless nights," says Penney with a smile. "I remember a fantastic dream in which I was at an awards ceremony: there were lots of other authors there, and they gave out all these awards to them but not to me, and then someone handed me my book and it had 'B-minus' scrawled across it."
In The Invisible Ones, private eye Ray Lovell investigates the six-year-old disappearance of Rose Wood, an English gypsy married to Ivo Janko, a moody Roma traveller. It's a world away from the icy wastes of Penney's first novel. "I really enjoyed the whole process of imagining myself in a landscape that freaked me out: open plains, endless wilderness and snow and discomfort," she says of writing her debut. So what about The Invisible Ones? "I thought, oh, maybe it's a shame setting it in grim old England. Its very familiar and mundane. But I've tried to make it as strange and potentially threatening as anywhere else. Just because it's England, that doesn't mean it can't be sinister."
"I'd had the idea for this book for about 10 years," Penney says. "It started out as a film idea before I'd written any prose. And I was thinking of it as a modern noir."
That it most certainly is. If her debut was a literary Western, then her new tale is something of a bookish version of a Bogart puzzler. As a film graduate, Penney's approach to prose is cinematic and inclusive.
"Fiction has a license to be fiction," she says, referring to sniffy comments previously made about her research practices. "I did get criticised from some quarters for inaccuracies in The Tenderness of Wolves – odd things, such as that the fountain pen wasn't invented until 1888. Someone pointed out that the rocks were wrong. I think, ultimately, I'm not a journalist for a reason. I've chosen to write fiction, which is something I love. When I sit down to write, I'm trying to write something I really want to read; I'm trying to write my favourite book because no one else has done it yet."
Penney's decision to set her new story in the 1980s was partly due to traditional detective plots having been scuppered by new technology. To have private eye Ray staking out suspects and following leads on the hoof would be unrealistic in the current information age. "Now, so much of it is online," Penney explains. "People do computer investigations, which are just not very interesting." But the novel is also set during a particular moment in gypsy history. "There was still this traditional way of life that is now certainly very hard to sustain. And it was before the Eastern European influx of Roma, which is a whole different thing."
Did she hit the road or hunker down in the British Library to scrutinise the cagey world of gypsies? "There was more book research. It was quite difficult talking to people," she admits. Partly this was due to the closed realm of travellers, but also her own struggle to engage. "I completely understand people not wanting to answer questions. I suppose I felt like a bit of a media wanker, you know? I was tentative and embarrassed." Penney acknowledges that there is huge public interest in Romany life following the success of My Big Fat Gypsy Wedding. But "I just thought that it was exploitative and shallow", she says of the television series.
The lexicon of gypsy life is key to her story's verisimilitude. From "gorjios" (non gypsies) to "prizaka" (bad luck), their lingo is an indicator of their separation from the rest of society and the difficulty Ray faces in uncovering their secrets. However, even when orchestrating the vocabulary, Penney remains the conductor: "I end up making my own rhythms."
Not content creating microcosms of outsiders, Penney also places outsiders within them. In her first novel, she has a character who not only lives on the periphery of civilisation but is also an orphan, a murder suspect and gay. "Poor boy," laughs Penney. And in her new novel, she has the Jenko family. "They're quite odd," she says. "I'm not interested in what's typical. What I find interesting is oddness. I also wanted to make it that they weren't representative of anyone else. They are themselves; one-offs." And being a one-off, even if only in the literary world, is something that Penney knows all too well.
The Invisible Ones, By Stef Penney (Quercus £18.99)
'Stakeout. It's better than rubbish-sifting, which usually isn't as fruitful as it's made out to be. To be honest, there's a certain excitement about a stakeout – at least for five minutes, when you park across the street, camera on the passenger seat, dictaphone, thermos, sandwiches, spare roll of film. You've all seen the movies. Well so have we. Anything could happen, at any time.'
Join our commenting forum
Join thought-provoking conversations, follow other Independent readers and see their replies