Agatha Christie: Mystery of crime writer's disappearance tackled in Kate Mosse story
The author claimed amnesia after going missing for 11 days in her 30s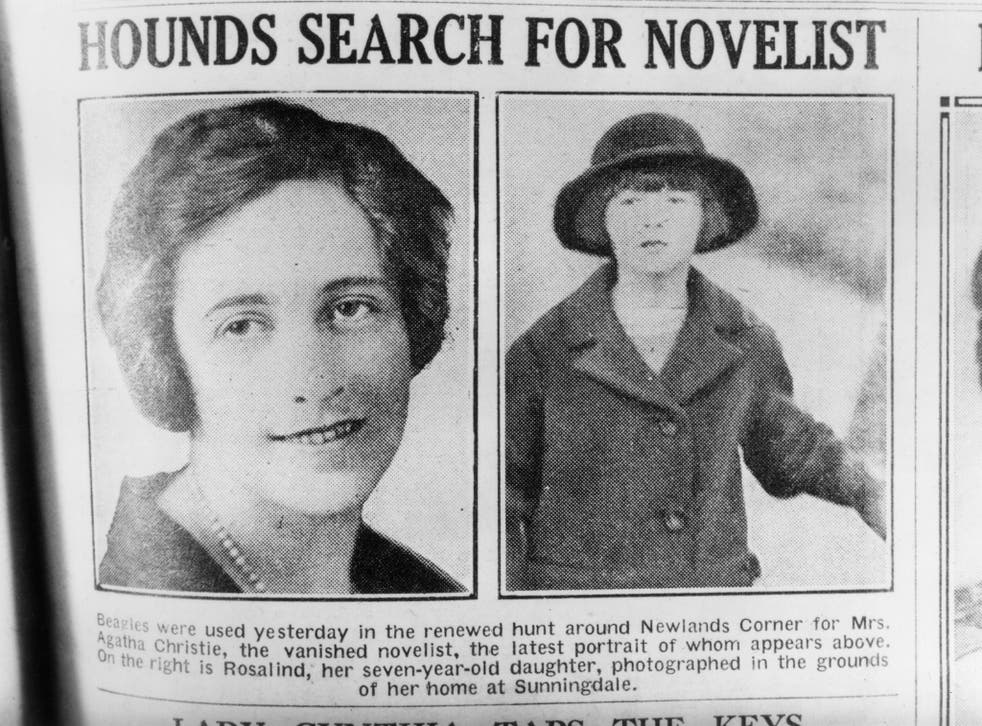 It was the mystery that Agatha Christie could not – or would not – solve, claiming amnesia after she disappeared for 11 days in her 30s. Now best-selling novelist Kate Mosse has tackled the mystery using the Queen of Crime's own novels for clues "hidden in plain view". Christie, whose much-loved detective creations include Hercule Poirot and Miss Marple, is the bestselling author of fiction according to Guinness World Records, selling an estimated two billion books around the world, yet her own disappearance in 1926, which led to massive a massive police manhunt, remains something of a mystery.
The mystery of Agatha Christie's disappearance

Show all 5
Speculation over what happened in the days between 3 and 14 December has ranged from claims it was a publishing stunt to amnesia brought on by a car crash. Mosse, commissioned by the BBC, has written a story inspired by the disappearance which sought to piece together the author's emotional state. To do so she turned to Christie's novels.
"Where do you find the truth of an author's emotions – not their life story, their emotions – but in their novels," Mosse said. "In her novels she writes of unhappy wives with marriages on the rocks, she writes about women in emotional turmoil who flee their husbands. I think that's the best guide. The clues are there in the books, hidden in plain view. There's an idea there's a great mystery around it. Though I think many people can understand why at the time she may have left her house and vanished for a few days," she said.
In 1926, Christie had become a celebrated author with the publication of her sixth novel The Murder of Roger Ackroyd. Yet her mother died that year, she suffered stress from overwork and in December her husband Archie said he was leaving her for another woman. On 3 December, Christie walked out of the house they shared in Berkshire and disappeared. Her car was discovered near the house of Nancy Neele, Archie's mistress, sparking a manhunt with 1,000 police officers, 15,000 volunteers and aeroplanes. She was found at the Swan Hydropathic Hotel – now the Old Swan Hotel – in Harrogate, Yorkshire, where she had registered under the surname of her husband's lover. Christie said she remembered nothing and doctors duly diagnosed amnesia.
Rather than tell the story from the Queen of Crime's point of view, Mosse's narrative is told by a fictional character at the hotel. Hailing Christie as "one of the greats", Mosse hit back at writers and critics, including Raymond Chandler and Anthony Powell, who had taken aim at her writing. "The books are entertainment. The reason she is still read by millions all over the world is because her plots work. There's no cheating, there's nothing tricksy about them. She understands the human condition," she said.
Join our new commenting forum
Join thought-provoking conversations, follow other Independent readers and see their replies