The Independent's journalism is supported by our readers. When you purchase through links on our site, we may earn commission.
Pulitzer-prize winning author Alice Walker criticised for endorsing 'anti-Semitic' book
Walker included David Icke's And the Truth Shall Set You Free, in which he claims 'alternative information' about the Holocaust is being suppressed, in a list of books currently on her nightstand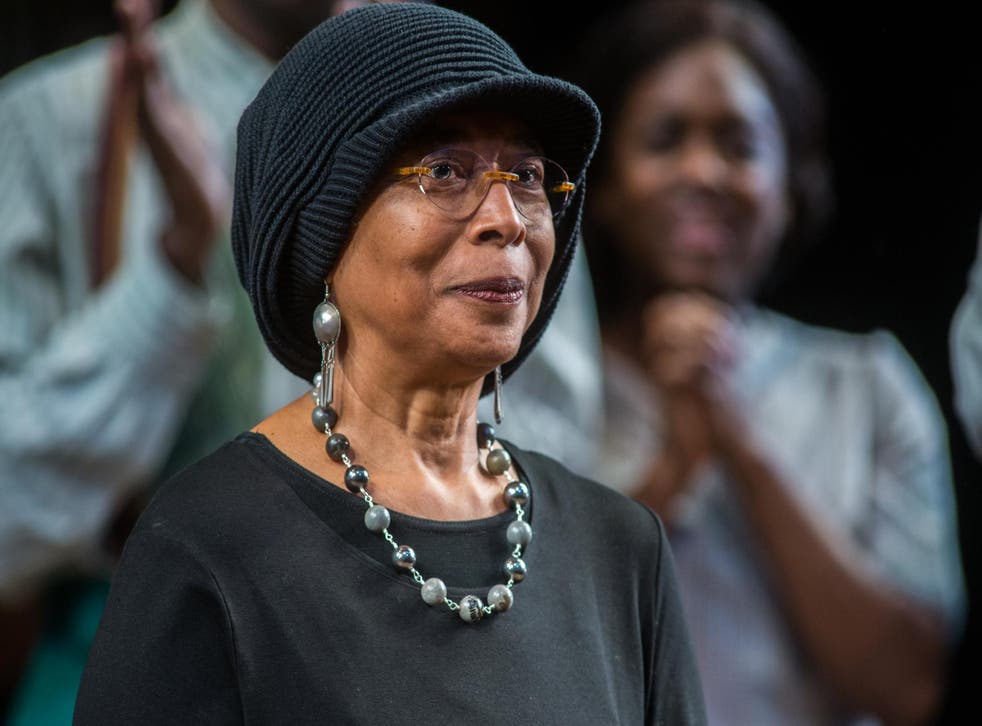 Pulitzer-prize winning author Alice Walker has been criticised after publicly endorsing a book widely deemed to be anti-Semitic.
Walker, who won the Pulitzer Price for Fiction for her 1982 novel The Colour Purple, listed David Icke's And the Truth Shall Set You Free as one of the books on her nightstand in an interview for The New York Times.
Icke, a native of Leicester who now lives in Ryde on the Isle of Wight, has produced dozens of books and videos exposing his conspiracy theories. The book singled out by Walker claims "alternative information" about the Holocaust is being suppressed, and that anti-Semitic attacks are staged to discredit those accused of committing them.
Walker doesn't address any of those aspects in her New York Times interview, stating only: "In Icke's books there is the whole of existence, on this planet and several others, to think about."
She continues by referring to the book as "a curious person's dream come true".
The inclusion of Icke's book in Walker's list has prompted widespread criticism from readers.
"This Alice Walker thing is really f****** sad and it makes me angry that she can't see that the anti-Jewish conspiracies she uplifted and adopted are part of the same white supremacist power structure she so deftly fought through her written work in the past," Twitter user Rebecca Pierce wrote.
Walker was the first black woman to win the Pultizer Prize for The Color Purple​. The novel also won the National Book Award for Fiction in 1983, and Walker's body of work has been celebrated through various accolades, such as her 2001 induction into the Georgia Writers Hall of Fame. Walker was also inducted into the California Hall of Fame in 2006.
Icke self-published And the Truth Shall Set You Free in 1995. The book uses the word "Jewish" 241 times according to Tablet, which notes that "these references are not compliments".
40 books to read while self-isolating

Show all 40
One passage, in which Icke claims anti-Semitic attacks are fabricated, reads: "If you really want to discredit someone, you arrange for anti-Jewish or anti-whatever events such as the smashing of graves, assaults on people, even a terrorist bomb in the extreme. You then point the finger at your target person or group. You say they are either directly responsible or 'incited' the actions by what they are writing and saying."
Another excerpt questions the Holocaust as such: "Why do we play a part in suppressing alternative information to the official line of the Second World War? How is it right that while this fierce suppression goes on, free copies of the Spielberg film, Schindler's List, are given to schools to indoctrinate children with the unchallenged version of events? And why do we, who say we oppose tyranny and demand freedom of speech, allow people to go to prison and be vilified, and magazines to be closed down on the spot, for suggesting another version of history."
The New York Times told The Washington Post it would not amend the article that mentions Icke, and says the weekly column consists in a "portrait of a public person through the lens of books".
"Moreover, our editors do not offer background or weigh in on the books named in the By the Book column, whether the subject issues a positive or negative judgment on those books," the spokesman said.
"Many people recommend books Times editors dislike, disdain or even abhor in the column."
Support free-thinking journalism and attend Independent events
Anti-Defamation League CEO Jonathan Greenblatt told HuffPost in a statement: "We're deeply disappointed that The New York Times Book Review would print author Alice Walker's unqualified endorsement of a book by notorious British anti-Semitic conspiracy theorist David Icke.
"His book And the Truth Shall Set you Free calls Judaism an 'incredibly racist' religion which preaches 'racial superiority', claims that a 'Jewish clique' fomented World War I and World War II as well as the Russian Revolution, and draws heavily on the Protocols of the Elders of Zion for inspiration.
"He even casts doubt on the Holocaust and condemns the Nuremberg Trials. He has a long history of scapegoating Jews, and Times readers should be aware of this before considering his work."
Protocols of the Learned Elders of Zion, which Greenblatt referenced, is a 20th-century "classic in paranoid, racist literature" that has been "heralded by anti-Semites as proof that Jews are plotting to take over the world", according to the Anti-Defamation League. Its authors are unknown.
This isn't the first time Walker has publicly praised Icke's writing. In 2013, she picked his book Human Race Get Off Your Knees: The Lion Sleeps No More as the one tome she would take on a desert island.
Register for free to continue reading
Registration is a free and easy way to support our truly independent journalism
By registering, you will also enjoy limited access to Premium articles, exclusive newsletters, commenting, and virtual events with our leading journalists
Already have an account? sign in
Register for free to continue reading
Registration is a free and easy way to support our truly independent journalism
By registering, you will also enjoy limited access to Premium articles, exclusive newsletters, commenting, and virtual events with our leading journalists
Already have an account? sign in
Join our new commenting forum
Join thought-provoking conversations, follow other Independent readers and see their replies