Arthur Conan Doyle's original Sherlock Holmes notes go on display
An exhibition titled Sherlock Holmes: The Man Who Never Lived and will Never Die opens at the Museum of London this week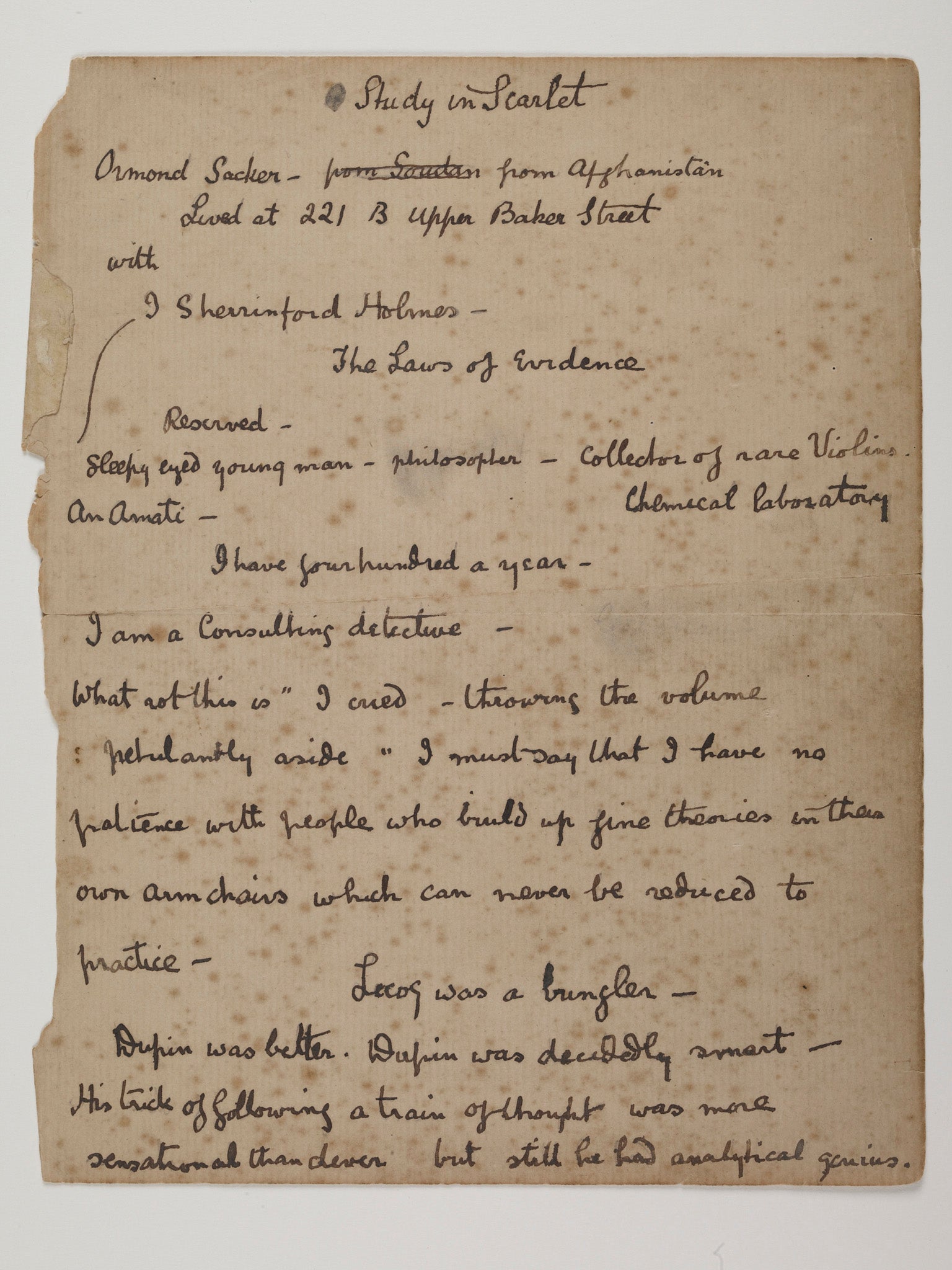 Sir Arthur Conan Doyle's first handwritten notes for a Sherlock Holmes story are to go on display for the first time in Britain along with a manuscript revealing the fictional detective's original name
Sherlock Holmes: The Man Who Never Lived and will Never Die is to open tomorrow at the Museum of London with memorabilia that includes Conan Doyle's so-called Southsea notebooks.
The author sketched out the start to a story called A Tangled Skein, featuring the first appearance of Holmes, with the notes: "The terrified woman rushing up to the cabman. The two going in search of a policeman."
Conan Doyle, who used the notebooks between 1885 and 1889, ultimately crossed out the original title and replaced it with A Study in Scarlet, the name of the first published work featuring the fictional detective.
The notebooks were sold at auction 10 years ago to a private collector in the US and are on display to the UK public for the first time according to Pat Hardy, curator of paintings, drawings and prints at the Museum of London. She added: "These notebooks show Conan Doyle experimenting."
"A Tangled Skein was quite a common mystery title at the time," Dr Hardy continued. "He obviously wrote it down but then thought it was unsatisfactory, as everyone else was using that title."
A Study in Scarlet was published in 1887 in Beeton's Christmas Annual. It starts with Dr Watson saying: "In the year 1878, I took my degree of Doctor of Medicine of the University of London." The phrase "a tangled skein" does make its way into the novel.
The original work failed to find a widespread audience, but Conan Doyle's creation would become a huge success with the publication of short stories in The Strand Magazine. In all, the detective features in four novels and 56 short stories and continues to capture the public imagination.
The exhibition also includes the original manuscript for A Study in Scarlet, not seen in the UK since 1951. It features the original name Conan Doyle was to use for his consulting detective: Sherringford Holmes. Watson was originally called Ormond Sacker.
Other highlights include an oil portrait of Conan Doyle at the age of 38 by Sidney Paget, whose illustrations of Holmes for The Strand magazine helped capture the detective in the public imagination. This included the introduction of the deerstalker hat, an item of clothing never referenced in the stories.
The artist's silver cigarette case is also on display, a gift from Conan Doyle with the inscription "From Sherlock Holmes 1893".
The exhibition brings together old photographs and paintings to evoke the foggy streets of late Victorian London, as well as memorabilia from all the film and television adaptations, including the coat worn by Benedict Cumberbatch in the recent hit BBC series.
Alex Werner, head of history collections at the Museum of London, said: "This exhibition is really about gaining a deeper appreciation of the stories and it is a once-in-a-lifetime opportunity to see such a diverse collection of Sherlock Holmes artefacts and materials under one roof."
Join our commenting forum
Join thought-provoking conversations, follow other Independent readers and see their replies