Arundhati Roy criticises Penguin for pulping The Hindus: An Alternative History
Novelist called on Penguin to explain decision to pulp contentious book
Andrew Buncombe
Thursday 13 February 2014 14:56 Comments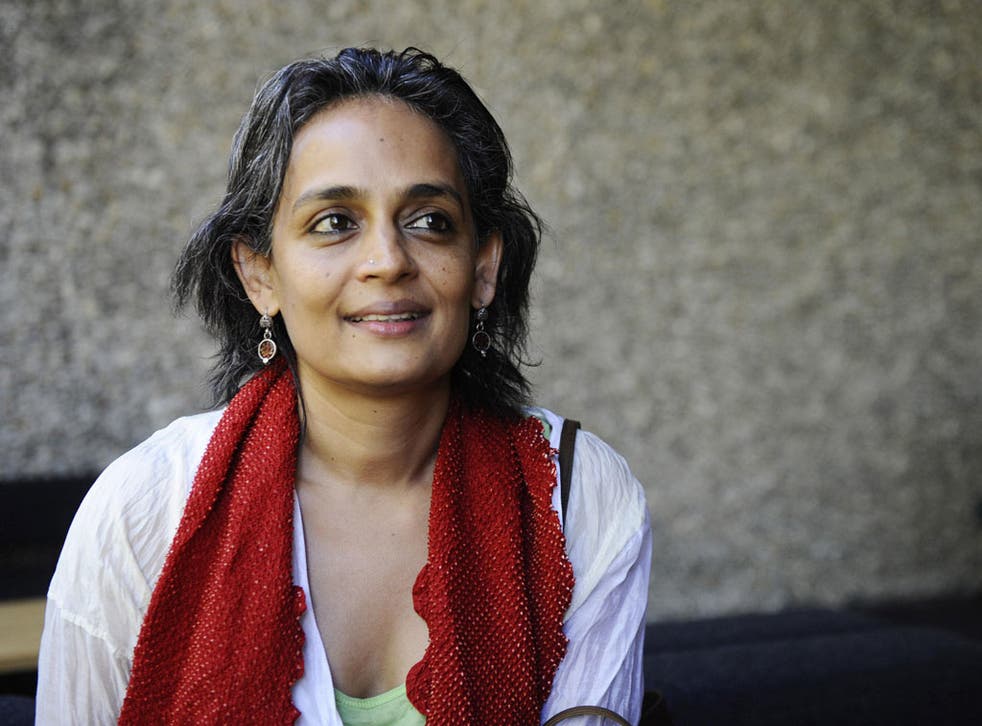 The Booker prize-winning novelist Arundhati Roy has stepped into a debate over the decision by an Indian publisher to pulp a contentious book, saying that the move "affects us all". The controversy is taking place amid India's increasingly bitter general election campaign.
"Everybody is shocked at what you have done," Ms Roy said in an open letter to Penguin Books India. "You must tell us what happened. What terrified you? The elections are still a few months away. The fascists are, thus far, only campaigning... And you've already succumbed."
Ms Roy, several of whose books have been published by Penguin Books India, including the celebrated The God of Small Things, wrote the letter after it emerged the publishing house had agreed to pulp all its outstanding copies of The Hindus: An Alternative History.
Over the years, the book by US scholar and indologist Wendy Doniger, has upset some Hindus with its interpretation of the faith. This week it emerged Penguin had buckled to pressure following a lawsuit filed by organisation made up of Hindu academics. Several members of the organisation, the Shiksha Bachao Andolan Committee, are also members of a conservative Hindu movement that is close to India's main opposition political party.
The group filed the lawsuit against Penguin in 2010. It claimed the book contained "heresies and factual inaccuracies" and criticised Ms Doniger for having a selective approach to writing about Hinduism.
This week, a copy of a court agreement in which the publishers agreed to withdraw all copies of the book "at the earliest", was published on social media. The development triggered an outcry among free speech campaigners who said the decision would be a set-back for India. India notoriously banned Salman Rushdie's 1988 novel The Satanic Verses, which is viewed by some Muslims as blasphemous.
In her letter, Ms Roy wrote: "Have you forgotten who you are? You are part of one of the oldest, grandest publishing houses in the world.
"You existed long before publishing became just another business and long before books become products like any other perishable product in the market – mosquito repellent or scented soap."
Penguin Books India, part of Penguin Random House, has refused to comment on the matter. But Ms Doniger has defended the publisher, saying it had taken on the book four years ago knowing that it would stir anger in the Hindutva, or hardcore Hindu, ranks.
She said the publisher had fought the action but was hampered by Indian law which makes it a criminal, rather than a civil offence, to publish anything that offends somebody's religious sentiments.
"I was, of course, angry and disappointed to see this happen, and I am deeply troubled by what it foretells for free speech in India in the present, and steadily worsening, political climate," Ms Doniger, 74, a professor at the University of Chicago, said in a statement.
"And as a publisher's daughter, I particularly wince at the knowledge that the existing books - unless they are bought out quickly by people intrigued by all the brouhaha - will be pulped."
The move comes as India is readying itself for a general election. The presumed front-runner is Narendra Modi of the Hindu nationalist Bharatiya Janata Party (BJP), who yesterday met the US ambassador to India.
It was the US's first official interaction with Mr Modi for more than ten years and underscored the widely held view that Mr Modi could well become India's next prime minister. A boycott was enforced by the US, UK and other Western nations after hundreds of Muslims were killed in Mr Modi's state of Gujarat in 2002. He has been accused of failing to prevent the killings, though he has always denied this.
A number of high profile literary figures have spoken out against the decision taken Penguin Books India, which is part of Random House. William Dalrymple said it added to a sense of nervousness for liberals ahead of the election.
Yet like Ms Doniger, he said the main culprit was India's colonial-era penal code and Section 295 in particular. The historian and novelist, who helps organise the annual Jaipur Literature Festival, said every year the organisers had to vow that non-one's religious sentiments would be hurt before the event could go ahead. "The law is outdated. It should have been scrapped 65 years ago," he added.
A number of politicians have also joined the fray. Government minister Jairam Ramesh told reporters: "The book is not blasphemous. She is a scholar without any political agenda. The organisation that demanded Penguin take such action is clearly some Taliban-type outfit. It is distorting and destroying our liberal traditions."
Over the years Mr Modi has assiduously courted conservative Hindu voters. Yet his supporters point out that when books have been banned in India it has always taken place during the rule of Congress party-led governments.
Kanchan Gupta, a conservative journalist who was once a media advisor for BJP prime minister Atal Bihari Vajpayee, said India was no more politically charged than it was every five years when there was an election. He said the publishers could have fought the legal action but choose not to. "I don't think Penguin wanted to get into a long, drawn-out case."
Register for free to continue reading
Registration is a free and easy way to support our truly independent journalism
By registering, you will also enjoy limited access to Premium articles, exclusive newsletters, commenting, and virtual events with our leading journalists
Already have an account? sign in
Join our new commenting forum
Join thought-provoking conversations, follow other Independent readers and see their replies