Author Ursula K Le Guin lashes out at Amazon and sell-outs in awards speech
Veteran sci-fi and fantasy writer was speaking at the American National Book Awards
Adam Sherwin
Thursday 20 November 2014 18:44 Comments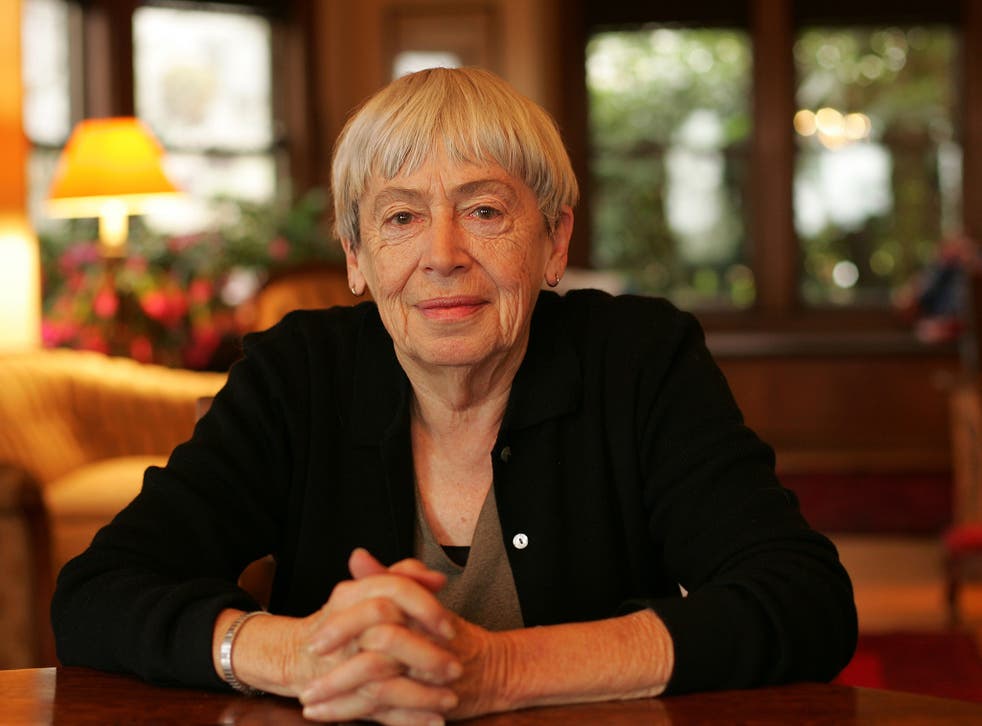 She may be 85, but the acclaimed US novelist Ursula K Le Guin still has plenty to say. The science fiction writer has launched a blistering attack on Amazon and "commodity profiteers who tell us what to publish and what to write" after winning the medal of honour at the National Book Awards.
Le Guin, a fantasy writer cited as an influence by Salman Rushdie, Zadie Smith and David Mitchell, stole the show when she was presented with the Medal for Distinguished Contribution to American Letters, marking a 50 year-career, at the ceremony in New York.
She warned: "I think hard times are coming, when we will be wanting the voices of writers who can see alternatives to how we live now and can see through our fear-stricken society and its obsessive technologies to other ways of being, and even imagine some real grounds for hope. We will need writers who can remember freedom. Poets, visionaries - the realists of a larger reality."
The author of the Earthsea series lashed out at Jeff Bezos, Amazon's chief executive, whose company had been involved in a battle with publisher Hachette over the pricing of ebooks.
"We just saw a profiteer try to punish a publisher for disobedience and writers threatened by corporate fatwa," Le Guin said. "And I see a lot of us, the producers who write the books, and make the books, accepting this. Letting commodity profiteers sell us like deodorant, and tell us what to publish and what to write."
Authors who have spoken out against Amazon

Show all 6
Le Guin, who continues to write short stories, did not spare her own publishers.
She said: "I see sales departments given control over editorial; I see my own publishers in a silly panic of ignorance and greed, charging public libraries for an ebook six or seven times more than they charge customers."
The author called for writers "who know the difference between the production of a market commodity and the practice of an art. Developing written material to suit sales strategies in order to maximise corporate profit and advertising revenue is not quite the same thing as responsible book publishing or authorship."
Books are "not just commodities", she argued. "The profit motive often is in conflict with the aims of art. We live in capitalism. Its power seems inescapable. So did the divine right of kings. Any human power can be resisted and changed by human beings. Resistance and change often begin in art, and very often in our art - the art of words."
Concluding with a valedictory statement, she said: "I have had a long career and a good one. Now here, at the end of it, I really don't want to watch American literature get sold down the river.
"We who live by writing and publishing want - and should demand - our fair share of the proceeds. But the name of our beautiful reward is not profit. Its name is freedom."
Le Guin's speech received widespread backing from fellow writers. Jonathan Stroud, the British author of the Bartimaeus Sequence of fantasy novels, described her words as "wise and inspiring".
Le Guin's gripes
Amazon aggressively sought to force publisher Hachette to cede control of prices of its ebooks, leading to heavy discounts. The retailer halted sales of the publisher's books and delayed deliveries. An agreement will now allow Hachette to set consumer prices of its ebooks, and it will benefit from better terms when it delivers lower prices for readers.
Product placement has become insidious in novels, with ebooks particularly vulnerable. The manufacturers of Sweet'N Low last week paid $1.3 million for positive references to its product in new rom-com novel Find Me, I'm Yours by Hillary Carlip.
Publishers are desperate to uncover the next 50 Shades of Grey, too, after EL James' self-published ebook generated record sales of 100 million, establishing "mummy porn" as the genre du jour. "Chick noir" – a violent, psychological offshoot targeted at female readers is said to be the next big thing.
Register for free to continue reading
Registration is a free and easy way to support our truly independent journalism
By registering, you will also enjoy limited access to Premium articles, exclusive newsletters, commenting, and virtual events with our leading journalists
Already have an account? sign in
Join our new commenting forum
Join thought-provoking conversations, follow other Independent readers and see their replies