Obama's Africa-inspired reading list appears to throw shade at Donald Trump
Former US president posted his summer reading list a day after Trump made a sweeping remark about wanting to tackle 'vicious and violent' conflicts in Africa
Roisin O'Connor
Wednesday 18 July 2018 09:21 Comments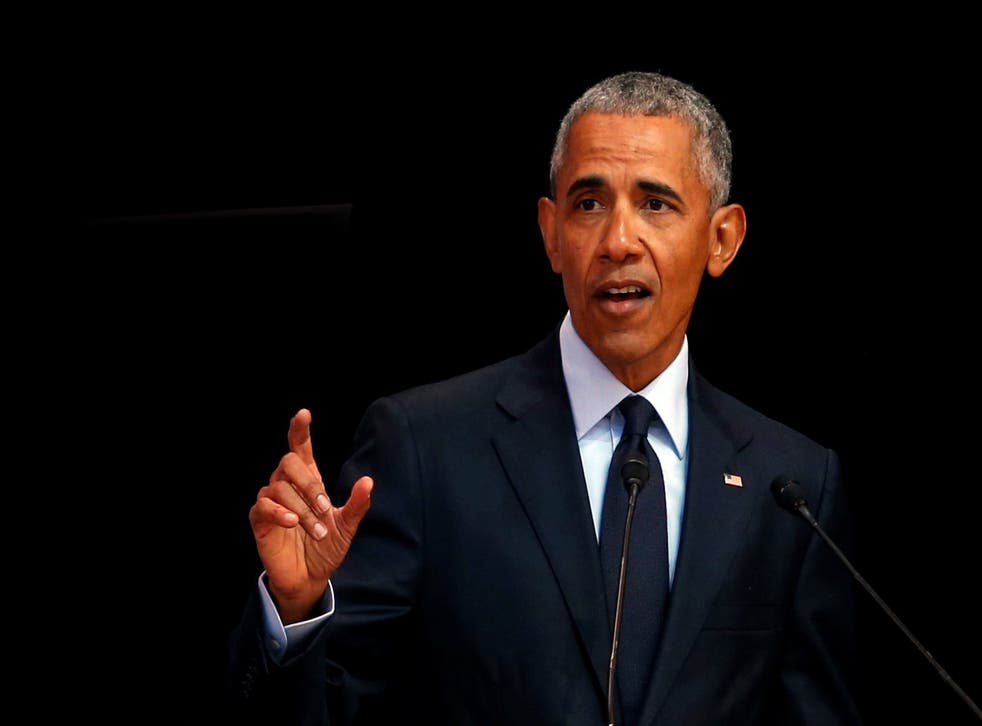 Former US president Barack Obama appears to have taken a subtle swipe at Donald Trump via his new summer reading list, which was published ahead of his powerful speech in Johannesburg this week.
During the speech on 17 July, which was organised as part of celebrations commemorating Nelson Mandela's 100th birthday, Obama denounced "strongman politics" and warned against growing racial nationalism in the US, apparently hitting out at the current commander-in-chief.
The speech was Obama's most high-profile appearance since his departure from the White House, and is part of a larger tour he is taking in Kenya and South Africa. Speaking in front of 15,000 people, he warned that the "politics of fear, resentment, retrenchment" were on the move "at a pace unimaginable just a few years ago". The address has been dubbed Obama's most important speech since leaving office.
Barack Obama's best moments in the White House

Show all 11
However, it appears that he had made an earlier, subtle criticism via his Africa-inspired summer reading list, posted last week, where he explained that he has often "drawn inspiration from Africa's extraordinary literary tradition".
In preparation for the Kenya and South Africa trip, he recommended titles from a number of Africa's most prolific writers and thinkers, "each of whom illuminate our world in powerful and unique ways".
The list includes literary classics such as Things Fall Apart by Chinua Achebe, a 1959 novel which examines a community struggling with an influx of Christian missionaries and issues of colonialism during the late nineteenth century.
A more recent suggestion was Americanah by Chimamanda Ngozi Adichie, which follows the story of a Nigerian woman as she navigates her home country and the US, and offers a powerful meditation on the theme of belonging.
Paying tribute to Mandela, Obama added the revolutionary's book Long Walk To Freedom and said: "Mandela's life was one of the epic stories of the 20th century.
"This definitive memoir traces the arc of his life from a small village, to his years as a revolutionary, to his long imprisonment, and ultimately his ascension to unifying President, leader, and global icon. Essential reading for anyone who wants to understand history - and then go out and change it."
Obama also included The World As It Is by his former national security aide Ben Rhodes.
"It's true, Ben does not have African blood running through his veins," Obama wrote in the Facebook post. "But few others so closely see the world through my eyes like he can. Ben's one of the few who've been with me since that first presidential campaign.
"His memoir is one of the smartest reflections I've seen as to how we approached foreign policy, and one of the most compelling stories I've seen about what it's actually like to serve the American people for eight years in the White House."
Obama's post came just a day after Trump framed the entire African continent as a place riddled by "vicious and violent" conflicts, which in turn recalled his earlier, alleged remark where he referred to African countries as "s**thole" nations.
His speech included a fierce defence of tolerance which noted how "the struggle for basic justice is never truly finished".
"History shows the power of fear," he said. "History shows how easily people can be convinced to turn on those who look different... We're going to have to learn from the mistakes of the recent past."
Register for free to continue reading
Registration is a free and easy way to support our truly independent journalism
By registering, you will also enjoy limited access to Premium articles, exclusive newsletters, commenting, and virtual events with our leading journalists
Already have an account? sign in
Register for free to continue reading
Registration is a free and easy way to support our truly independent journalism
By registering, you will also enjoy limited access to Premium articles, exclusive newsletters, commenting, and virtual events with our leading journalists
Already have an account? sign in
Join our new commenting forum
Join thought-provoking conversations, follow other Independent readers and see their replies