Bath Literature Festival: Did Mary Whitehouse have a point when it came to 'filth'? asks Ben Thompson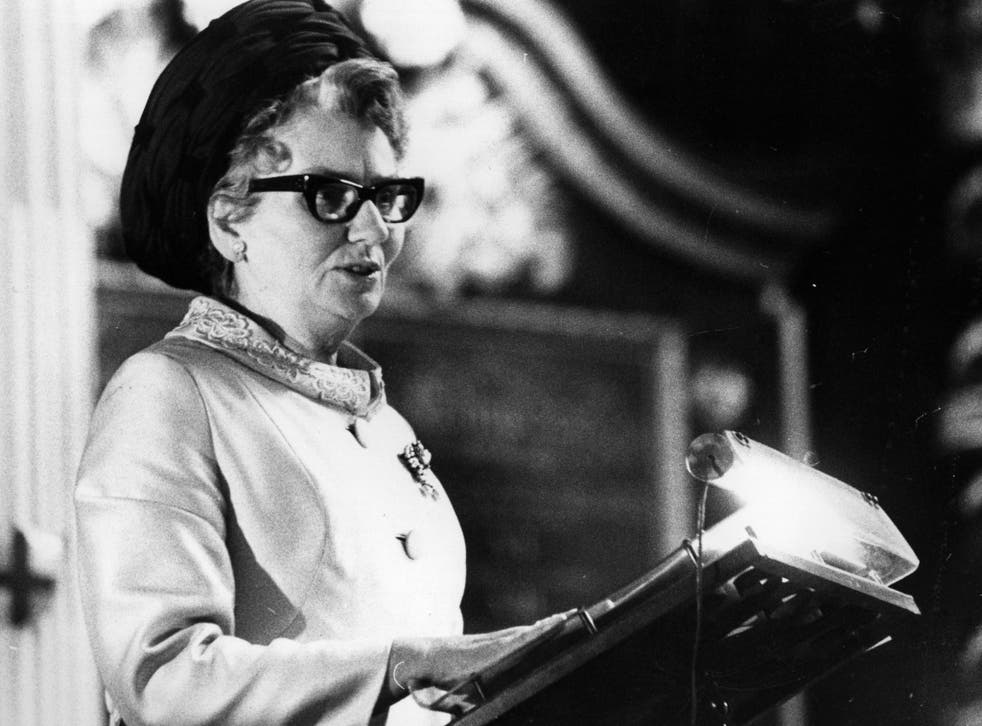 Mary Whitehouse was not only a censorious zealot and a thorn in the side of the BBC but she was also a pioneer who pre-empted the Internet age and became a master of image-making, an audience heard today at The Independent Bath Literature Festival.
Ben Thomspon, whose book, Ban This Filth!, focuses on Whitehouse's fervent letter writing career, said her legacy had been reappraised in recent times to reveal a ruthless, fame-grabbing and sometimes flirtatious woman who was ahead of her time.
"She would take letters out of context, even letters of support, and play off [for example] the director general of the BBC with its chairman. There was a disregard of the facts and of propriety. You could say this unscrupulousness was ahead of its time," said Mr Thompson.
She was not the humble housewife who was reluctantly forced to take a stance against so-called obscenities and moral outrages on British television, he added, but someone who cleverly spun her own image. She had given up teaching by the early '60s and was working as a freelance journalist, sometimes writing anonymously, before she launched her prominent 'Clean Up TV' campaign in the 1964.
"She was an absolute fame-hound. She would never do anything without a press briefing. She loved to go onto David Frost [TV show] and he was a key figure in her story. He introduced her as a showbiz figure," said Mr Thompson.
Pioneeringly, she pre-empted the speed and methods of Internet protests, mobilising dynamic signature collecting campaigns that now seem like precursors to the Internet. One of her most impressive petitions was to continue the Queen's Christmas broadcast for which she collected a million signatures and presented them to Buckingham Palace wrapped in a red, white and blue ribbon.
A figure of fun among Britain's youth and media contingent, Whitehouse did not do anything to rectify the image of herself as a comic figure, launching vitriolic attacks on Alice Cooper's title track of his 1972 album, 'School's Out', for being a bad influence on children (Cooper sent her a bunch of flowers as thanks for the publicity), and another campaign against Chuck Berry for the implied obscenity in his 1972 song, My Ding-A-Ling.
In fact, she even capitalised on this aspect of her public persona. "She was a great comic character, sort of unwittingly but not entirely. She knew, on some level, what was funny about her and played up to it."
Mr Thompson's research was based on a letter archive housed at the University of Essex in 300 box files, which clearly reflects her love of publicity and her ever-readiness to embrace the limelight. She spent years writing her autobiography in six volumes, thereby also pre-empting the current trend among celebrities to write memoirs in a multi-volumed capacity. "Mary Whitehouse was dashing out memoirs even before she'd done anything," said Mr Thompson. "Then she would update them… She almost anticipated the celebrity memoir to not get the whole story out, but to tell it in many volumes."
Most poignantly, Thompson found an extended correspondence between Whitehouse and the former BBC chair, Sir Michael Swann, which read as an almost romance. "There was a crackle of flirtation in their correspondence, which got caught up in this strange romantic dance. They were almost love letters."
The letters ended abruptly after Sir Michael felt stung by Whitehouse's methods in which she played off one BBC executive against another, and he passed on all future correspondence to his secretary. Whitehouse continued to write him anguished letters expressing personal betrayal.
Some of Whitehouse's campaigns which were dismissed as reactionary have since become relevant, Mr Thompson concluded, such as her anti-pornography campaign which was derided by many as left-field then. "She is a figure who was perceived as representing the past but who in recent times, people are more inclined to think that perhaps we need to look at what she was saying and what is relevant in it."
Join our new commenting forum
Join thought-provoking conversations, follow other Independent readers and see their replies