Batwoman writers depart DC Comics after lesbian superhero's wedding is 'prohibited'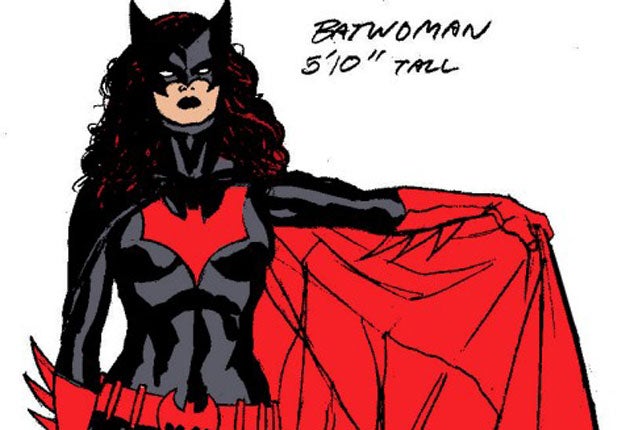 DC Comics may have made history last February when an edition of its Batwoman comic included the first lesbian wedding proposal in the genre. But now the writers behind the female Caped Crusader's adventures have acrimoniously left DC claiming the female superhero's marriage was "prohibited" by the publisher.
In a blog post co-authors J.H Williams and W. Haden Blackman declared that they were exiting DC in December alleging they had been asked to "alter or completely discard many long-standing storylines that we feel compromise the character and the series".
The comic, relaunched in 2010 as a standalone story about Kate Kane, has so far seen Batwoman's day-to-day persona forced to leave the U.S Military Academy after allegations arose that she was gay - a pioneering storyline which came before America's controversial Don't Ask Don't Tell policy regarding homosexuals in the military was repealed.
The co-writers say they have been told at last minute by DC to change several longstanding story arcs including "most crushingly" showing Kate and her girlfriend Maggie getting married.
Williams and Blackman wrote: "We were told to ditch plans for Killer Croc's origins; forced to drastically alter the original ending of our current arc, which would have defined Batwoman's heroic future in bold new ways; and, most crushingly, prohibited from ever showing Kate and Maggie actually getting married. All of these editorial decisions came at the last minute, and always after a year or more of planning and plotting on our end."
Very few comic book characters have been gay in the genre's history: Green Lantern came out in an edition of his comic last year; and Batman has been "outed" for the purposes of a new novel by Italian writer Marco Mancassola, Erotic Lives of the Superheroes, although rumours about his inclinations - and relationship with Robin - have been circulated, and made tacit, in Batman films and comics for decades.
America's leading LGBT rights lobby Glaad, formerly the Gay and Lesbian Alliance Against Defamation, has praised Batwoman and gave it an award last year. Last month the group published research examining the 101 films made by Hollywood's 'Big Six' studios last year, which found that big budget action films, sci-fi and fantasy films, were the least sexually diverse – with just 3 out of 34 such films featuring an LGBT character.
Batwoman first appeared in DC Comics in 1956 when she was introduced as a love interest for Batman to help combat rumours of the Caped Crusader's homosexuality which arose out of 1954 book Seduction of the Innocent by German psychiatrist Fredric Wertham.
After disappearing for over 40 years, Batwoman was reintroduced by DC in Infinite Crisis in 2006 before earning her own standalone spin-off series four years later. The character is identified as of Jewish descent and she is famously the highest-profile gay superhero in DC's history.
DC Comics has not yet replied to a request for comment.
Join our commenting forum
Join thought-provoking conversations, follow other Independent readers and see their replies