The Independent's journalism is supported by our readers. When you purchase through links on our site, we may earn commission.
Peter Rabbit features among new Beatrix Potter 50p coins
The coins will feature Peter Rabbit, Flopsy Bunny, Mrs. Tittlemouse, and The Tailor of Gloucester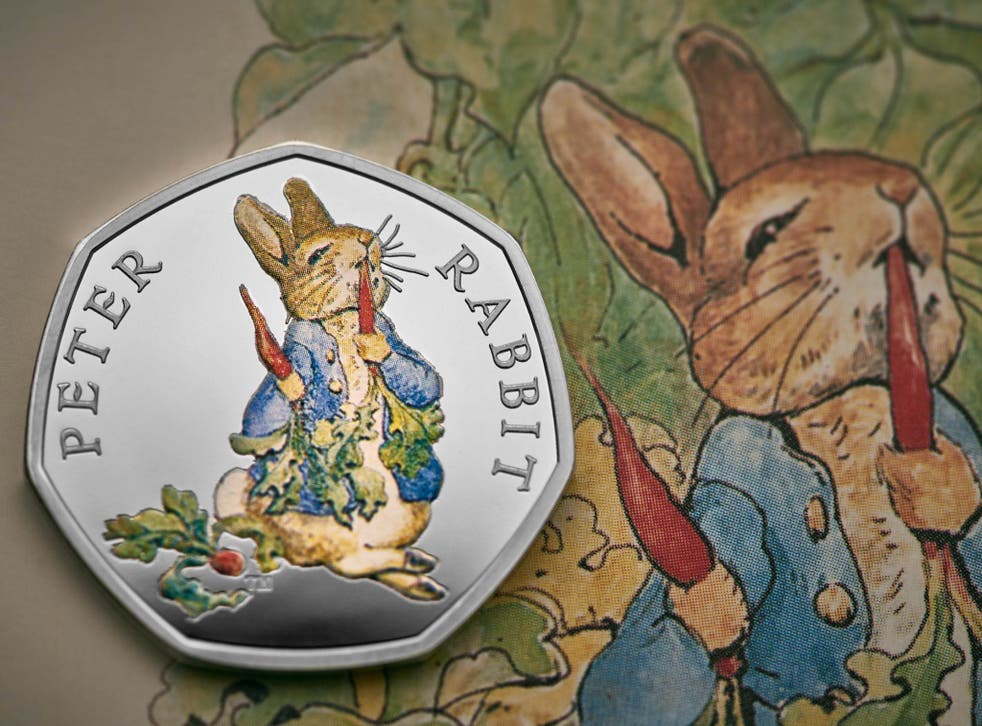 A new set of coins will commemorate Beatrix Potter's Tale of The Flopsy Bunnies, originally published over 100 years ago.
The tale saw Potter draw elements from her previous hits The Tale of Peter Rabbit (1902) and The Tale of Benjamin Bunny (1904), as Benjamin Bunny cares for his six children simply called The Flopsy Bunnies, who raid a rubbish heap of rotting vegetables and are captured by farmer Mr. McGregor, who places them all in a sack. It's down to Thomasina Tittlemouse, a woodmouse, to swoop in for the rescue.
The story also features Peter Rabbit himself, now grown, who has gone into business as a florist and keeps a nursery garden. Peter Rabbit, the children's mother Flopsy Bunny, and Thomasina Tittlemouse all feature on the new coins, alongside a helpful mouse who aids the main character of The Tailor of Gloucester, published in 1903, in the finishing of a waistcoat.
The four designs will be added to the Royal Mint's existing Beatrix Potter collection, first launched in 2016 to commemorate 150 years since her birth. Peter Rabbit, released today, is the first of the coins to go on sale, followed later this year by Flopsy Bunny, Mrs. Tittlemouse, and The Tailor of Gloucester.
Each coin is embossed with designs which directly recreate the hand-painted illustrations of the books, which Potter herself produced. Silver-proof coloured coins will be available for £60 each, while "brilliant uncirculated silver" coins will hit the market at £10, before the plain-metal versions enter circulation for a limited time later this year.
Last year, 50p coins were released featuring designs of Peter Rabbit, Benjamin Bunny, Tom Kitten, and Jeremy Fisher. The coins were designed by Emma Noble, who has previously worked on coins for the 60th anniversary of the Queen's coronation and Remembrance Sunday.
Follow Independent Culture on Facebook for all the latest on Film, TV, Music, and more.
Join our new commenting forum
Join thought-provoking conversations, follow other Independent readers and see their replies