Book about a Jew falling in love with a Nazi sparks outrage after awards nominations
Kate Breslin's For Such a Time has been accused of 'belittling the Holocaust'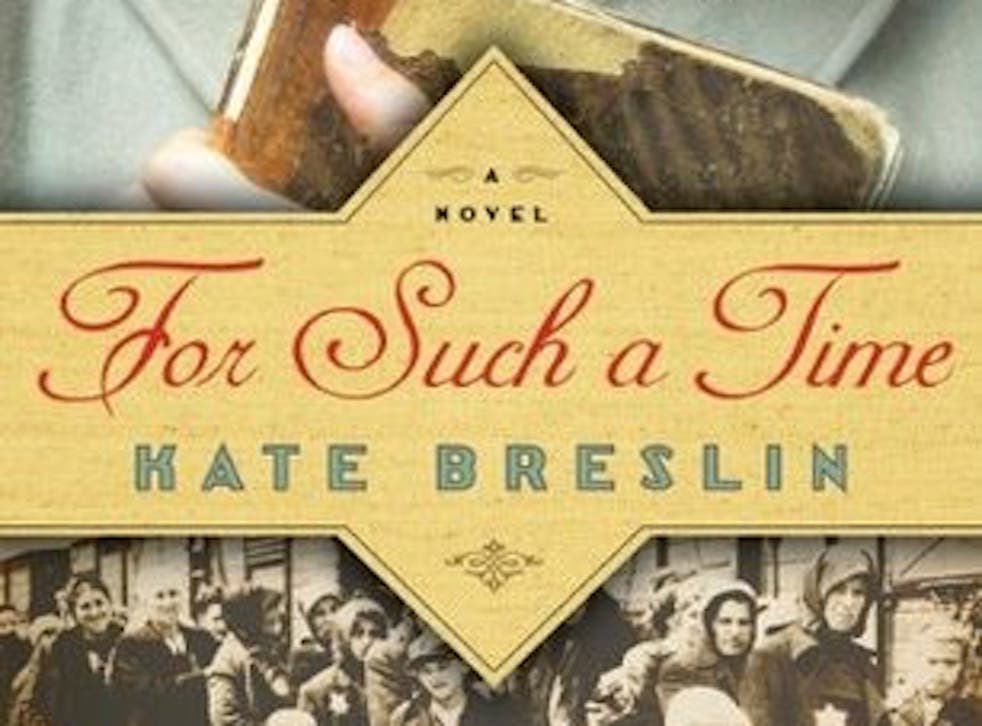 A controversial Christian romance novel about a Nazi who falls in love with a Jewish concentration camp prisoner has sparked outrage after being shortlisted for two major awards.
Kate Breslin's For Such a Time follows the officer's affair with a "blonde and blue-eyed Jewess" and has been fuelling fierce debate about cultural appropriation in literature.
The story is basically a Holocaust-based retelling of the Bible's Book of Esther, in which young girl Hadassah changes her name to Esther to become Queen of Persia and beg her husband to prevent a genocide against her people.
Breslin's 2014 book has Hadassah become Stella, who works for SS-Kommandant Colonel Aric von Schmidt in his office after he saves her from a firing squad. The two fall head over heels and she converts to Christianity after finding strength reading about Christ's sacrifice. So yes, divisive is an understatement.
As if everyone wasn't shocked enough already, For Such a Time was shortlisted for two RITAs, the Romance Writers of America's Oscars equivalent, in the Best First Book and Best Inspirational Romance categories.
One review has received particular attention, with the Smart B**ches Trashy Books critic writing that it would take a lot to convince her that the relationship at the heart of the novel is "a love story, rather than a story about heinous disparities in power and something like Stockholm Syndrome".
The website's Sarah Wendell backed her up and wrote a letter of complaint to the RWA's board of directors, arguing that "the stereotypes, the language and the attempt at redeeming an SS officer as a hero belittle and demean the atrocities of the Holocaust".
The RITAs nominations have also been accused of making writers from faiths other than Christianity "feel unwelcome" by including For Such a Time, leading to the RWA releasing a statement explaining their decision.
"The RITA is a peer-reviewed award. There is no vetting of content before a book may be entered. Books are entered, not nominated, and those books are judged by fellow romance authors," the statement reads.
"The Board believes this is how the contest should be run. RWA does not endorse the content of any book entered in the contest. We do believe, however, that education and conversation are important in dealing with the concerns expressed.
"To that end we will open an online forum on the RWA website for members to discuss their concerns. This is not a perfect solution, but we believe open dialogue, not the censorship of content, is the right way to handle the issues expressed."
Breslin has defended For Such a Time from criticism, offering a statement to Newsweek apologising for causing offence and insisting that the idea for the novel was "borne from a compassion for the Jewish people".
"It was my intent to write a book that told a more modern-day story of a courageous Jewish woman," she wrote. "I am heartsick and so very sorry that my book has caused any offence to the Jewish people, for whom I have the greatest love and respect."
Breslin did not win at the RITAs, which were held at the end of July.
Register for free to continue reading
Registration is a free and easy way to support our truly independent journalism
By registering, you will also enjoy limited access to Premium articles, exclusive newsletters, commenting, and virtual events with our leading journalists
Already have an account? sign in
Register for free to continue reading
Registration is a free and easy way to support our truly independent journalism
By registering, you will also enjoy limited access to Premium articles, exclusive newsletters, commenting, and virtual events with our leading journalists
Already have an account? sign in
Join our new commenting forum
Join thought-provoking conversations, follow other Independent readers and see their replies