Bookshop hostel opens in Tokyo with beds hidden behind bookshelves
Just don't visit the Book and Bed Hostel expecting a comfortable night's sleep
Jess Denham
Thursday 29 October 2015 13:37 Comments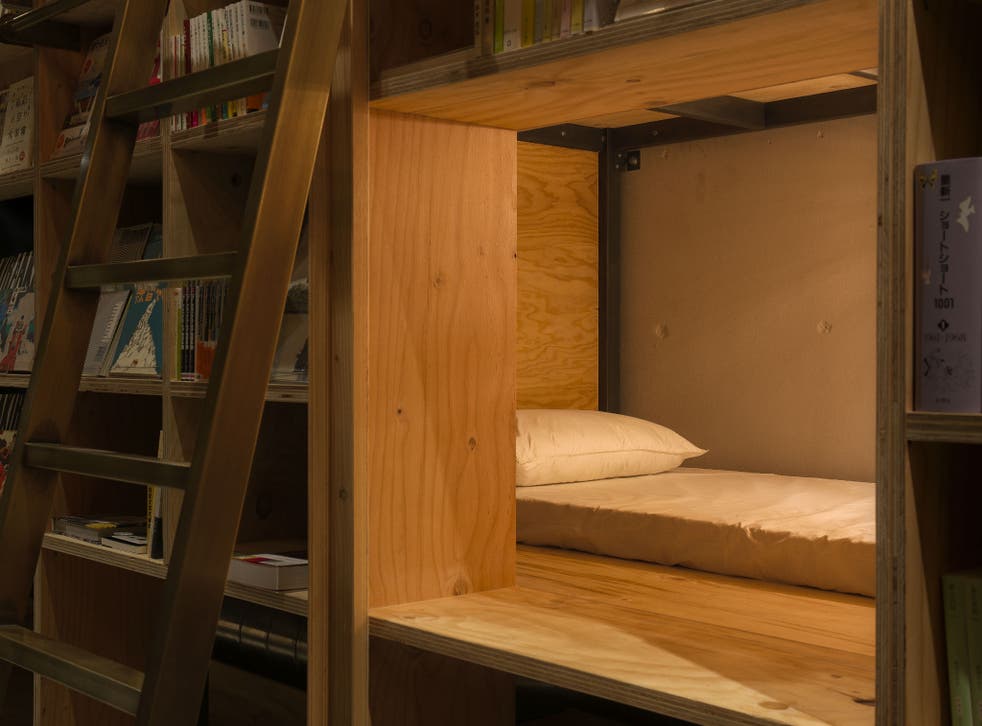 Bookworms should consider flying over to Tokyo to spend some nights in a new hostel set to offer the ultimate experience for prolific pageturners.
The Book and Bed Hostel opens its doors, or should that read shelves, on 5 November and houses more than 1,700 English and Japanese books and comics.
This fascinating place, described on its website as "an accommodation bookshop", hides its beds behind bookshelves, with some guests only able to access theirs by climbing ladders.
Each small cabin (and at just 80cm by 200cm, we mean small, so those with claustrophobia best steer clear) comes with a booklight so you can escape into your imagination at all hours.
Thirty beds are available, along with a shared bathroom and free Wifi. Books hang from the ceiling and visitors are welcome to read whatever they would like from the huge range. Prices per night start at around £19.
This is not being sold as a luxury option for those wanting "comfortable mattresses, fluffy pillows or lightweight and warm down duvets". What guests will find is a hostel created around "dozing off obliviously during your treasured pastime in the finest 'moment of sleep'".
"An experience shared by everyone at least once: the blissful 'instant of falling asleep'," a message on the website reads.
"It is already 2am but you think, 'Just a little more…'. With heavy drooping eyelids you continue reading only to realise you have fallen asleep."
Register for free to continue reading
Registration is a free and easy way to support our truly independent journalism
By registering, you will also enjoy limited access to Premium articles, exclusive newsletters, commenting, and virtual events with our leading journalists
Already have an account? sign in
Register for free to continue reading
Registration is a free and easy way to support our truly independent journalism
By registering, you will also enjoy limited access to Premium articles, exclusive newsletters, commenting, and virtual events with our leading journalists
Already have an account? sign in
Join our new commenting forum
Join thought-provoking conversations, follow other Independent readers and see their replies