Celebrated literary feud ends after Naipaul and Theroux bury the hatchet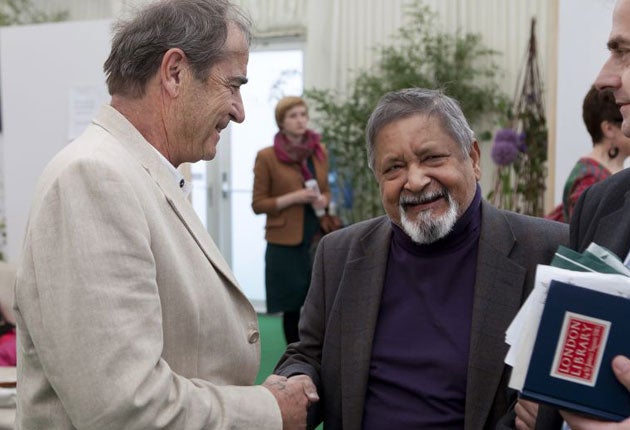 After fifteen years of a very public feud, V S Naipaul and Paul Theroux have finally buried the hatchet.
The literary titans shook hands again at the Hay Festival on the Welsh borders, the scene of their original public falling out in 1996, after a gentle intervention by the writer Ian McEwan. Naipaul's wife, Lady Naipaul, said: "Paul approached him and said he missed him. It was very gracious and wonderful of him. So that is the end to the literary feud." As to whether the two men will return to their habit of lunching together "you never know" said Nadira. "It's a strange world."
Theroux spoke at Hay on Saturday about his half century travelling the globe. The organisers of the festival, aware of the tensions between the two men, had been prepared to keep them at a diplomatic distance from each other on Sunday when Naipaul arrived to speak about his own literary career spanning A House for Mr Biswas to his latest work, The Masque of Africa.
However, such precautions were not needed. Sitting in the artists' area, Theroux saw Naipaul arrive. Also present in the room was McEwan, who smoothed the way for the rapprochement by assuring Theroux that another approach would not be rebuffed. Theroux then went Naipaul to offer the hand of friendship, which was accepted.
The two men had met in Kampala, Uganda, in 1966 where Theroux, a travel writer, was teaching at the university. Naipaul, whose reputation had been sealed by his 1961 book A House for Mr Biswas, took Theroux under his wing, and, when the American followed him to Britain, Naipaul introduced him to the London literary scene and nurtured him. However the relationship soured over the years as Theroux became critical of Naipaul's writing and Naipaul distanced himself from his protégé.
According to Theroux, the decisive blow came when he picked up a rare books catalogue only to find the seller offering up copies of his books that were dedicated "with love" to Naipaul and his first wife, Pat. The books were being sold for $1,500 each. The only conclusion Theroux could draw was that Naipaul now longer valued him.
The final public meeting came at a Hay Festival event in 1996 when they were sharing a stage with Salman Rushdie, and Naipaul refused to acknowledge Theroux. They bumped into each other shortly afterwards in south Kensington, London, but pleasantries were not exchanged. "He wanted to talk to me about it," Naipaul has said. "I was on my way somewhere and could not stop. The conversation was very brief." He advised Theroux then: "Take it on the chin and move on."
Thereafter the feud became public after Theroux published Sir Vidia's Shadow: A Friendship Across Five Continents in 1998, in which he described both the birth of his friendship with his former mentor and its breakdown, attributed in part to Naipaul's second wife, Lady Naipaul. Theroux drew a savage portrait of Naipaul as a depressive, a skinflint and a misogynist. Meanwhile, Naipaul called Theroux "a bore" who had overstayed his welcome.
Writers' spats
Gabriel Garcia Marquez and Mario Vargas Llosa
When the Peruvian Vargas Llosa punched the Colombian Marquez in a Mexican cinema in 1976 – allegedly in a fight over a woman – it sparked a simmering feud between the Latin American giants, with the pair not speaking for 30 years.
Lord Byron and John Keats
The aristocratic Byron looked down on the "Cockney" poet Keats in more ways than one, calling him a "little dirty blackguard", while Keats, who was only 5ft tall, expressed envy of his rival's success and 6ft stature.
Salman Rushdie and John le Carré
Le Carré was one of Rushdie's fiercest critics after the publication of The Satanic Verses in 1988 and the vitriol erupted again in a heated exchange of letters in 1997. Rushdie called Le Carré "an illiterate, pompous ass".
William Shakespeare and Christopher Marlowe
Shakespeare and Marlowe vied for supremacy in the Elizabethan theatrical scene until Marlowe's death at the age of 29. Shakespeare later paid tribute to his old sparring partner in As You Like It.
Leo Tolstoy and Ivan Turgenev
Tolstoy described Turgenev as "a bore", and their animosity heated up to the point that Tolstoy challenged his elder to a duel. Turgenev always admired his rival's talents, however, and made a deathbed plea for him to return to writing.
Handshake leaves a huge hole in our national life
Leading article, Viewspaper, page 2
Join our commenting forum
Join thought-provoking conversations, follow other Independent readers and see their replies