Copy of Mein Kampf signed by Adolf Hitler expected to fetch $25,000 at auction
Nazi text being sold as a 'memento'
Christopher Hooton
Thursday 27 February 2014 15:37 Comments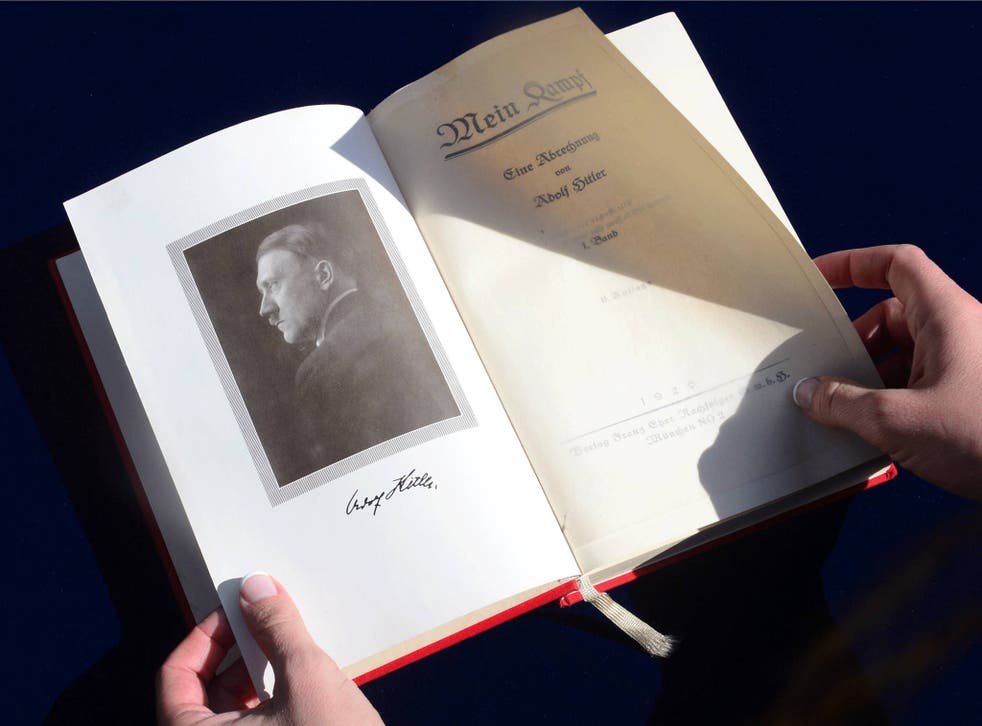 A rare copy of Mein Kampf autographed by Adolf Hitler is up for sale in LA, with the auctioneer describing it as "very heinous, but a piece of history."
The two-volume work, which sees the Nazi leader set out plans for a German revival after World War I and is filled with anti-Semitism, goes under the hammer on Thursday.
The lot is inscribed by Hitler with a message to SS officer Josef Bauer, whom he gave the book as a Christmas present.
Bidding will start at $20,000 (£12,000) and is expected to reach $25,000 when the auction ends at 10pm eastern standard time.
Nate D Sanders, a Jewish man who owns the auction house selling the item, said he does not shy away from selling the memorabilia of reviled historic figures in spite of their evils.
"I think it's very heinous," Sanders said, "but it is an auction item, it is a memento, it's a piece of memorabilia, and a piece of history."
The German copyright for Mein Kampf has been owned by Bavaria since the end of World War II, which has prohibited its printing and sale in the country.
Register for free to continue reading
Registration is a free and easy way to support our truly independent journalism
By registering, you will also enjoy limited access to Premium articles, exclusive newsletters, commenting, and virtual events with our leading journalists
Already have an account? sign in
Join our new commenting forum
Join thought-provoking conversations, follow other Independent readers and see their replies