Costa Book Awards 2015: H is for Hawk named book of the year
Chief judge Robert Harris hits out at BBC for lack of literary programming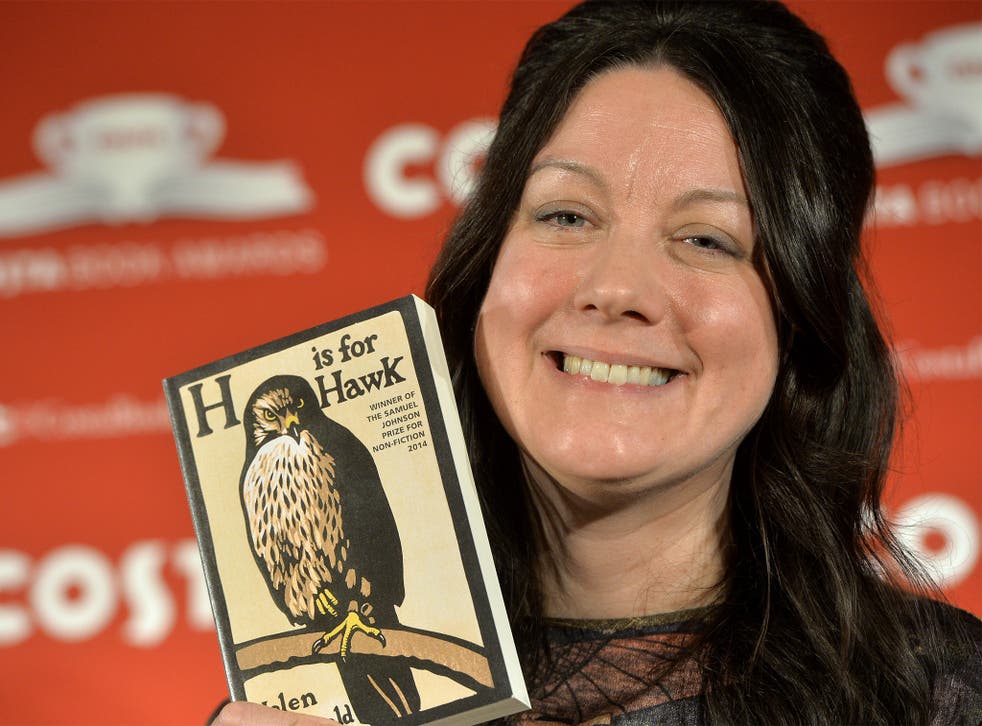 The acclaimed memoir of a grief-stricken daughter who became obsessed with training a goshawk following her father's death has been named the Costa book of the year.
Helen Macdonald's H is for Hawk won the coveted £30,000 prize at a ceremony in London tonight, during which the chair of the judges criticised the BBC for the lack of literary television programming.
Ms Macdonald's biography won the Samuel Johnson Prize for Non-Fiction in November and combines a memoir about grief, the biography of novelist TH White, and the technical training of the goshawk she bought for £800 called Mabel.
Novelist Robert Harris, chair of the judging panel, said: "It was brilliantly written, muscular prose and staring at grief with the unblinking eye of a hawk. It was a very clever, accomplished bit of writing that wove everything together."
Ms Macdonald had been a falconer for many years, training her first hawk at 13 and wrote an academic treatise on the subject. After her father's death she was struck by grief and "became obsessed" with training a hawk.
There was a "decisive" first round vote among the nine judges for the book that had won the biography category, Mr Harris said, although others did receive support.
"H is for Hawk has already had great success and has been acknowledged as a modern classic," Mr Harris said. Several of the judges "felt very passionately it was a book that haunted them and they would never forget it".
Costa Book Award winners

Show all 5
The five category winners – which also comprised novel, first novel, children's book and poetry – were named earlier this month and each received £5,000. They then competed for the title of book of the year.
Smith had been made 5/4 favourite by bookmakers William Hill for the book the judges described as "technically ambitions which lingers in the mind". It was shortlisted for the Man Booker Prize.
The other titles in the running were Emma Healey's Elizabeth is Missing, which won best first novel; poetry winner My Family and Other Superheroes by Jonathan Edwards and best children's book Five Children on the Western Front by Kate Saunders.
Mr Harris hailed the prize for highlighting British publishing. He aimed a broadside at the BBC for its lack of television programming on the subject.
"In the 1970s there were two books programmes on British televisions," adding: "Now we don't have any dedicated book programmes. The BBC should have a dedicated book programme."
The publicly funded organisation "owes it books to do what it used to do: give something back to books… I do wish the BBC in particular would fulfil that part of its charter remit. Is it too much to ask?"
Register for free to continue reading
Registration is a free and easy way to support our truly independent journalism
By registering, you will also enjoy limited access to Premium articles, exclusive newsletters, commenting, and virtual events with our leading journalists
Already have an account? sign in
Register for free to continue reading
Registration is a free and easy way to support our truly independent journalism
By registering, you will also enjoy limited access to Premium articles, exclusive newsletters, commenting, and virtual events with our leading journalists
Already have an account? sign in
Join our new commenting forum
Join thought-provoking conversations, follow other Independent readers and see their replies