Stephen King reveals which of his characters are most like Donald Trump
He didn't say Pennywise
Jacob Stolworthy
Tuesday 04 April 2017 09:15 Comments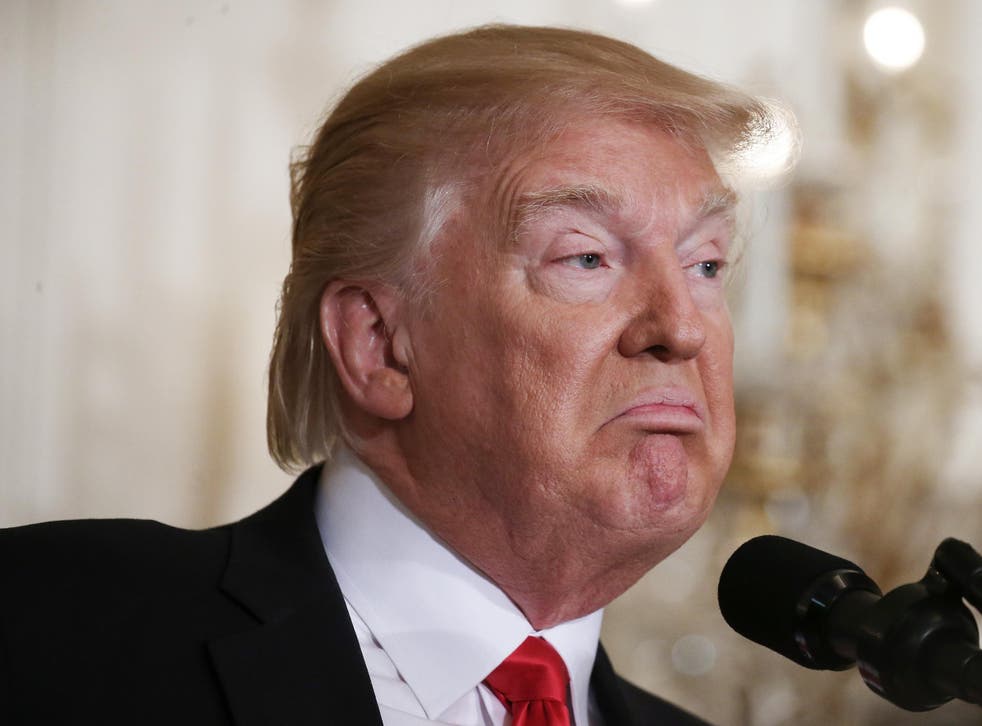 Stephen King has revealed which two of his characters he believes to be similar to Donald Trump.
The esteemed horror author of novels including Carrie and The Shining drew the comparisons in an article he wrote for The Guardian.
It turns out he believes Greg Stillson (The Dead Zone, 1979) and Big Jim Rennie (Under the Dome, 2009) to bear similarities to the US President.
King wrote: "In The Dead Zone, Greg Stillson is a door-to-door Bible salesman with a gift of gab, a ready wit and the common touch. He is laughed at when he runs for mayor in his small New England town, but he wins. He is laughed at when he runs for the House of Representatives (part of his platform is a promise to rocket America's trash into outer space), but he wins again. When Johnny Smith, the novel's precognitive hero, shakes his hand, he realises that some day Stillson is going to laugh and joke his way into the White House, where he will start world war three.
The President Show - All Winners, No Losers
"Big Jim Rennie in Under The Dome is cut from the same cloth," King continued. "He's a car salesman (selling being a key requirement for the successful politician), who is the head selectman in the small town of Chester's Mill, when a dome comes down and cuts the community off from the world. He's a crook, a cozener and a sociopath, the worst possible choice in a time of crisis, but he's got a folksy, straight-from-the-shoulder delivery that people relate to. The fact that he's incompetent at best and downright malevolent at worst doesn't matter."
King surmised: "Both these stories were written years ago, but Stillson and Rennie bear enough of a resemblance to the current resident of the White House for me to flatter myself I have a country-fair understanding of how such men rise: first as a joke, then as a viable alternative to the status quo, and finally as elected officials who are headstrong, self-centered and inexperienced."
The controversial orders Donald Trump has already issued

Show all 9
You can read the full article - in which he described Trump's rise to power as "unsurprising" - here.
The trailer for a fresh adaptation of King's novel IT was released last week to record-breaking views across the globe.
Register for free to continue reading
Registration is a free and easy way to support our truly independent journalism
By registering, you will also enjoy limited access to Premium articles, exclusive newsletters, commenting, and virtual events with our leading journalists
Already have an account? sign in
Register for free to continue reading
Registration is a free and easy way to support our truly independent journalism
By registering, you will also enjoy limited access to Premium articles, exclusive newsletters, commenting, and virtual events with our leading journalists
Already have an account? sign in
Join our new commenting forum
Join thought-provoking conversations, follow other Independent readers and see their replies