Feminists sneaking into bookshops to leave 'gender-busting' bookmarks inside children's books
Hand-made bookmarks include slogans like 'Celebrate her brain, not her beauty' and 'Let girls and boys be kids'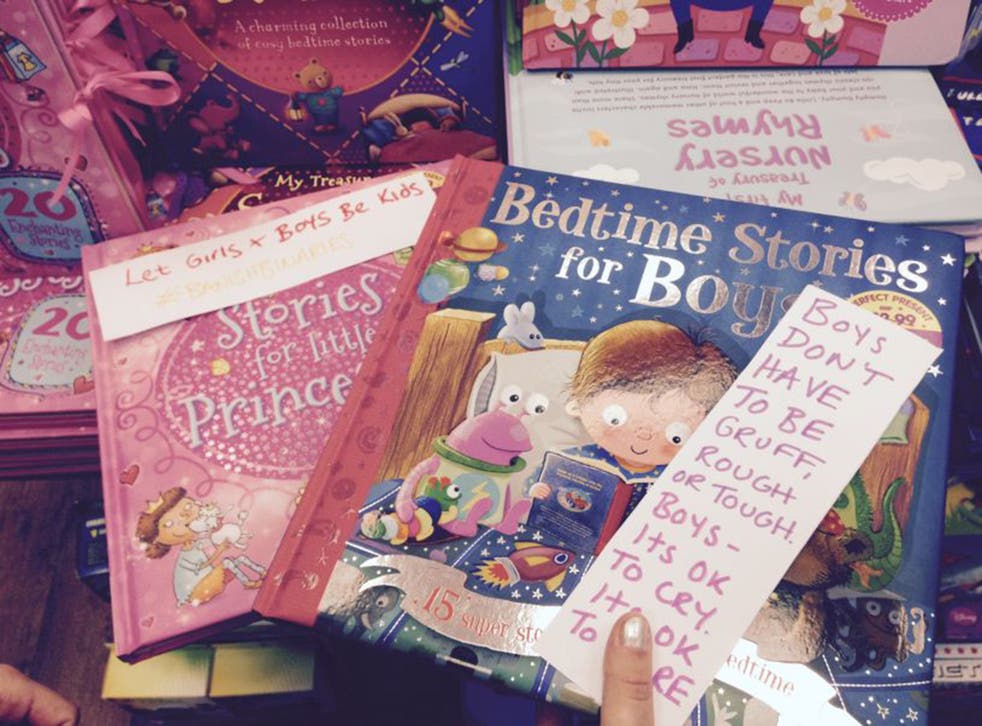 If you go into a bookshop today, you might be in for a surprise. A group of feminists in Cheltenham has been sneaking into stores and leaving "gender-busting" bookmarks inside children's books that are specifically for boys or girls. The bookmarks are hand-made, with slogans including: "Celebrate her brain, not her beauty"; "Boys don't have to be gruff, tough or rough"; and "Let girls and boys be kids". Authors such as Jojo Moyes and David Lodge have been in town for the Cheltenham Literature Festival, which concludes on Sunday evening.
"There is hard evidence that links characters and role models in children's fiction to their aspirations," said Josephine Bartosch of the group Chelt Fems, which blames "a toxic combination of money and inertia" for the proliferation of books for children that push sexist stereotypes.
This campaign is the latest attempt by parents' groups to stop big retailers attaching gendered messages to books, clothes and toys. The Twitter group @LetToysBeToys recently persuaded Usborne Books to remove "for girls" and "for boys" from titles. The Independent on Sunday does not review any children's books that explicitly exclude either boys or girls.
Local parents have been supportive of Chelt Fems' campaign, but "I think there's only so far we can take it locally," Ms Bartosch said. "I sincerely hope that other feminist groups and individuals might pick up the campaign and do the same in their area. We've produced a set of bookmarks that can be downloaded (www.cheltfems.org.uk)." WHSmith, Waterstones, and The Works had not provided anyone to comment as the IoS went to press, but Louise Emerson of Cheltenham Festivals said: "Chelt Fems have brought to light an important issue … Cheltenham Literature Festival has always provided a platform to debate the biggest issues of the day."
Ms Bartosch added: "We're under no illusions that this small action will be the trigger for a genderless femtopia. I hope it makes parents, children and publishers question the stereotypes behind the stories – that's enough for us."
Join our new commenting forum
Join thought-provoking conversations, follow other Independent readers and see their replies