Foyles to open new flagship bookstore on site of Sex Pistols' first gig
Adam Sherwin
Friday 06 June 2014 00:19 Comments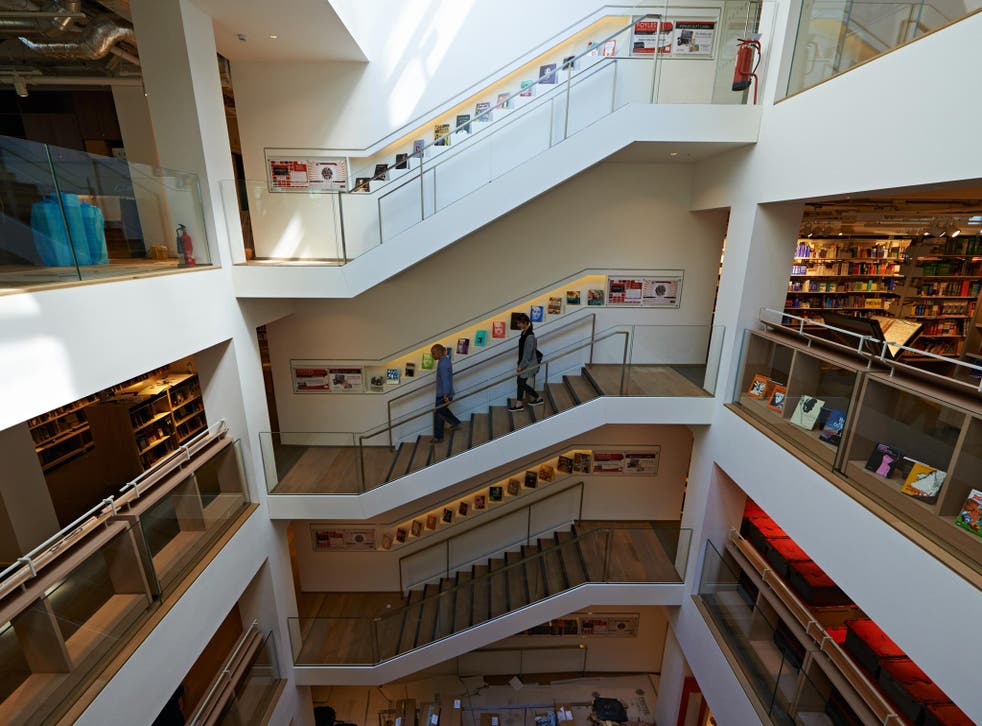 For 80 years, book lovers have lost themselves within the labyrinthine confines of Foyles Charing Cross Road shop.
Now Foyles is hoping to land a blow against its digital rivals with the launch of a new flagship, state-of-the-art store, on the central London site where the Sex Pistols played their first public gig.
The last of 800,000 titles is being shifted by a team of 60 workmen, working around the clock, to the new Foyles home at 107 Charing Cross Road, just two doors down from its much-loved predecessor.
Opening on Saturday, the spacious new store boasts 37,000 sq feet of retail space, spread across four miles of shelves over four floors.
With competition from Amazon and eBooks squeezing high street bookstores, Foyles, which pioneered the staging of literary events, expects to enjoy considerable revenues from its new 200-seat auditorium, which will be used for talks and concerts as well as a new café.
Mark Titchner, a Turner Prize nominee, is the first artist invited to exhibit in a new 1,300 sq ft space, which will be used to showcase the rising stars of contemporary art.
Foyles has taken over the building vacated by the Central St Martins College of Art and Design. The college assembly hall staged the first performance by the Sex Pistols in 1975. The band were kicked offstage after 20 minutes but their shocking impact kickstarted the punk revolution.
The assembly hall now houses the Foyles children's department and the stage where Johnny Rotten unveiled his baleful stare has given way to a Harry Potter section.
Jarvis Cocker, a former St Martins student, will discuss his lyrics during a talk in the music books department, marking the opening week.
It was Cocker's acquaintance with a girl from Greece who "studied sculpture at St Martin's College", which inspired Pulp's "Common People" hit.
Foyles' profits slid last year because of the continued disruption caused by Crossrail building works on Charing Cross Road.
Turnover at the group, which has five London stores and one in Bristol, fell 2.5 per cent to £22.9 million in the year to June 2013, with pre-tax profit nearly halving to £83,000.
Foyles, which began trading in 1903, suffered a blow this week when it announced the closure of its popular St Pancras station branch, after failing to renegotiate viable terms on its lease.
Siôn Hamilton, Foyles' retail director, said: "I have spent a lot of time thinking about the bookshop of the future. We all know that booksellers need to bring in other revenue streams – whether it is cards, gifts or a café or digital."
Customers will be able to search for a book and locate its whereabouts in the store using Ariadne, a digital mapping facility created for Foyles which will automatically pop up as a landing page when smartphone users connect to the store's Wi-Fi network.
Alex Lifschutz, director of project architects Lifschutz Davidson Sandilands, said the old Foyles was a "rabbit warren of small, confusing spaces".
Whilst the new venue will be easily accessible, he said it would retain the "quirkiness" which customers said distinguishes Foyles from its competitors. There will be plenty of nooks and crannies for literary contemplation between its 10,000 shelves and Foyles will continue to house the largest foreign language department in the UK, with 25,000 titles.
The old Charing Cross store, once the world's biggest book emporium, closed last Saturday and is expected to become a boutique hotel.
Foyles was famously a soft-touch for shoplifters – Elizabeth Taylor once brazenly walked out with a copy of A.E. Housman's A Shrophire Lad. That problem has hopefully been conquered.
"We have thought very carefully about where we put out tills," Mr Hamilton said.
Register for free to continue reading
Registration is a free and easy way to support our truly independent journalism
By registering, you will also enjoy limited access to Premium articles, exclusive newsletters, commenting, and virtual events with our leading journalists
Already have an account? sign in
Join our new commenting forum
Join thought-provoking conversations, follow other Independent readers and see their replies