Gender-specific children's books 'are easier to sell', insists children's book publisher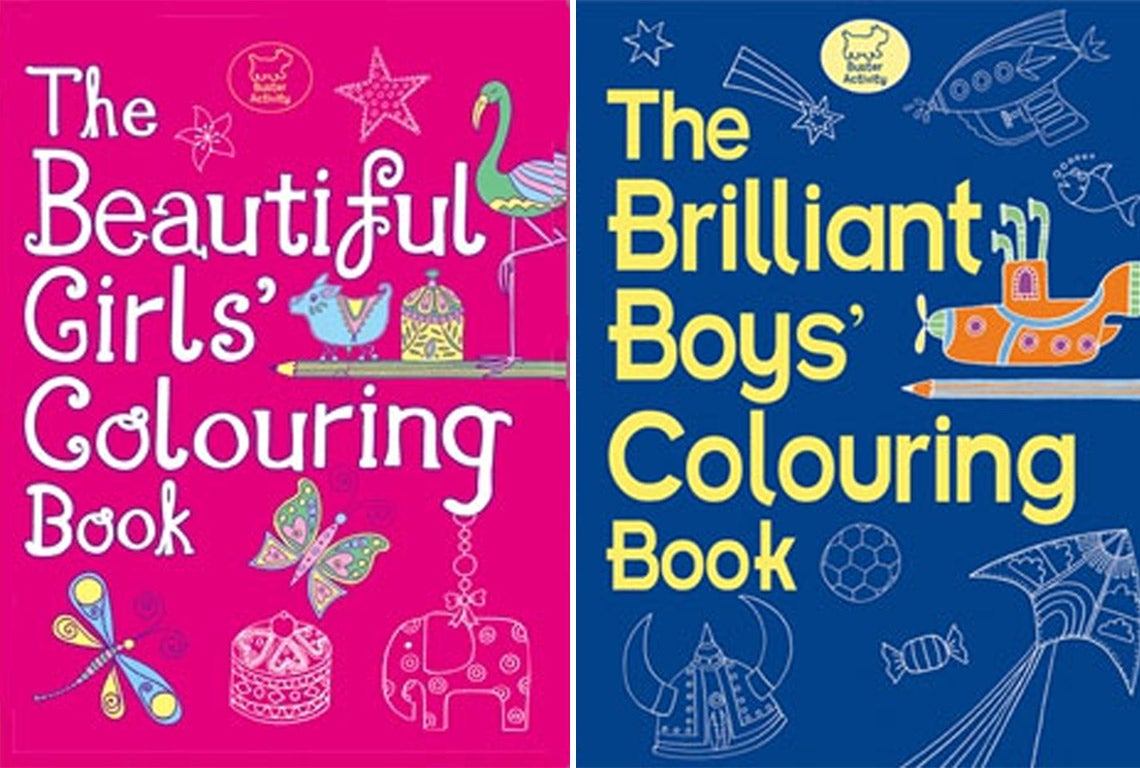 A leading children's publisher has said he will not bow to pressure to stop labelling books for either girls or boys – because it is a "fact of life" that people search for gifts according to gender.
Michael O'Mara, whose company owns children's publisher Buster Books, defended selling gender-specific titles such as The Beautiful Girls' Colouring Book and The Brilliant Boys' Colouring Book, saying they were easier to sell than unisex editions.
"It's a fact of life how a very large percentage of people shop when buying for kids, do it by sex. We know for a fact that when they are shopping on Amazon, they quite often type in 'books for boys' and 'books for girls," Mr O'Mara told The Independent.
"All boys don't like one thing and all girls the other, but the fact is lots of boys like the same things and lots of girls like the same things. We can't ignore the fact that they are definitely different."
Mr O'Mara's comments come after the group of parents behind a high-profile campaign to stop the toy industry selling gender-specific toys launched a new campaign asking publishers to take the 'boys' and 'girls' label off books and "allow children to choose freely what kinds of stories and activity books interest them".
Their Let Books Be Books petition has almost 3,000 signatures and has support from the former children's laureate Anne Fine, who said it was "exasperating" that "these false and stupid assumptions about what each gender 'wants' are back in force, narrowing the horizons and possibilities for children of both sexes."
In what is being hailed as an early triumph for the campaign, Parragon Books– which sold sticker books for boys and girls – said earlier this week that they have "no plans to create new titles referring to boy/girl in the UK".
Similarly, Usborne – publisher of the Girls' Activity Book and the Boys' Activity Book – does not intend to produce any more such titles.
But Mr O'Mara, a father of three, said these were "knee-jerk" reactions. "The proof is in the pudding. Our two best children books ever are The Boys' Book and The Girls' Book. The boys' one included things like how to make a bow and arrow and how to play certain sports and you'd get things about style and how to look cool in the girls' book. 2,000 people signed this petition [in the first day], but we sold 500,000 copies of The Girls' Book. These statistics tell me I'm going in the right direction."
He added that around 90 per cent of books his company sells are not divided by gender and that it is mostly women who work in his childrens' book division. "We would never publish a book that demeaned one sex or the other," he said.
Megan Perryman from Let Toys Be Toys said: "By marketing books specifically at boys or girls, you halve your readership and alienate the many children who do not fit into neat boy/girl boxes.
"We would be very surprised if evidence showed that gendered titles are more profitable, and we certainly haven't seen this. Indeed, some of the best-selling children's books don't have gendered covers at all."
Join our commenting forum
Join thought-provoking conversations, follow other Independent readers and see their replies