The Independent's journalism is supported by our readers. When you purchase through links on our site, we may earn commission.
Harry Potter and the Cursed Child: Fans rage against script format despite warnings from JK Rowling
'Rowling, you owe your fans a BOOK! I like to rename this Harry Potter and the Great Scam'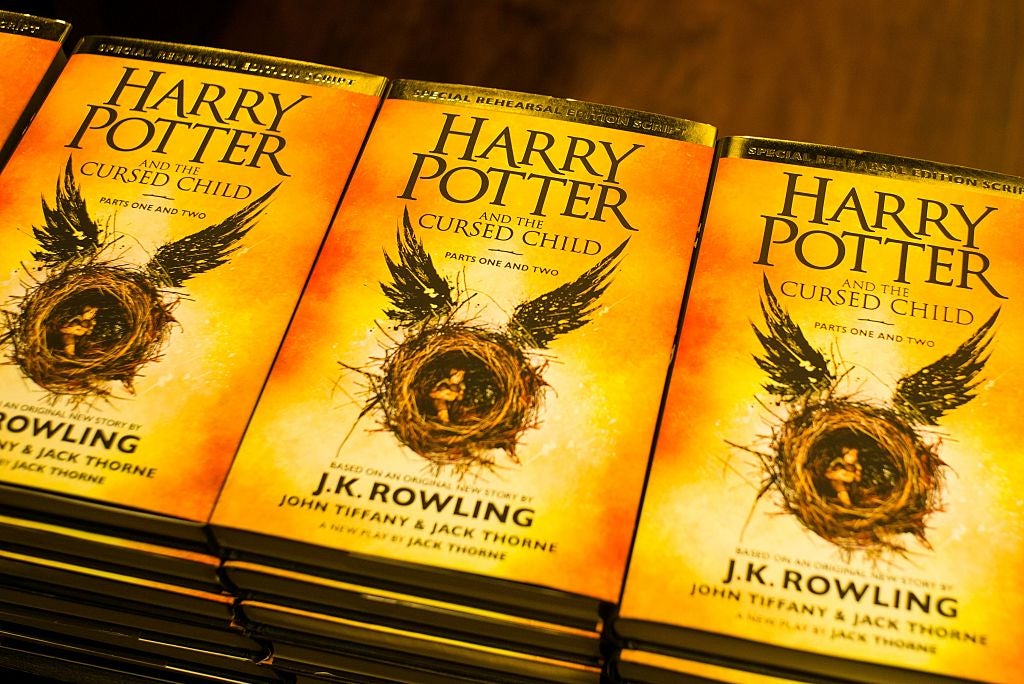 Just occasionally, our excitement can get the best of us.
Which is exactly what's happened to a few eager Potterheads, who appear not to have quite taken on the direct warnings of J.K. Rowling; now raging are they that the released publication of Harry Potter and the Cursed Child is merely the script of the stage play and not a full novel.
Indeed, to clarify further, Cursed Child isn't entirely a Rowling product; the cover quite clearly stating the work is a collaboration between the Harry Potter author and playwright Jack Thorne stating, "Based on an original new story by J.K. Rowling, John Tiffany, and Jack Thorne. A new play by Jack Thorne."
All this has been repeatedly pointed out, including by Rowling herself on social media; yet still an inevitable rage seemed to brew within the fan community, when a few dreams climbed too high and too lofty in hopes of an 8th novel in the Potter franchise. Here's a selection from the script's Amazon page:
"Was all excited for this book as I grew up with harry potter. Stood in line, got the book, and went home. When I got home I opened the book, that's where the excitement turned into disappointment. I knew the book was based on the play, what I didn't know is that it was pretty much a photocopy of the script. If I could return the book I would."
"Had I known JK didn't write every word of this herself, I never would have read it. It reads like a poorly planned fan fiction written by someone with little knowledge of the traits of major characters. It's confusing at times, and there are already some obvious plot holes. I'm just going to pretend this didn't happen and wait for Fantastic Beasts."
"WARNING THIS BOOK WAS NOT WRITTEN BY JK ROWLING - DON'T BUY THIS BOOK. Well to start I don't know how the hell Rowling let this thing get made into a play or why she had someone else right it when she should be writing every single chronicle in the Wizarding World Canon, and it's because of this that many people probably don't consider this canon. Then the painful truth is this book shouldn't be considered canon for the franchise."
Fans Go Nuts as 'Harry Potter and the Cursed Child' Hits Stores
"This was the most wait of money I've ever spent! I couldn't read past 10 minutes. I was missed guided about the book I thought it was just saying they were making play NOT that you would be reading a script. You have to always look to see who it is that's talking you have to follow along with what the stage looks like I'm not just unhappy because I love the series the movies but because I was expecting to be reading a book I paid 15$ for and I can't read more than 10 minutes without a headache. UNLESS YOU WANT TO READ A SCRIPT OF A PLAY INSTEAD OF A BOOK DON'T WASTE YOUR MONEY."
"Very disappointed that I didn't research more... Not a book but a script instead... So DISAPPOINTED!"
"Thought I was buying a book it was a play my bad I'm disappointed! Need to look closer at your purchase!"
"Who wrote this book? I mean script. Come on. Talk about rediculous [sic]. Rowling, you owe your fans a BOOK! I like to rename this Harry Potter and the great scam."
"I clicked pre-order before realising this is just a script for a play which is beyond tedious to read. I made it a few acts in before my brain froze in complete boredom. This is a Potter fans cash grab and I'm extremely annoyed that I fell for it. The premise that people might learn to like reading stilted sentences and stage directions because they were made to read Shakespeare plays in in Schools is ludicrous . Extremely disappointed that JK Rowlings was on board with THIS one."
First look at Harry Potter and The Cursed Child
Show all 11

"I purchased this because it's a Harry Potter book...or so I thought.... The idea that this is a proper book is misleading at best, and an outright lie at worst. It's a play-by-play of a play meant to be performed on stage. Awkward transitions, shoddy plot, it's a bit pathetic. I'd not recommend buying this book, as it's a disappointment. Instead, borrow it from a friend or from the local library. Spending more than a few bucks for this is a waste."
"Very disappointed. May have been ok as a play but not a good read. Wish I could get my money back. Love all the books but this is the worse one ever. Even as a play! Should have been free!"
"Can't read this script version. Very disappointed - didn't know this script version was what I was going to get. Hope I can find a non script version."
"I was thoroughly disappointed in this book. I thought that it might be a novel adaptation of the play, my mistake. The worst part was that this doesn't sound like Rowling's work at all. I've read other reviews which state that it reads like a poor fan fiction and, sadly, I must agree. It was so bad that I couldn't even read the whole thing."
Join our commenting forum
Join thought-provoking conversations, follow other Independent readers and see their replies