The Independent's journalism is supported by our readers. When you purchase through links on our site, we may earn commission.
'Barbie: I Can Be A Computer Engineer' blasted because men do all the coding in the book
Barbie book has been criticised for showing its protagonist needing technical support from men
Heather Saul
Thursday 20 November 2014 14:24 Comments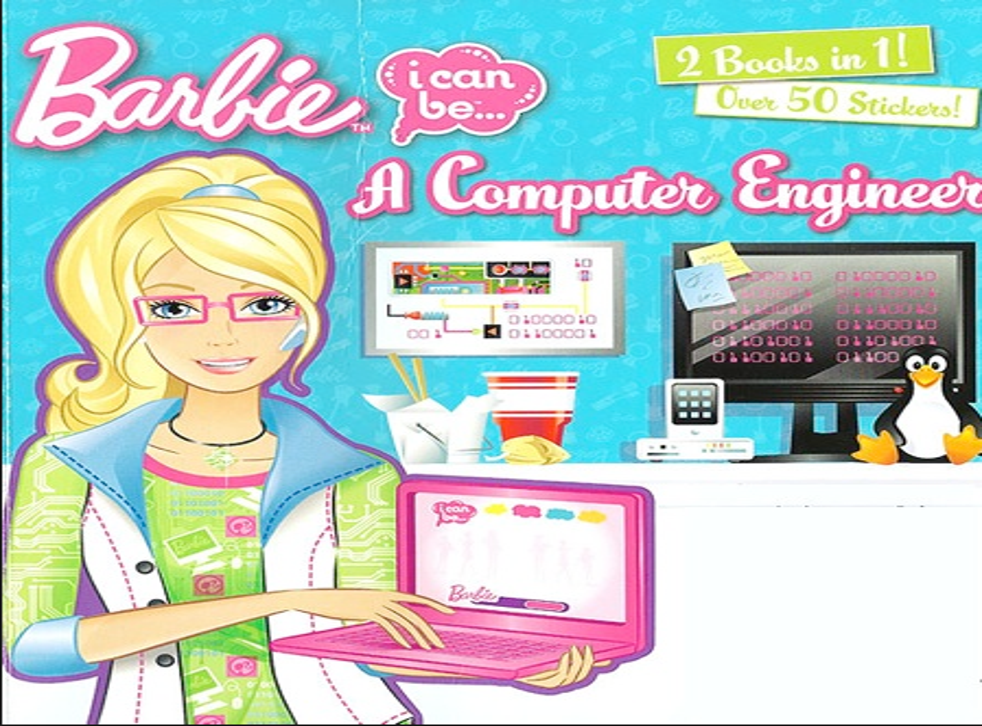 A book in the Barbie I can be series has been blasted for suggesting its protagonist can be a computer engineer – but only with the help of a man.
The I can be series imagines Barbie in a range of roles, including as President and as a sports star, seemingly breaking gender stereotypes.
But the Barbie: I can be a Computer Engineer book, published by Random House US in 2010, is facing a storm of criticism for portraying Barbie as a programmer who cannot code.
The storyline follows Barbie as she infects her computer and her sister Skipper's computer with a virus while designing a computer a game for school.
An extract from the book reads: "At breakfast one morning, Barbie is already hard at work on her laptop.
"What are you doing, Barbie?" asks Skipper.
"I'm designing a game that shows kids how computers work," explains Barbie. "You can make a robot puppy do cute tricks by matching up colored blocks!"
"Your robot puppy is so sweet," says Skipper. "Can I play your game?"
"I'm only creating the design ideas," Barbie says, laughing. "I'll need Steven and Brian's help to turn it into a real game!"
Reviews on Amazon

branded the book "misogynistic nonsense", "silly" and "disappointing". 
On reviewer wrote: "If you want to make sure that your daughter gets no silly ideas about ever competing with the boys doing IT this book is for you."
It now appears to have been taken off the site.
Tumblr site Feminist Hacker Barbie is encouraging users to create "better" versions of the book to "help Barbie be the competent, independent, bad-ass engineer that she wants to be".
One of the new passages

created by the internet involves Barbie being told she needs to be 18-years-old before pitching to venture capitalists.
In another, Barbie explains to Skipper: "I'll need too more weeks to figure out how ptrace works before I can add support for the emulation for lx branded zones!"
Mattell, the company who manufacture the fashion doll, has apologised for the book and said it has since "re-worked" others in the series.
A statement said: "The portrayal of Barbie in this specific story doesn't reflect the Brand's vision for what Barbie stands for. We believe girls should be empowered to understand that anything is possible and believe they live in a world without limits.
"We apologise that this book didn't reflect that belief. All Barbie titles moving forward will be written to inspire girl's imaginations and portray an empowered Barbie character."
Random House has been contacted for comment.
Register for free to continue reading
Registration is a free and easy way to support our truly independent journalism
By registering, you will also enjoy limited access to Premium articles, exclusive newsletters, commenting, and virtual events with our leading journalists
Already have an account? sign in
Register for free to continue reading
Registration is a free and easy way to support our truly independent journalism
By registering, you will also enjoy limited access to Premium articles, exclusive newsletters, commenting, and virtual events with our leading journalists
Already have an account? sign in
Join our new commenting forum
Join thought-provoking conversations, follow other Independent readers and see their replies