Jorge Luis Borges fan brings his infinite library to life online
Jonathan Basile spent six months creating a digital version of The Library of Babel – containing all possible books with 'all possible combinations of letters'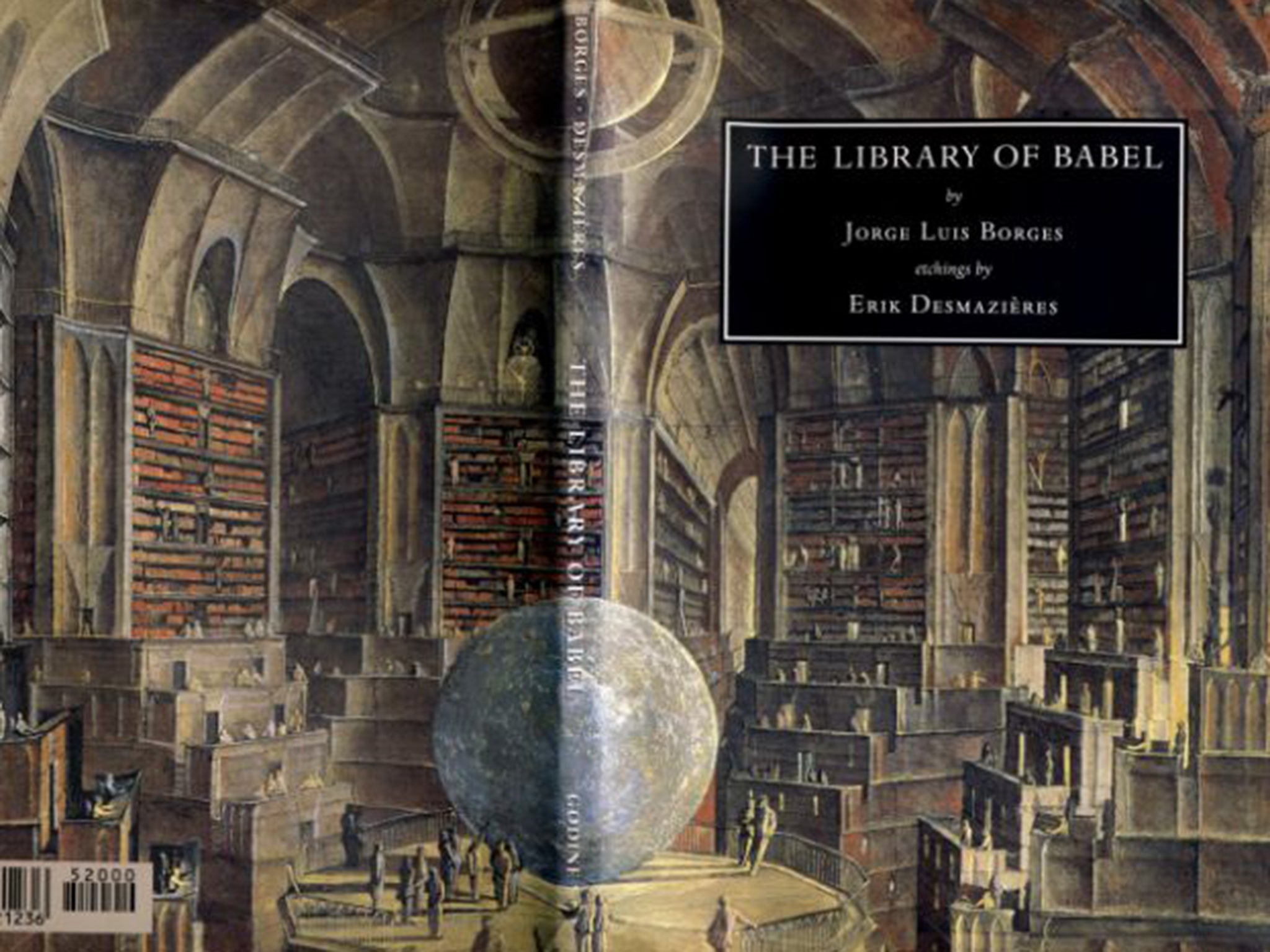 In Jorge Luis Borges' classic tale The Library of Babel, the librarians are driven mad searching through an infinite number of books, most of them meaningless, hunting for answers to the fundamental mysteries of humankind.
Now 75 years on, Borges fans may question the sanity of one writer who has attempted the extraordinary task of recreating the Argentine writer's "endless" library online.
Jonathan Basile, who lives in Brooklyn, New York, has spent six months creating a digital version of The Library of Babel – which contained all possible books with "all possible combinations of letters".
Mr Basile described his online library as having "more books than the universe has atoms". He said: "If completed... it would contain every book that ever has been written, and every book that ever could be – including every play, every song, every scientific paper, every legal decision, every constitution, every piece of scripture and so on."
"I've always loved Borges' stories," he added. "I was just lying in bed one night and it popped into my head. It seemed such a natural extension of the capabilities of the internet that I thought it must exist. I searched and it wasn't there. It seemed like such a compelling project I kept getting in deeper and deeper."
But as the narrator in Borges' story points out, and is clear from even a brief look at the online incarnation, "for every rational line or forthright statement there are leagues of senseless cacophony, verbal nonsense, and incoherency". One volume referenced in the story consists of nothing more than the letters MCV repeated for 410 pages.
Most iconic book covers
Show all 12
Borges, who died in 1986, is considered one of the greatest ever writers in Spanish. Gene Bell-Villada, professor of romance languages at Williams College, Massachusetts, said that of all Borges' short stories, it is The Library of Babel that "most sums up his view of the world".
The author believed the universe was too big for any one person to understand, "and any attempt to fathom the world will lead to disappointment, disillusionment and even madness".
Borges' library influenced authors including Umberto Eco, who has a labyrinthine library in The Name of the Rose and Terry Pratchett, whose Discworld novels have an infinite library.
Visually, Mr Basile's website recreates the hexagonal galleries as described in the story with 20 bookshelves, five to each side. Users can click on the shelves, the rows and the volumes at random to explore them.
One Harvard assistant professor called the project "confounding and moving" while Michael Whitmore, director of the Folger Shakespeare Library in Washington, described it as "completely brilliant".
In the story, the people are looking for two books in particular: the one about themselves and the book that explains everything. "The chance of finding those books is close to zero," Professor Bell-Villada said. "That's why people go crazy looking for them."
Join our commenting forum
Join thought-provoking conversations, follow other Independent readers and see their replies