Kelly Clarkson loses bid to keep £150,000 Jane Austen ring following successful export bar
Anonymous donation of £100,000 helps prevent the ring leaving the UK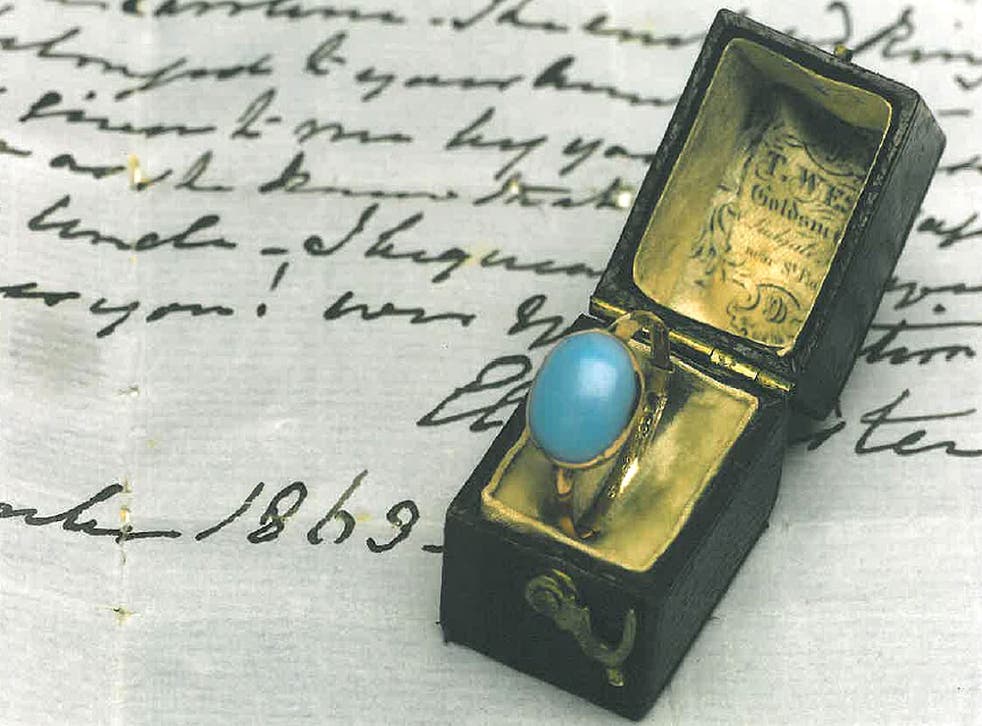 A ring once owned by Jane Austen which was sold to US singer Kelly Clarkson will stay in the UK after a museum where the author lived raised more than £150,000 to buy it.
The gold and turquoise ring remained in the Austen family for around 200 years before it was sold at auction last year.
But Clarkson, 31, was prevented from taking the item of jewellery out of the UK when it became subject to a temporary export ban.
Jane Austen's House Museum in Chawton, Hampshire, where the writer spent the last eight years of her life and where she penned all of her six completed novels, launched its fundraising campaign in August.
The museum, which had been unable to meet the hammer price at the Sotheby's auction, has now raised £157,740 to secure the ring which is expected to go on display in the New Year.
Donations included a single pledge of £100,000 from an anonymous donor while donors included TV gardener Alan Titchmarsh and Austen fans from around the world.
It is not known whether Austen bought or was given the ring - which contains the December turquoise birthstone (Austen's birth month) - and symbolises wisdom and spiritual journeys.
After the world-famous author's death in 1817 from an unknown illness, the ring was passed to her sister Cassandra who then gave it to her sister-in-law Eleanor Austen on her engagement to the Reverend Henry Thomas Austen.
US star Clarkson, a former American Idol winner, said that she was glad that the museum had acquired the item.
"The ring is a beautiful national treasure and I am happy to know that so many Jane Austen fans will get to see it at Jane Austen's House Museum," she said.
Mary Guyatt, curator of the museum, which celebrates the 200th anniversary of the publication of Pride And Prejudice this year, said: "The Museum has been stunned by the generosity and light-footedness of all those who have supported our campaign to meet the costs of acquiring Jane Austen's ring for our permanent collection.
"Visitors come from all around the world to see the house where she once lived and we will now take great pleasure in displaying this pretty ring for their appreciation.
"The Government's decision to decline an export licence reflects how rarely Austen's personal effects turn up in today's art market, and having missed out at auction in 2012 we are thrilled to have had this second chance to bring it home to Chawton."
Culture Minister Ed Vaizey said: "I'm delighted that Jane Austen's House Museum has been successful in their campaign to 'bring the ring home to Chawton'... It's clear from the number of people who gave generously to the campaign just how admired Jane Austen remains to this day."
Arts Council England chief executive Alan Davey said: "This ring is a truly important piece of history in understanding one of literature's greatest authors. It is fantastic that Jane Austen's House Museum has managed to raise the funds to keep this on display for people to enjoy and admire. Those who have donated should be thanked for their enormous generosity."
The museum, which has also raised enough cash to pay for costs associated with showing the ring, such as its display and insurance, already has two other pieces of jewellery owned by the author of Sense And Sensibility and Emma - a turquoise bracelet and a topaz cross.
Austen is set to appear on the new £10 banknote following a campaign to have a woman on the currency.
PA
Register for free to continue reading
Registration is a free and easy way to support our truly independent journalism
By registering, you will also enjoy limited access to Premium articles, exclusive newsletters, commenting, and virtual events with our leading journalists
Already have an account? sign in
Register for free to continue reading
Registration is a free and easy way to support our truly independent journalism
By registering, you will also enjoy limited access to Premium articles, exclusive newsletters, commenting, and virtual events with our leading journalists
Already have an account? sign in
Join our new commenting forum
Join thought-provoking conversations, follow other Independent readers and see their replies