Knighthood stuns Pratchett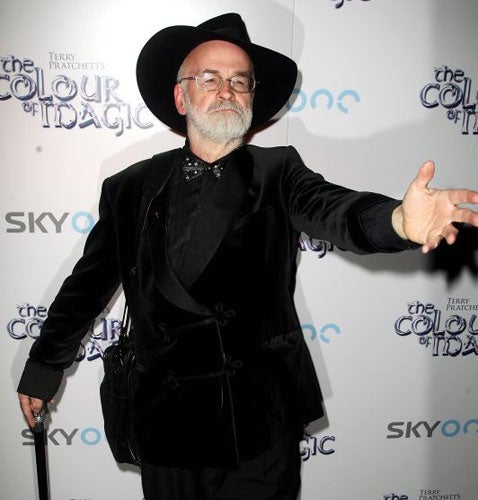 Terry Pratchett, the author of the Discworld series of novels that have sold more than 55 million copies worldwide, said he was "stunned, in a good way" after receiving a knighthood in the New Year's Honours List.
The 60-year-old writer, below, whose first book was published in 1971, told The Independent last night: "I'm having difficulty fitting it into my head. I'm very pleased indeed. It cheers me up no end." He added: "It will also impress some of my American friends, who started calling me 'Sir' after I received my MBE, which was a little embarrassing."
Though he has written works of science fiction and horror, Pratchett's greatest creation came with his first novel set in Discworld, a fantasy realm balanced on the backs of four elephants, which themselves stand atop a huge turtle.
"The Discworld series has been going on quietly but successfully for a long time now. I've gone all over the world with it," he said.
"I'm glad a genre writer has got a knighthood, but stunned that it was me."
The author has also made major donations to the Alzheimer's Research Trust after announcing that he had been diagnosed with the brain disorder last year.
Robert Plant, the lead singer of Led Zeppelin, was also made a CBE for services to music. The band, which has sold 300 million albums worldwide, reunited for a single show at London's O2 arena.
There was also an OBE for the actor Michael Sheen, acclaimed for his portrayal of Sir David Frost in the play Frost/Nixon. He has twice played Tony Blair, in The Queen and in Channel 4's drama The Deal.
"I am both thrilled and slightly mystified," said Sheen, 39. "But very grateful. It'll be nice to meet the real Queen at last."
Another to be honoured in the arts world was the British jazz musician Courtney Pine, who was made a CBE for services to music. The artist, who was playing a gig in the Netherlands last night, said he was "deeply moved", adding: "I never imagined that I would be recognised for playing improvised music in the United Kingdom in this way. Thank you, thank you, thank you."
The actress Betty Smith, known as Liz Smith, becomes an MBE. The 87-year-old found fame for her roles in The Vicar of Dibley and The Royle Family, in which she played Nana.
Join our commenting forum
Join thought-provoking conversations, follow other Independent readers and see their replies