Margaret Atwood: Feminism is not about believing women are always right
'Do we mean women are better than men? Do we mean all men should be pushed off a cliff? What do we mean? Because that word has meant all of those different things,' says author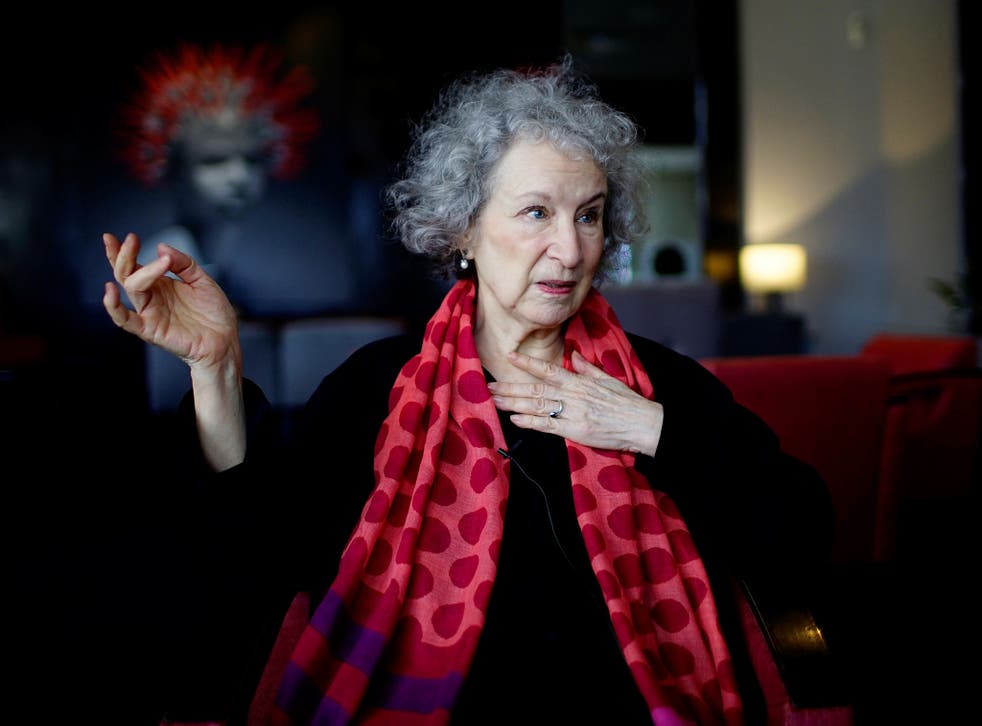 Margaret Atwood has argued feminism is not defined as the assumption women are always right regardless of the context.
The Canadian novelist, who eschews the feminist label for own books, said feminism has dissolved into a catch-all term used to denote myriad definitions.
Atwood did not say which wave or offshoot of the feminist movement she was referring to but argued one brand of feminism was defined as thinking women are "better" than men.
During an interview with Emma Watson for Entertainment Weekly, Atwood was asked about whether she was "bored" of the frequent conversations about whether the Handmaid's Tale is a feminist book.
The Harry Potter actor asked: "Are you bored of the "Are you a feminist" question? You must have been asked that a lot whilst talking about the new TV show."
"I'm not bored with it, but we have to realise it's become one of those general terms that can mean a whole bunch of different things," Atwood replied. "So I usually say, 'Tell me what you mean by that word and then we can talk.'"
"If people can't tell me what they mean, then they don't really have an idea in their heads of what they're talking about. So do we mean equal legal rights?"
"Do we mean women are better than men? Do we mean all men should be pushed off a cliff? What do we mean? Because that word has meant all of those different things."
Much discussion of the Handmaid's Tale has centred on whether or not it is a feminist book. Women have found new relevance in the 1985 novel which recently returned to the bestseller list. This is a renaissance brought to life by both Hulu's upcoming adaptation and its arguable similarities to President Donald Trump's misogynistic political agenda.
In June, women staged a protest against a proposed ban on Ohio's most common abortion procedure while dressed in character from the dystopian novel. They wore red capes and white bonnets to resemble the costumes worn in a new TV series based on Atwood's novel in which women are forced to give birth.
The 20 best audiobooks

Show all 20
Atwood went on to compare the factionalism of feminism to different branches of Christianity, saying: "It's like Christians. Do we mean the Pope? Do we mean Mormons? What are we talking about here? Because they're quite different."
The author, who has been shortlisted for the Booker Prize five times, then made it clear that she aligned herself with notions of feminism founded on equality but did not specify any further about which part of the movement she meant.
"So, if we mean, should women as citizens have equal rights, I'm all for it and a number of advances have been made in my lifetime regarding property rights and divorce and custody of children and all of those things," Atwood said. "But do we mean, are women always right? Give me a break! I'm sorry, but no! Theresa May is a woman, for heaven's sakes!"
Despite the fact Atwood frequently depicts female characters dominated by patriarchy in her books, she has denied the notion The Edible Woman, which was published in 1969 and coincided with the early second wave of the feminist movement, is a feminist title, claiming she wrote it four years before the movement.
The author has argued the feminist label can only be given to writers who willfully and consciously work within the context of the movement.
She has been similarly reluctant to label the Handmaid's Tale as a feminist title, saying she does not perceive the Republic of Gilead to be a solely feminist dystopia because not all men have greater rights than women. Atwood has claimed while some of the observations that informed The Handmaid's Tale may be feminist, her novel is not intended to convey "one thing to one person" or serve as a political message, on the contrary The Handmaid's Tale is "a study of power, and how it operates and how it deforms or shapes the people who are living within that kind of regime".
Register for free to continue reading
Registration is a free and easy way to support our truly independent journalism
By registering, you will also enjoy limited access to Premium articles, exclusive newsletters, commenting, and virtual events with our leading journalists
Already have an account? sign in
Register for free to continue reading
Registration is a free and easy way to support our truly independent journalism
By registering, you will also enjoy limited access to Premium articles, exclusive newsletters, commenting, and virtual events with our leading journalists
Already have an account? sign in
Join our new commenting forum
Join thought-provoking conversations, follow other Independent readers and see their replies