Marvel Comics introduces 16-year-old Muslim girl as new superhero
The character Kamala Khan will star in a new Ms Marvel series and is the daughter of Pakistani immigrants from New Jersey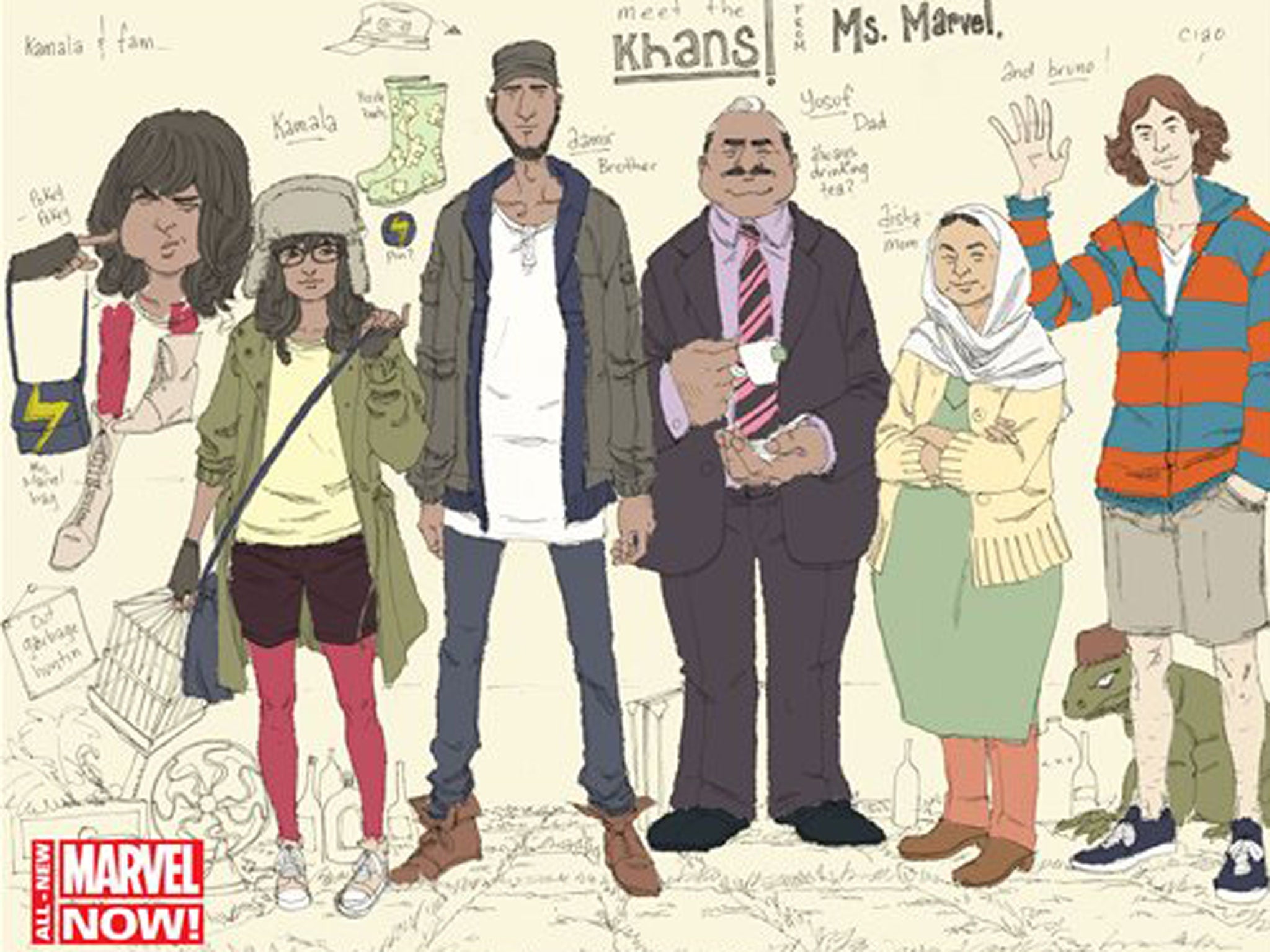 Comic-book connoisseurs will recognise the name Ms Marvel as the superhero alter ego of a blonde, blue-eyed and busty former US Air Force Major named Carol Danvers. But following her removal from the role by Marvel Comics last year, a more progressive successor has been found: Kamala Khan is the 16-year-old Muslim daughter of Pakistani immigrants from Jersey City, New Jersey.
The character of Khan will star in a new Ms Marvel series starting in February, making her one of few female Muslim comic-book characters, let alone series protagonists. Her introduction indicates Marvel has an eye on contemporary cultural relevance, even as the company maintains its A-list roster of white, male superheroes such as Spider-Man, Iron Man and Captain America.
The teenager's creators say she will be forced to deal not only with her developing superpowers and the day-to-day struggles of adolescence, but also with the strict demands placed on her by her family. Marvel editor Sana Amanat told The New York Times, "Her brother is extremely conservative. Her mom is paranoid that she's going to touch a boy and get pregnant. Her father wants her to concentrate on her studies and become a doctor."
The new Ms Marvel will be a shape-shifter, able to grow or shrink her limbs and take on other forms. She idolises Danvers, and takes on her identity as a tribute. G Willow Wilson, the title's writer, said, "[She] represents an ideal that Kamala pines for. She's strong, beautiful and doesn't have any of the baggage of being Pakistani and 'different.'" The idea for Khan's character came about after Ms Amanat recounted memories of her Muslim-American childhood to a fellow Marvel editor. Ms Wilson is a convert to Islam whose acclaimed 2007 graphic novel, Cairo, was set in the Egyptian capital. She insisted, though, that the Muslim Ms Marvel is not intended as evangelism. "It was really important for me to portray Kamala as someone who is struggling with her faith," Ms Wilson said.
Marvel editor-in-chief Axel Alonso emphasised that Khan's religion is just one facet of her character, and that she has much in common with Marvel's existing protagonists, not least Spider-Man. "Kamala is not unlike Peter Parker," Mr Alonso told the Associated Press. "She's a 16-year-old girl from the suburbs who is trying to figure out who she is and trying to forge an identity when she suddenly bestows great power and learns the great responsibility that comes with it."
Khan's instant top-billing demonstrates Marvel's confidence in the character. Traditionally, its new heroes start life in the pages of another title, where they acquire a reputation and a following before striking out alone.
Last year Marvel's biggest rival, DC Comics, rebooted its Green Lantern series, in which Simon Baz, a Muslim Arab-American wrongly suspected of terrorism, took on the identity of the popular superhero. Ms Amanat said she was braced for some negative reaction to Kamala Khan: "Not only from people who are anti-Muslim, but people who are Muslim and might want the character portrayed in a particular light."
In the past, Marvel and DC have faced criticism not only for the lack of ethnic diversity in their fictional universes, but also for their dearth of female superheroes. Ms Marvel will go some way towards remedying that problem, alongside new series starring female protagonists Black Widow, Elektra and She-Hulk - not to mention Danvers, in her new guise as Captain Marvel.
The other comic book heroes who broke new ground
Falcon
Though there had been black heroes before his 1969 debut - notably Black Panther - The Falcon (aka Samuel Wilson) was marvel's first African-American superhero. He was also the first black superhero whose name did not actually contain the word "black".
Batwoman
When first created by DC in 1956, Batwoman was intended as a love interest for Batman, to counter questions about his sexuality. When she was reintroduced after a hiatus in 2006, however, Kathy Kane came out as the most high-profile lesbian in comic books.
Green Lantern
The latest incarnation of the Green Lantern is Simon Baz, DC Comics' first Muslim-American superhero. Baz and his family suffered prejudice in the aftermath of 9/11, and he lost his job in the economic crisis before donning the Green Lantern Power Ring in 2012.
Join our commenting forum
Join thought-provoking conversations, follow other Independent readers and see their replies