New children's laureate Chris Riddell to transform into a bookshop superhero
Riddell says he has an alter ego to create excitement around books
Nick Clark
Tuesday 09 June 2015 22:17 Comments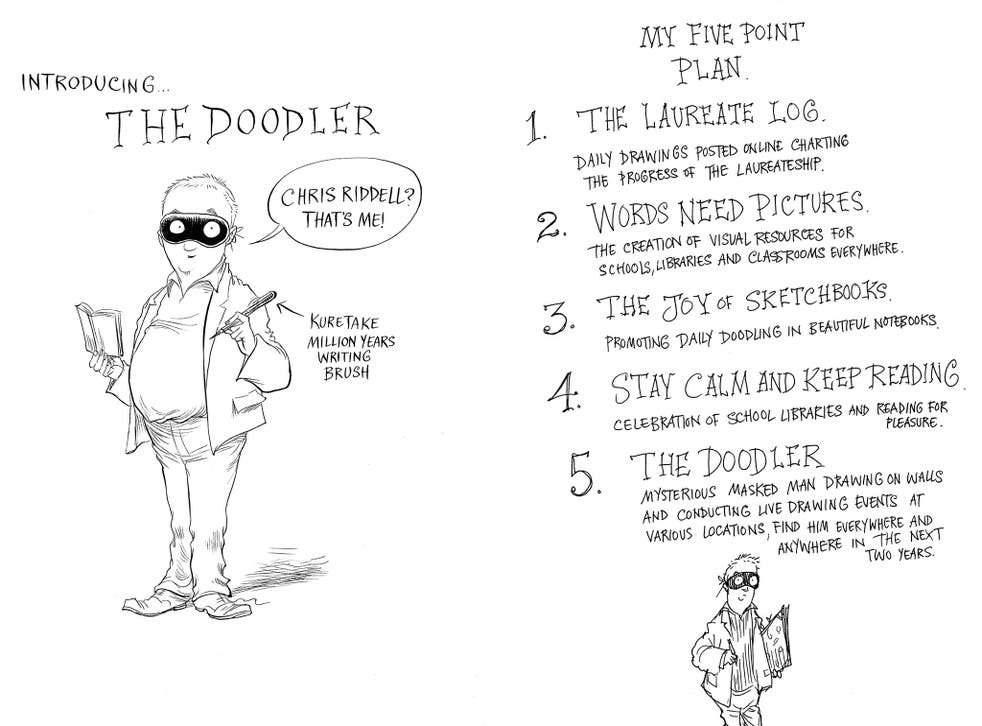 The new Children's Laureate will don a masked disguise and draw pictures on the walls of bookshops as part of his personal mission to widen the appeal of literature and illustration for young people.
Chris Riddell, who was appointed on Tuesday, said he had dreamed up a "superhero" alter ego to create excitement around children's books.
The award-winning creator of the Goth Girl series is the ninth Children's Laureate, succeeding Malorie Blackman. The author and illustrator told The Independent that as part of the two-year role he had created a fantasy character to give children an insight into how he worked as an illustrator and inspire them to draw.
"I'm calling myself The Doodler and with the simple addition of a small burglar's mask I achieve utter anonymity," he said.
"James Daunt [chief executive of Waterstones, which sponsors the post] gave me permission to walk into any Waterstones as The Doodler, in a mask, and draw on walls with immunity."
Mr Riddell said he also planned to use the post to promote the "joy of doodling", by posting a new work online each day. He hopes to encourage children to do the same. "People will be surprised at what they can achieve with just a pencil and an idea," he said.
Mr Riddell, who also draws political cartoons, was described by Hay Festival director Peter Florence as the "greatest illustrator of his generation". Karen Goulding, children's literature expert at the University of Reading, said she was delighted by his appointment, calling him a "gifted writer and illustrator".
The first Goth Girl novel won the Costa Children's Book Award in 2013 and has won the Kate Greenaway Medal for illustration in children's books twice; for Pirate Diary in 2012 and Jonathan Swift's Gulliver two years later.
He has also illustrated books for acclaimed fantasy writer Neil Gaiman and even Russell Brand's first children's book Trickster Tales: The Pied Piper of Hamelin in 2014.
"It is a great honour; I'm rather bowled over by it," Mr Riddell said. "I thought about the other laureates and immediately realised they would be hard acts to follow." His predecessors include Quentin Blake, Michael Morpurgo and Julia Donaldson.
The job of Laureate needed a manifesto, he said. "We are talking about how all of our children need to become avid readers and promote children's books here which are the best in the world."
He wants to promote "visual literacy", saying words need pictures, whatever the age of the reader. "I would like to say to children: 'Don't stop drawing. Don't tell yourself you can't draw'," he said. "Everyone can draw. If you make a mark on a page you can draw."
While he seeks to inspire children to draw, his own inspirations include Sir John Tenniel's illustrations of Alice in Wonderland, particularly the white rabbit. "I was obsessed with it as a kid," he said.
Mr Riddell said there was no time like the present for illustrators. With the rise of graphic novels and video games, "culturally we are living in a very visual age," he said.
Another pledge was to support school libraries, with the illustrator calling it "bizarre" that they were not required: "I want to help and encourage every school to do more for readers."
Register for free to continue reading
Registration is a free and easy way to support our truly independent journalism
By registering, you will also enjoy limited access to Premium articles, exclusive newsletters, commenting, and virtual events with our leading journalists
Already have an account? sign in
Join our new commenting forum
Join thought-provoking conversations, follow other Independent readers and see their replies