Jane Austen's Mr Darcy made his fortune from slavery, Joanna Trollope claims
Author exposes 'very dark underbelly' beneath that billowing white shirt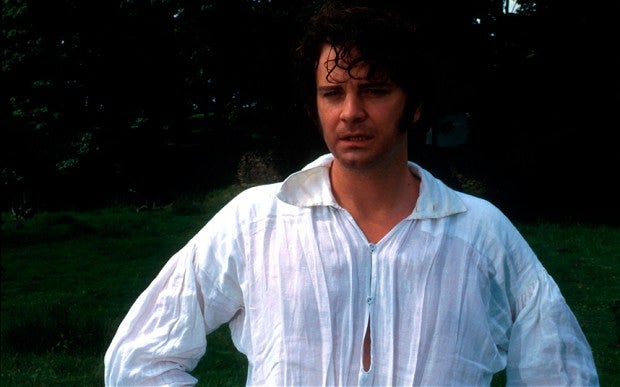 It is a truth universally acknowledged that a man in possession of a fortune must have done some dodgy dealing.
At least, that's according to author Joanna Trollope who claims Mr Darcy, the hero of Jane Austen's Pride and Prejudice, profited from the slave trade.
The character, played by Colin Firth in the BBC adaptation, might represent the pinnacle of stiff British propriety and decency, but she says his billowing white shirt hides "a very dark underbelly".
In the novel Mrs Bennet might drool in wonder at his £10,000 a year, but Trollope points out that Austen never revealed the source of Mr Darcy's wealth, or that of his friend Mr Bingley.
"In her novels, nobody works because the unspoken backdrop was the great commodity of the late 18th and early 19th century was sugar, which is not a million miles away from slavery," Trollope remarked while speaking at the Festival of Literature in Dubai, the Daily Mail reports.
''He is a young man with means because of the slave trade. The slave trade is lightly touched upon in several of the novels but not very heavily."
In Austen's novel Elizabeth Bennet hates Mr Darcy at first sight, refusing his first proposal of marriage. But as his pomposity subsides and - as the character jokes – after she sees his huge country house Pemberley in Derbyshire, Lizzie comes around and they are married.
"What built Pemberley?" Trollope asks. "Pemberley was built, one imagines, on proceeds of the coal mines in Derbyshire. What was the life of an 18th century miner like? Not much fun."
Colin Firth's career in pictures
Show all 10
"There is a very dark underbelly to these stories, which is why I still get so irritated when people insist on treating Jane Austen as if it was like the lid of a Quality Street tin, all sprig muslin and 'oh la sir'."
Trollope wrote an modern version of Sense and Sensibility in 2013 as part of the Austen Project – a commission by publishers Harper Collins in which several contemporary writers were asked to update Austenian works.
In Trollope's story, which is set in contemporary Britain, the characters talk of sex-kittens and texts and use phrases like "totes amazeballs".
Join our commenting forum
Join thought-provoking conversations, follow other Independent readers and see their replies