Publish and be damned: Young writer's ego dramatically punctured
17-year-old Helene Hegemann's first novel was a critical hit and sold 100,000 copies. The trouble is, she may have stolen it from a blogger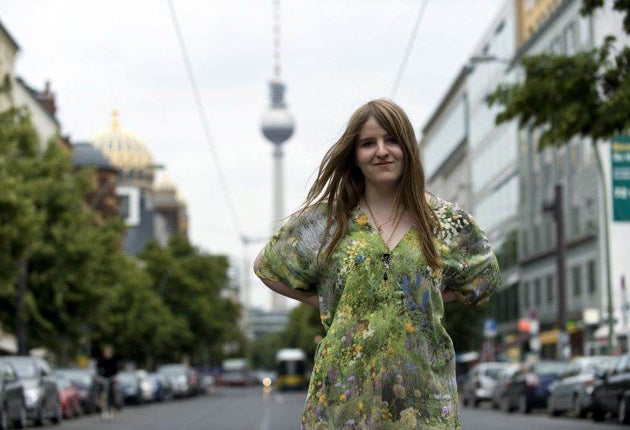 She is the daughter of a famous German professor and at 17, her best-selling debut novel about sex, drugs and teenage self-discovery is already in its third edition, only weeks after being published. With her book also just nominated for a major literary prize, some have begun to label Helene Hegemann insufferably precocious.
But if the young writer's ego had swollen at the praise for her work, it has now been dramatically punctured. For the charges of precocity pale in comparison to the torrent of criticism to which the teenaged Berlin author has been exposed since her bizarrely named novel, Axolotl Roadkill appeared in bookshops in late January. Ms Hegemann now finds herself at the centre of a furious literary row about plagiarism.
Ms Hegeman, whose father is the renowned German literary director and theatre professor Carl Hegemann, has already written a play and the script to her own film. But her novel about a 16-year-old girl who suffers the death of her mother and subsequently plumbs the depths of wild sex and heavy drug taking on Berlin's techno music scene has been her first runaway success.
The book was recently nominated for the Leipzig Book Fair's prestigious fiction prize and this week reached second place on the German best seller lists. Ullstein, the publishers have so far printed over 100,000 copies. "It is one of the best and most unusual works that I have read in recent years," insisted Ullstein's spokeswoman Siv Bublitz.
Yet Ms Hegemann now faces embarrassing allegations that she stole whole chunks of material for her book from someone else's novel and other sources.
It has emerged that a key inspiration for Ms Hegemann's book was a far less well known novel called Strobo, which has sold only about 100 copies. It is by a 28-year-old Bavarian blogger who writes under the nom de plume of Airen.
Strobo's author come from a background very different from Ms Hegemann's cultured literary milieu. He moved to Berlin only a few years ago to work for a firm of consultants. He uses a pseudonym and has claimed he would alarm his employers if he revealed his true identity as an author. His book, which is a compilation of his blogs, is his own personal account of his outrageously hedonistic experiences in the sex and drugs world of Berlin's underground scene.
Shortly after Ms Hegemann's book appeared, a blogger pointed out that passages of it bore an uncanny similarity to Strobo. In one case a whole page had simply been lifted from Strobo and planted in Axolotl Roadkill. In others, phrases spoken by Strobo characters were found to have turned up in Ms Hegemann's work. "Berlin is here to mix everything with everything," is the profound observation of a character called Edmond in Ms Hegemann's book. It subsequently emerged that the phrase was originally written on Airen's blog.
"There was really no need for her to copy me," insisted Airen in an interview with Germany's Der Spiegel magazine. "But she borrowed entire passages of my dialogue. I feel that my copyright has been infringed."
Iin an artful attempt to steal their critics' thunder Ms Hegemann and her publishers have gone on the offensive. They have managed, in part, to turn what at face value appeared to be a clearcut case of stealing somebody else's words into a wide-ranging debate about the meaning of plagiarism in the online era. They argue that Axolotl Roadkill is merely an example of modern " intertextual mixing".
Interviewed last week about the charges, Ms Hegemann's defence was simply "I cannot understand what all the fuss is about." While she acknowledges that she used numerous "sources" for her book, she also claims that she is a member of a different generation of writers which is used to adapting and using the abundance of information available online for its own creative purposes. "I remember sentences my friends tell me just as much as I take on the ideas of the Slovenian critical theorist Slavoj Zizek," she told Der Spiegel, which described her as a "know-all". "I went everywhere I could find inspiration," she said about her book, and added: "There is no such thing as originality anyway, there is just authenticity."
Such arguments appear to have won over veteran figures of Germany's literary establishment like Volker Weidemann, a member of the Leipzig Book Fair Jury and a book critic for the Frankfurter Allgemeine newspaper. "Obviously it's not completely clean, but for me it does not change my appraisal of the text. I believe it's part of the concept of the book," he insisted.
That said, it is not difficult to understand why Airen and many in the German literary world feel cheated. In Axolotl Roadkill one of Ms Hegemann's characters spells out what appears to be the author's philosophy as follows: "I help myself wherever I find inspiration and ideas: films, music books, paintings, poetry about sausages, photos, conversations, dreams... light and shadow, precisely because my work and my theft become authentic the moment something touches my soul. Who cares where I get things from? All that matters is what I do with them." "So it's not by you then?" another character asks. "No, it's by some blogger," is the response. The blogger just happens to be Airen.
Airen's Strobo is the author's account of his own excessive drug taking, and dozens of compulsive hetero- and homosexual encounters on the Berlin techno scene. "If it says in my book that I had to throw up, it means I really threw up," he said. By contrast Ms Hegemann has not disclosed to what extent the Berlin club scene experiences she writes about in her novel were actually her own.
Yesterday, however, Ms Hegemann's and her publishers clearly thought it was time to modify their stance. Ullstein published a statement admitting that Ms Hegemann had lifted some 20 excerpts from Strobo virtually word for word. It acknowledged that a further 20 passages came from other texts or were inspired by them. A list of Ms Hegemann's "sources" will be published in the fourth edition of her book. However the plagiarism question was neatly side-stepped: "This novel follows the aesthetic principle of intertextuality and may contain further excerpts," the statement concluded. Whether the reading public will accept that explanation remains to be seen.
Close encounter: How the texts compare
From Helene Hegemann's novel, Axolotl Roadkill:
"He is about as heterosexual as it comes... then he goes over and tells a tender looking black haired girl with sort of olive coloured dream legs, how much he is turned on by the fact that her skin looks exactly the same all over her body, even in her armpits."
From a blog by 'Airen', author of Strobo:
"Tender, black haired, not even twenty and dream legs... I kiss her body, her ultra tender skin, which is the same everywhere; on her calves, thighs, stomach and bum, between her shoulder blades, on her breasts and even in her armpits."
Join our commenting forum
Join thought-provoking conversations, follow other Independent readers and see their replies