Rare Jane Austen 'my own darling child' letter about Pride and Prejudice goes on show
The note to her sister Cassandra describes the author's excitement at receiving the first printed copy of her book 200 years ago
Matilda Battersby
Monday 28 January 2013 18:19 Comments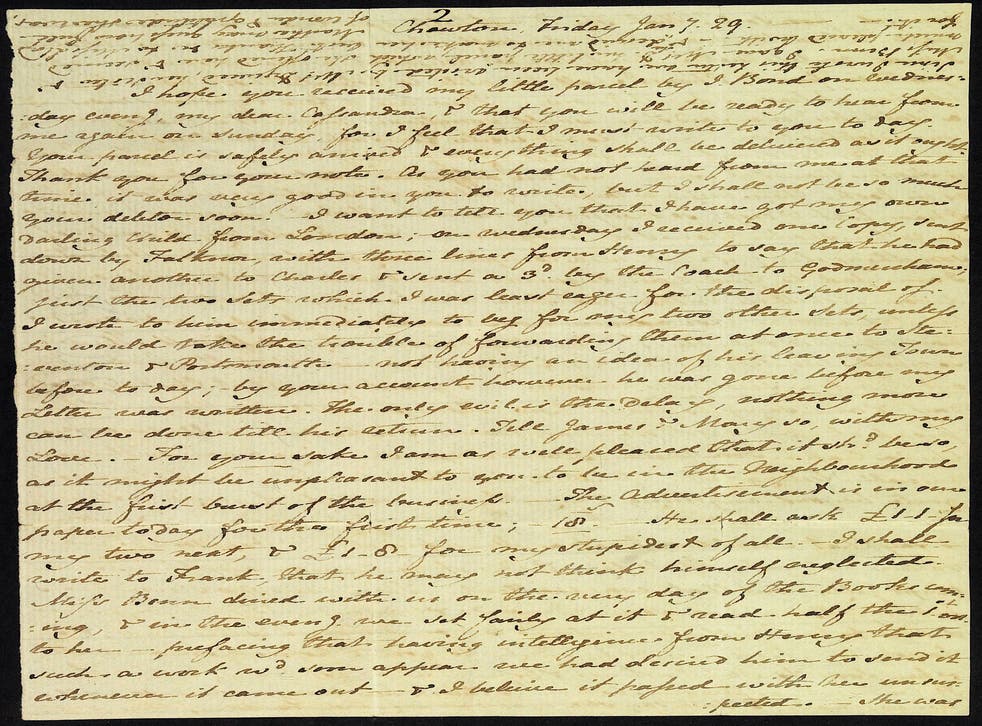 A rare letter in which Jane Austen refers to Pride and Prejudice as "my own darling child" has gone on display as part of the novel's bicentennial celebrations nearly 200 years to the day since it was written.
Dated 29 January 1813, the letter to Austen's sister Cassandra is part of a wider exhibition at Jane Austen's House Museum in Chawton, Hampshire where the author revised the manuscript of Pride and Prejudice (previously named First Impressions).
The letter speaks of Austen's excitement at receiving her copy of the three-volume book from her publisher on 27 January.
It reads: "I want to tell you I have got my own darling child from London. On Wednesday I received one copy, sent down by Falknor, with three lines from Henry to say that he had given another to Charles, & sent a 3d by the Coach to Godmersham; just the two sets which I was least eager for the disposal of."
"I wrote to him immediately to beg for my two other Sets, unless he would take the trouble of forwarding them at once to Steventon & Portsmouth—not having an idea of his leaving Town before to day;—by your account however he was gone before my Letter was written. The only evil is the delay, nothing more can be done till his return."
Austen wrote Pride and Prejudice in 1796-7 while still living at Steventon where she had grown up in the rectory of her father's parish. She put away her writings when the family moved to Bath and did not pick up her draft novel again until she moved with her mother and sister to Chawton after her father's death.
The Jane Austen's House Museum is where she lived from 1809 until her death in 1817. It is holding a year-long programme of events to mark the 200 anniversary of the massively influential novel's publication.
Louise West, Curator of Jane Austen's House Museum said 'This house is where Jane revised the book, sent it for publication and first held a finished copy in her hands. Pride and Prejudice is loved the world over and many organisations will be celebrating and arranging events next year."
They have launched a website to accompany to programme of events, www.prideandprejudice200.org.uk.
Register for free to continue reading
Registration is a free and easy way to support our truly independent journalism
By registering, you will also enjoy limited access to Premium articles, exclusive newsletters, commenting, and virtual events with our leading journalists
Already have an account? sign in
Join our new commenting forum
Join thought-provoking conversations, follow other Independent readers and see their replies