Smiths bidding war hinges on 'classic' status
Publishers battle to bag Morrissey memoir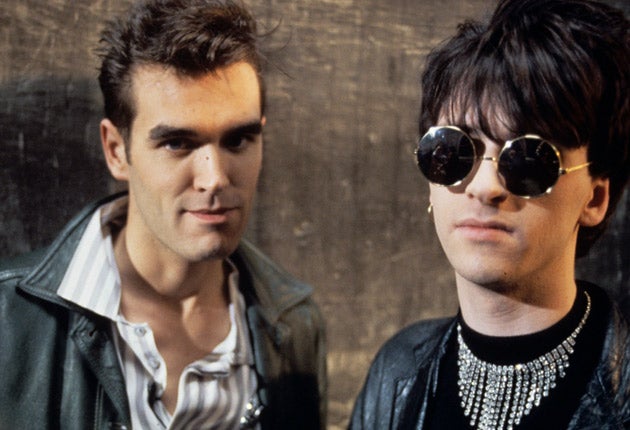 Penguin is in pole position to land the literary coup of the year after announcing that it is willing to publish the autobiography of the singer Morrissey as an immediate Classic.
The inside story of The Smiths will finally be told after Morrissey and Johnny Marr announced competing plans to publish the first draft of the legendary band's history. The singer and the guitarist, whose brief but brilliant partnership was the fulcrum of the 1980s Manchester group, are to pen competing autobiographies.
Publishers are prepared to make multi-million pound offers for Morrissey's memoirs, one of the most sought-after tomes in the literary world. The singer, 51, revealed that he has completed 600 pages of the book. But he wants his life story to sit alongside Gandhi, John Stuart Mill and Malcolm X in the Penguin Classics pantheon.
"I'd like it to go to Penguin, but only if they published it as a Classic," Morrissey told Radio 4's Front Row. "I can't see why not – a contemporary Penguin Classic. When you consider what really hits print these days and when you look at the autobiographies and how they are sold, most of it is appalling. It's a publishing event, not a literary event."
Penguin, whose Classic imprint was launched in 1946 to provide the best books for the affordable price of sixpence, said Morrissey's wishes could be accommodated. A spokeswoman told The Independent: "There is a natural fit between Morrissey's sensibility, his artistic achievements and Penguin Classics. A book could be published as a Penguin Classic because it is a classic in the making. It's something we would like to discuss with Morrissey."
There is no minimum time limit before a book can be considered a Penguin Classic, but the list embraces people or works that have "caused scandal and political change, broken down barriers, social and sexual". A provocative figure who challenged rock stereotypes through his celibacy, Morrissey would fit the Penguin Classics lineage, which includes memoirs by Quentin Crisp, Andy Warhol and William Burroughs.
Marr, 47, who left The Smiths acrimoniously in 1987, will write his own account. "I have been offered a book deal, a serious one," he wrote on Twitter. The guitarist, who remains estranged from Morrissey, said: "I'd get into it and that would mean less time on songs. It will happen though. It will be an autobiography, of course – that or my collection of fascinating public bus tickets from the '80s."
Morrissey is not short of suitors. The publishing director of Faber and Faber sent the singer an open letter begging him to join the "house of Eliot". Lee Brackstone wrote: "We feel very strongly that you belong in this company. You deserve Faber and the love we can give you. History demands it; destiny commands it."
Morrissey can expect to command a fee similar to the £3.5m Keith Richards negotiated for his Rolling Stones memoirs, published by Weidenfeld and Nicolson last year.
Publishers believe that a Morrissey book, punctuated with his Wildean wit, could match the impact of Bob Dylan's acclaimed Chronicles. The value would increase if the book dealt openly with his sexuality, the disputes that led to The Smiths' implosion and the controversies latterly prompted by his comments on immigration.
Classic autobiographies
MK Gandhi – An Autobiography
Mohandas Karamchand Gandhi's non-violent struggles against racism, violence and colonialism in South Africa and India had brought him to such a level of notoriety and adulation that when he was asked to write an autobiography midway through his career, he took it as an opportunity to explain himself. He offered his life story as a reference for those who would follow in his footsteps.
Vincent van Gogh – The Letters of Vincent van Gogh
Few artists' letters are as self-revelatory as Van Gogh's, and the selection included here sheds light on every facet of his life and work.
Andy Warhol – The Philosophy of Andy Warhol
Published in 1975, the private artist talks about love, sex, food, beauty, fame, work, money, success and about New York and America.
Leo Tolstoy – Childhood, Boyhood, Youth
The book provides an expressive self-portrait of the young Tolstoy and hints at the man and writer he would become.
Evelyn Waugh – An Autobiography
"Only when one has lost all curiosity about the future has one reached the age to write an autobiography." Waugh writes of the energetic, literary and sometimes eccentric people who, without knowing it, contributed to his art.
Join our commenting forum
Join thought-provoking conversations, follow other Independent readers and see their replies