Society of Authors calls on literary festival organisers to pay writers to appear at events
Literary events help sales, but guest writers who give up time at the keyboard need money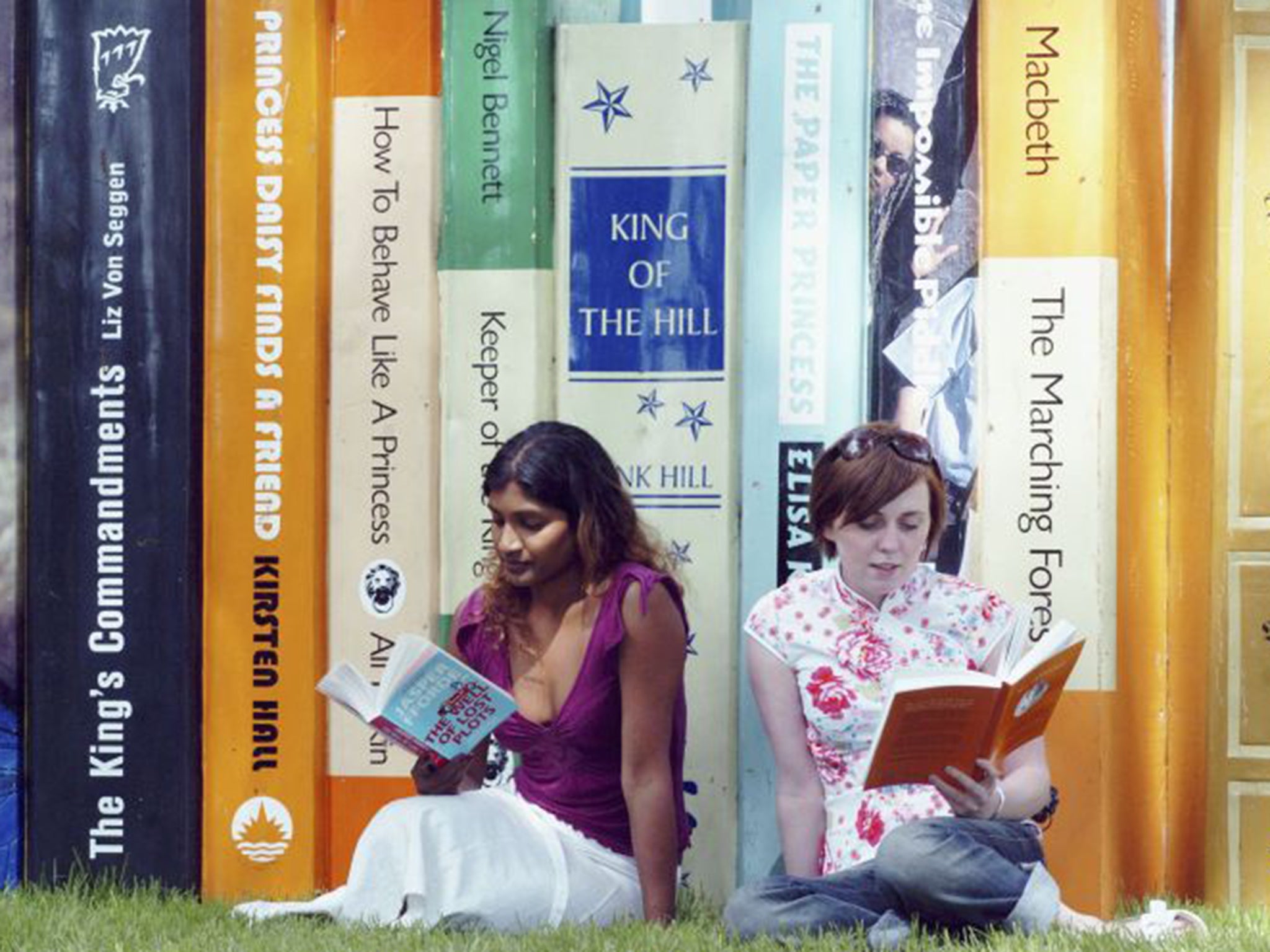 Literary festivals may be booming in Britain, with more than 350 events being staged each year, but a growing number of authors are frustrated that they're not sharing – from a financial perspective, at least – in the book bonanza.
At present, while some authors can be asked to appear for no money, others are paid a fee described as inadequate by the Society of Authors (SoA). It wants every festival that charges admission to pay speakers more for appearing. The SoA also revealed that the Arts Council has the issue on its radar and will refuse grants to literary events that do not pay the writers who participate.
Joanne Harris, the author of Chocolat, said: "Some of the festivals who take the endless goodwill of contributors for granted will either have to close or rethink. This provides an incentive for those who want to do right by authors."
The fee paid to an author for an appearance tends to be between £150 and £200, the SoA revealed this week, after contacting 22 of the most high-profile festivals. It says the minimum £150 fee equates to an annual salary of just £13,500.
The society has called on those running festivals to increase payments to participants, and pointed out that the average earnings of a professional full-time author is just £11,000, according to last year's Authors' Licensing and Collecting Society study.
Kate Pool, the deputy chief executive of the SoA, said: "In the past few years, it's become obvious that the best-funded festivals have not always paid the authors well, even though they are the performers."
She continued: "Authors are freelancers. They are being asked because people want to hear them speak. They're giving up a day of their time and that costs money."
Amanda Craig, the author of Hearts and Minds, previously criticised festival pay rates in 2009, and "it's still an issue now," she said. "There are too many festivals and they don't cost [them] properly. It is difficult because authors love meeting their readers, but people don't understand that it's work; it's taking time and income. I think £300 would be about right."
The issue of festival pay has long rankled with authors – especially with the proliferation of literary events, which thanks to rising attendances and corporate sponsorship are earning greater revenues. In addition, political and celebrity speakers command a higher fee.
Matt Haig, whose A Boy Called Christmas has just been published, has participated in nearly 20 festivals over the past year. "Some are great, but authors' pay is a central issue," she said.
Culture news in pictures
Show all 33
The changing role of the author means they are now encouraged to interact on social media and speak at events. "Nowadays, authors are seen as more than people who just sit in their attic writing alone, so there needs to be a clearer financial incentive," Haig said. "We go back to the idea of author as public figure and performer. As a courtesy, writers should be offered more than a bottle of wine or a book."
The SoA said festivals have responded positively to its plea and it is now drafting best practice guidelines as well as checklists on author issues ranging from logistics to VAT. Those surveyed included the biggest literary festivals such as Edinburgh, which sold 123,00 tickets last year; Cheltenham, which sold 136,000; and Hay, whose last published ticket sales in 2013 showed it had shifted 230,000. The biggest can charge admission ranging from £5 to over £20 for each event.
The SoA also talked to smaller festivals including Ways with Words, Ilkley and Charleston. Among those surveyed was the Bath Literature Festival, which is sponsored by The Independent.
Diana Reich, artistic director of Charleston Festival, said: "We would always like to pay more, but our festival is quite small and the economics don't allow for it. We try and compensate by making it a fabulous experience for authors. We try to show how much they are valued."
The Arts Council, which funds literary festivals among its National Portfolio Organisations, offers grants. The SoA report said the Arts Council "will analyse proposed expenditure to ensure writers are being paid and have confirmed they will not fund festivals who do not fund authors". The funding body stated: "We always ask if writers are appropriately paid when assessing grant applications."
Mark McCrum, whose murder mystery Fest is set at a festival, said: "There is an idea that authors will do a lot of things for nothing. We are actually pretty badly paid. You don't ask a plumber fix a tap for nothing.
"[Festivals] are great for profile-raising and promoting books. It's good fun and it's nice to meet other writers. But I still think it would be great if everyone got paid."
Join our commenting forum
Join thought-provoking conversations, follow other Independent readers and see their replies