'Sombre' libraries need chatter and coffee shops, minister says
Government dodging real issue of funding, say critics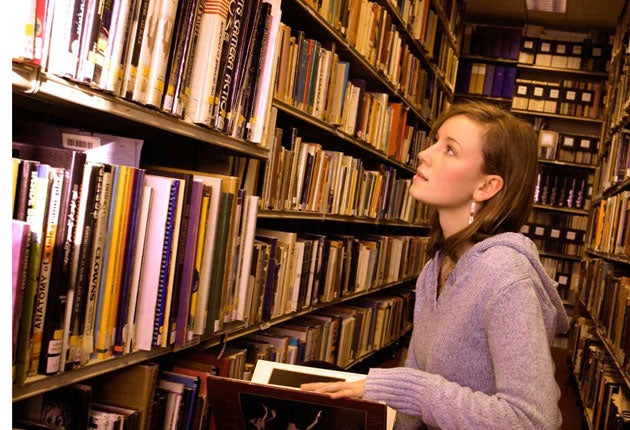 People would be able to chat, drink coffee and watch videos in English libraries under a new government proposal, The Independent has learnt. Andy Burnham, the Secretary of State for Culture, will today launch a consultation on changing the face of libraries which he believes are out of touch.
Under the proposals, libraries could install coffee franchises, book shops and film centres. Noise bans will also be reviewed. Mr Burnham will tell the Public Library Authorities conference in Liverpool that libraries must "look beyond the bookcase and not sleepwalk into the era of the e-book".
"The popular public image of libraries as solemn and sombre places, patrolled by fearsome and formidable staff is decades out of date, but is nonetheless taken for granted by too many people," he will say, adding that the sector would have to "think radical" to modernise. English libraries attract 288 million visitors a year but book borrowings have fallen by 34 per cent in the past decade and 40 libraries closed across Britain last year. The Society of Chief Librarians has warned libraries that they will die out unless they diversify.
In Camden, north London, the council will lift a ban on mobile phones in its libraries this month and users will be allowed to bring in snacks and drinks. The council is also considering providing computer games at its libraries.
A spokesman at the Department of Culture, Media and Sport said the Government wanted to transform the atmosphere of libraries to make them more similar to Waterstones stores.
Earlier, Mr Burnham that said providing more funding was not realistic in the current climate but added that libraries could still be revamped. He suggested that the traditional "silence" in libraries be reviewed and opening hours extended.
"Libraries should be a place for families and joy and chatter. The word chatter might strike fear into the heart of traditionalists but libraries should be social places that offer an antidote to the isolation of someone playing on the internet at home."
Campaigners said Mr Burnham was dodging the real issue of underfunding that had plagued libraries for years.
Tim Coates the former managing director of Waterstones and a libraries campaigner said: "This ought to be about getting more reading books, particularly for children, not about turning libraries into fish and chip shops."
Join our commenting forum
Join thought-provoking conversations, follow other Independent readers and see their replies