Action Comics No 1: Rare copy of Superman's first adventure set to raise £480,000 at auction
Man of Steel's debut outing among most coveted pieces of pop culture memorabilia on the market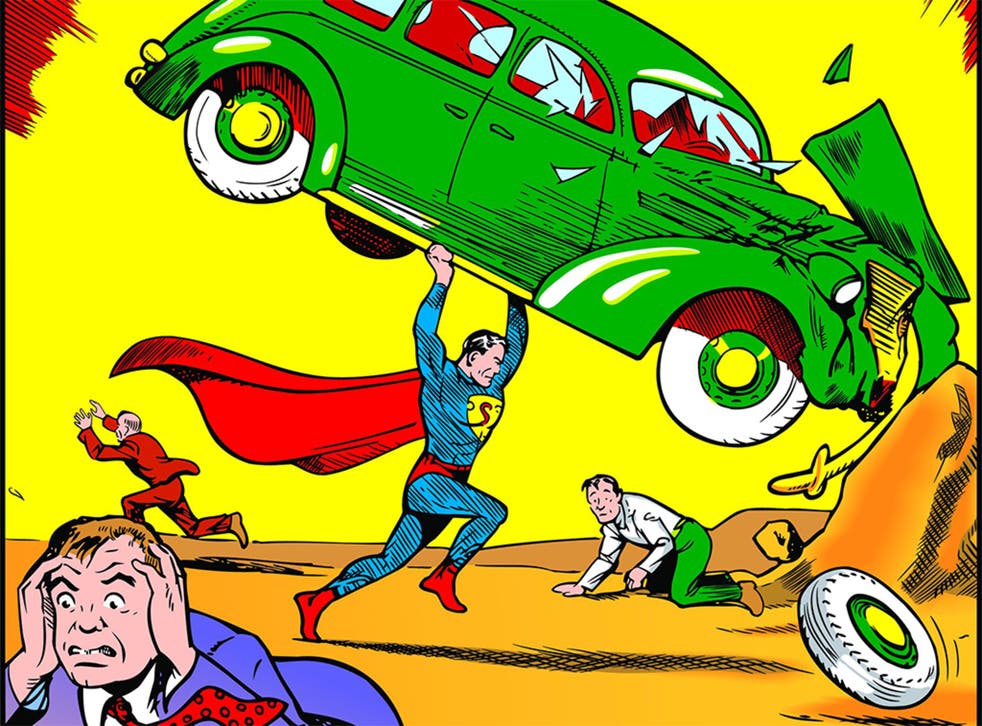 A rare copy of Action Comics No 1 containing Superman's very first appearance in print is going under the hammer.
Heritage Auctions in Chicago is selling the comic, which first went on sale on 18 April 1938 and features the Man of Steel demonstrating his otherworldly strength by lifting a car above his head on the front cover.
The June edition of the comic strip periodical is one of the most coveted pieces of pop culture memorabilia on the market and is expected to attract bids as high as $650,000 (£480,000) in Thursday's auction.
A copy was sold on eBay for $3.2m in 2014 - remarkable given that its cover price was just 10 cents (about $2 or £1.48 today) when it was first published.
Superman was the creation of Ohio schoolfriends Jerry Siegel and Joe Shuster, who based the city of Metropolis on their hometown of Cleveland and drew on an array of influences, from swashbuckling early film stars to Jewish mythology.
The popularity of the character's debut - the starting point for the contemporary superhero boom that has led us to Avengers: Infinity War (2018) - was such that he quickly secured his own spin-off run with DC Comics, but he shared his place in that edition of Action Comics with a number of now completely forgotten pulp creations, all of whom were generic types and lacked the innovation Superman embodied.
The line-up included cowboy Chuck Dawson, Zatara Master Magician, Sticky-Mitt Stimson, boxer "Pep" Morgan, crime-fighting reporter Scoop Scanlon and Tex Thompson, a Texas oil scion who becomes a vigilante.
The comic also contained the prose short story "South Sea Strategy" by Captain Frank Thomas and the historical strip "The Adventures of Marco Polo".
Superman's first outing recounts his escape from Krypton as a baby, his arrival on earth as an orphan with super-strength and subsequent adult life as Clark Kent.
He creates the alter ego Superman to serve as a "champion of the oppressed" and rescues Lois Lane from a kidnapping at the hands of a gangster.
Superman through the ages – in pictures

Show all 6
Hollywood actor Nicolas Cage - a Man of Steel fan who would have played him had Tim Burton's Superman Lives not been aborted in 1998 - owned a copy of Action Comics No 1 that was stolen in 2000 before being returned to him in 2011 after it was recovered from a storage locker in California's San Fernando Valley.
The robbery almost became a movie in its own right.
Register for free to continue reading
Registration is a free and easy way to support our truly independent journalism
By registering, you will also enjoy limited access to Premium articles, exclusive newsletters, commenting, and virtual events with our leading journalists
Already have an account? sign in
Register for free to continue reading
Registration is a free and easy way to support our truly independent journalism
By registering, you will also enjoy limited access to Premium articles, exclusive newsletters, commenting, and virtual events with our leading journalists
Already have an account? sign in
Join our new commenting forum
Join thought-provoking conversations, follow other Independent readers and see their replies