Terry Pratchett: The man who poked fun at Death – and won
Nearly all 40 Discworld novels feature Death - but he's too busy eating curry and dressing as Santa to boom 'COWER, BRIEF MORTALS'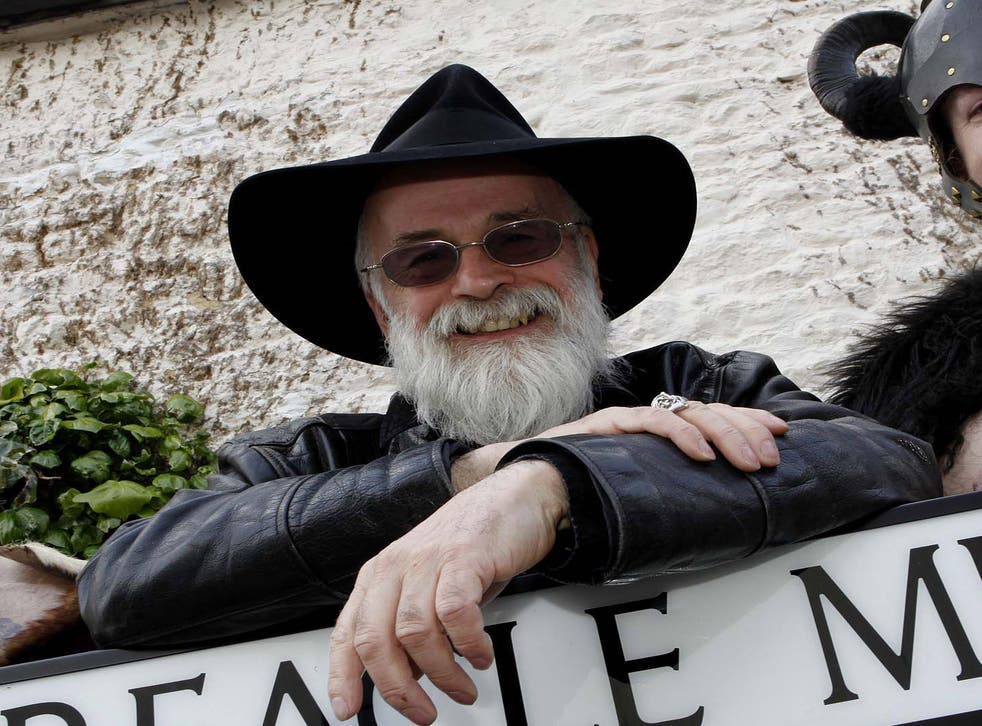 If you're going read just one Discworld novel make it Mort. Terry Pratchett, who died today aged 66 after a well-documented battle with Alzheimer's, was poking fun at death long before he began campaigning for assisted suicide.
Published in 1987, Mort is the fourth of Pratchett's vividly surreal Discworld novels and the first to feature death as a main character. In the novel the titular protagonist Mort is enlisted as Death's assistant, helping him usher souls into the next world.
But unlike the cold, stereotypical hooded figure wielding a scythe, Pratchett's Death is a haphazard figure who we see embarking on the very human experiences of getting drunk, dancing wildly and even hankering after happiness. He likes cats. He enjoys curry.
Far be it for Pratchett to stick reverently to the hackneyed image of the Grim Reaper, the novelists' Death dresses up as Father Christmas and displays an endearing fascination for the human lives he is helping to extinguish. He might yell COWER, BRIEF MORTALS but no-one is hiding behind the sofa.
Death's importance is compounded by the fact that he (or He as Pratchett would refer to Him) has appeared in nearly all 40 of Pratchett's Discworld novels, with the exception of The Wee Free Men and Snuff.
Terry Pratchett: A career in quotes

Show all 13
In short, Pratchett is sticking two fingers up at death, revealing that even the heavily sanitised concept which most of us try to ignore is fair game. And he did this 20 years prior to the conversations about death that his diagnosis with Alzheimer's - and the ensuing years of Right To Die - forced him into.
In the novels Death's voice is portrayed written without quote marks and in caps. The author's final words, published on his Twitter, are surely Death's own:
Since news broke that Pratchett had taken Death's arm, Twitter has been awash with Mort and Death quotes in his honour.
Good Omens, which Pratchett co-wrote with Neil Gaiman, includes the line: "DON'T THINK OF IT AS DYING, said Death. JUST THINK OF IT AS LEAVING EARLY TO AVOID THE RUSH."
Mort quotes:
It is a fact that although the Death of the Discworld is, in his own words, an ANTHROPOMORPHIC PERSONIFICATION, he long ago gave up using the traditional skeletal horses, because of the bother of having to stop all the time to wire bits back on.
"My granny says that dying is like going to sleep," Mort added, a shade hopefully.
I WOULDN'T KNOW. I HAVE DONE NEITHER.
"Pardon me for living, I'm sure."
NO-ONE GETS PARDONED FOR LIVING.
I DON'T KNOW ABOUT YOU, he said, BUT I COULD MURDER A CURRY.
Death addresses his new apprentice (Terry Pratchett, Mort)
Join our new commenting forum
Join thought-provoking conversations, follow other Independent readers and see their replies