The first Roald Dahl approved BFG illustration is whizzpopping
Earliest drawing of the gentle giant is quite different from Quentin Blake's version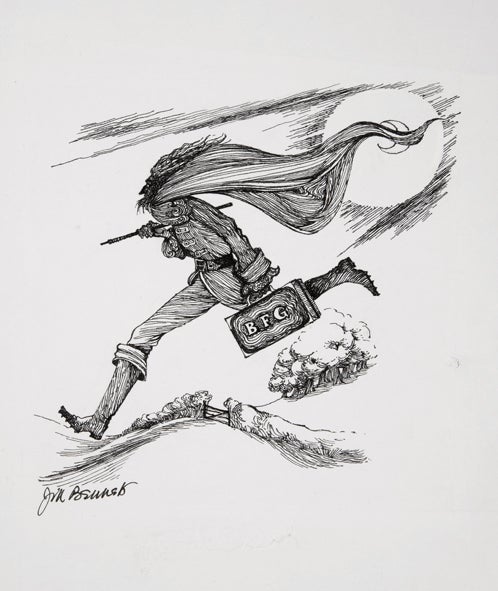 This is the first ever depiction of one of Roald Dahl's best-loved characters the BFG – proponent of snozzcumber, whizzpopping and kidnapping orphans.
The pencil drawing by children's illustrator Jill Bennett predates Quentin Blake's interpretation of the Big Friendly Giant by nearly a decade.
The drawing was taken from a description of the BFG in an earlier work by Dahl, Danny, the Champion of the World, which Bennett illustrated in the 1970s.
Bennett's drawing was taken directly from the text as it was described and Dahl was so happy with this early sketch that it closely resembles the final draft.
The fine pencil study was sent to Dahl for his approval and he forwarded it onto his publisher in order to award her the commission.
Bennett, who also illustrated Fantastic Mr Fox, was the first illustrator to work with Dahl, although his long-term working relationship with Blake would later eclipse their early one.
The BFG, which is currently being adapted into a movie by Stephen Spielberg, was published in 1982.
The story was dedicated to Dahl's daughter Olivia who died of measles encephalitis aged seven.
It was turned into a hugely popular animation in 1989 which presents Blake's version of the large eared 24-foot tall character, voiced by David Jason.
This picture is among 70 drawings and a collection of correspondence between Dahl, Bennett and their publishers which is going on sale this weekend at the Antiques for Everyone Show at Birmingham's National Exhibition Centre.
Having been kept in a cupboard for more than 30 years the archive is being sold by Lucius Books with an asking price of £85,000.
A first edition of Danny, Champion of the World signed by Dahl worth £2,000 is among the cache.
Owner of Lucius Books James Hallgate said the haul is so rare because most of the memorabilia relating to Dahl is owned by the Roald Dahl Museum and so does not come up for public sale.
Having read the correspondence between Bennett and Dahl, Hallgate said: "He didn't direct her at all. In fact he seemed very pleased with the draft illustration. So much so it closely resembles what was finally published."
Bennett, now 81 and living in Bath, Somerset, had a successful career as an illustrator but her collaboration with Dahl came to an end when he changed publisher after, in Dahl's view, a muddle occurred over the contract for Danny, Champion of the World.
Jonathan Cape who introduced Dahl with Blake would later describe their partnership as "a piece of matchmaking of which I am especially proud."
Join our commenting forum
Join thought-provoking conversations, follow other Independent readers and see their replies