The Kohl Protocols: A new book reveals how the former German Chancellor sees his fellow politicians
Lawyers for Helmut Kohl tried to block the publication in which he criticises his protégé and successor Angela Merkel and former Soviet leader Mikhail Gorbachev
Tony Paterson
Sunday 12 October 2014 07:46 Comments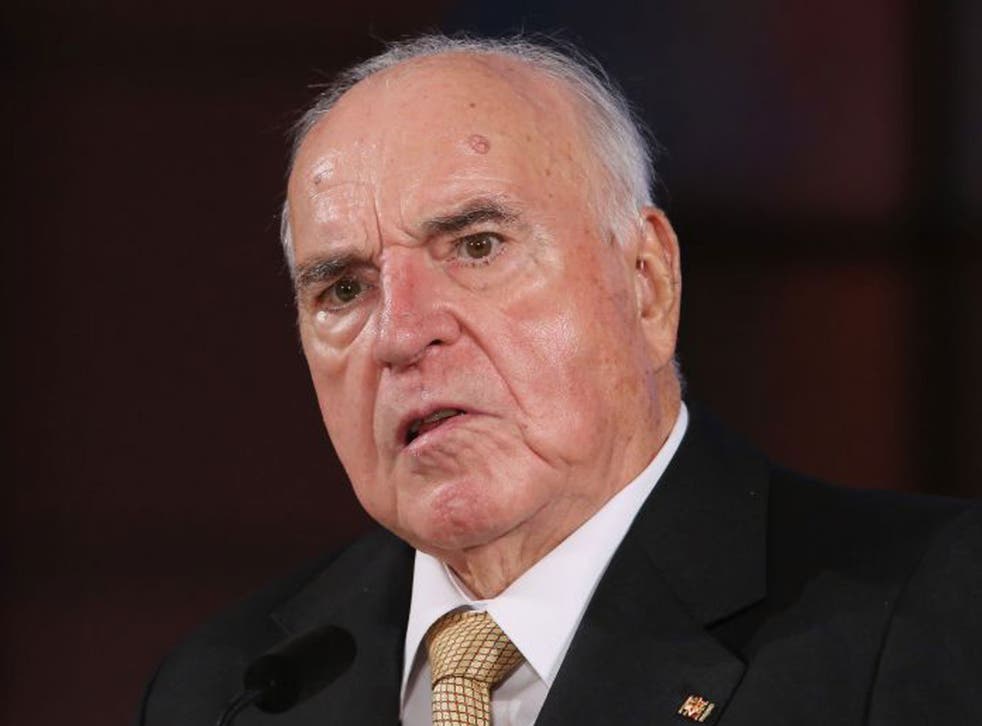 He is still called the "father of unification", but, 25 years on from the fall of the Berlin Wall, a new biography of Helmut Kohl has exposed the former German chancellor as a scathing critic of fellow politicians, who was adamant that people power had nothing to do with communism's collapse.
The deeply unflattering portrait of Mr Kohl, now 84, is based on 630 hours of interviews he gave to a journalist in 2001 – three years after he was ousted as chancellor in Germany's 1998 election. Last week, Mr Kohl's lawyers dropped an attempt to prevent publication of the book after the appeal was rejected by a German court.
Legacy: The Kohl Protocols by the journalist Heribert Schwan shows that Mr Kohl was frequently an arrogant, insulting and unforgiving critic of his contemporaries. For instance, the former chancellor writes off his protégé and successor Angela Merkel as a woman "who couldn't eat properly with a knife and fork".
"Merkel had no idea," Mr Schwan cites Mr Kohl as saying. "She loafed around at state banquets and, on several occasions, I had to tell her to behave properly," he added. Ms Merkel's office said it had "no comment" to make.
Mr Kohl is also scathing about Mikhail Gorbachev, the Soviet leader, whom he called his friend in 1990. At the time, the supposedly close relationship between the two leaders was said to have sealed Germany's reunification. But in his interviews with Mr Schwan, Mr Kohl dismisses Mr Gorbachev as someone who had "failed".
"Gorbachev looked over his books and realised that he had reached the bitter end and could no longer sustain his regime," Mr Kohl is quoted as saying. "What remains of him is the fact that he got rid of communism, partially against his will and without violence and bloodshed. I can't think of much more," he adds.
The former chancellor also ridicules the "primary school" notion that "people power" led to the collapse of communism. He attributes the fall of the Berlin Wall to Moscow's economic weakness. Referring to the huge anti-communist demonstrations by tens of thousands of disgruntled East Germans in Berlin and Leipzig in the autumn of 1989, Mr Kohl insists: "It is completely wrong to assume that the Holy Spirit came down to the streets of Leipzig and changed the world."
He is also unremittingly sarcastic about several other leading German politicians, including the highly respected former German president, Richard von Weizsäcker: "It was clear to me that Richard considered himself to be the cleverest and most moral person in the world." Germany's Christian Democratic Party (CDU) politicians have been shocked by the tone of the comments: "I will not descend to this kind of level," one unnamed senior party member told Der Spiegel last week.
The former chancellor fell from grace in 2000, as a result of a funding scandal involving his conservative CDU, which was found to have received millions in illicit donations during his tenure. The affair enabled Ms Merkel to emerge as his successor.
The recordings reveal the extent to which Mr Kohl felt he had been unjustly victimised. He accuses his former party ally Wolfgang Schäuble, the current German Finance Minister, of "inviting all my enemies to begin a campaign of destruction" against him. Mr Schwan said Mr Kohl had gone on the offensive in the interviews because he felt he had been betrayed by his colleagues and that they had hurt his feelings.
Mr Kohl is barely able to speak after suffering head injuries in a fall in 2008. He is almost completely reliant on Maike Kohl-Richter, his second wife, who is 34 years his junior. She has been accused of "building a wall" around him.
She is also believed to have initiated efforts to stop publication of The Kohl Protocols, allegedly because it was too controversial. However, the former chancellor has now brought out his own version of the role he played during the collapse of communism. From the Fall of the Wall to Reunification was presented at the Frankfurt book fair last week.
Register for free to continue reading
Registration is a free and easy way to support our truly independent journalism
By registering, you will also enjoy limited access to Premium articles, exclusive newsletters, commenting, and virtual events with our leading journalists
Already have an account? sign in
Join our new commenting forum
Join thought-provoking conversations, follow other Independent readers and see their replies