The miraculous healing power of a doll's house
In a new exhibition at the Museum of Childhood, dolls' houses offer tiny windows into another time. Jessie Burton, author of 'The Miniaturist', explores her lifelong fascination with shrunken worlds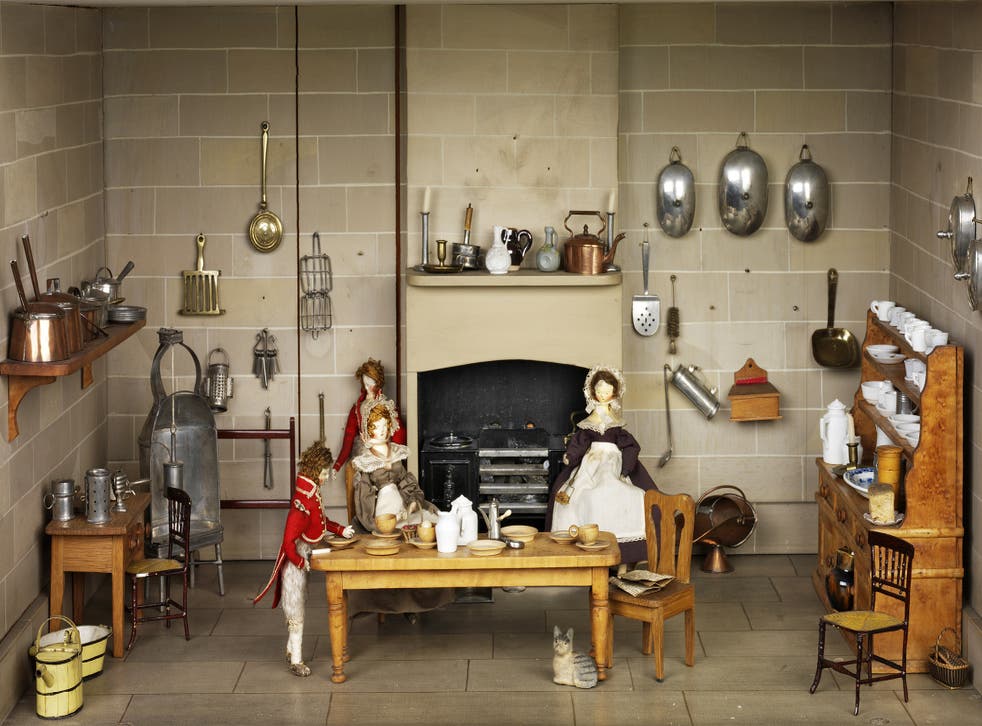 When I was eight, I was taken to the Museum of Childhood in Bethnal Green. I remember an unending corridor of glass vitrines, behind which loomed exquisite dolls' houses. It was a giddy experience in the land of adults, and I have never forgotten it. For once, I was a giant; but it was not simply the power of proportion in my favour. Past lives thrummed in these tiny rooms, easily animated by childish imagination. Creativity unlocked adventure.
By the age of 27, I was struggling in my professional life. Things were not going right; everything I wanted felt constantly out of my grasp. I had not thought much about dolls' houses in the intervening years – I was a grown-up, after all – but on a visit to the Rijksmuseum in Amsterdam, my preoccupation with these unreachable rooms returned. Petronella Oortman's cabinet house was built in 1686; its beauty stole my breath and became the mainspring of my novel, The Miniaturist.
We like to believe that we have left childish things behind, as if, in adulthood, they have no importance – but that Dutch cabinet house was a timely reminder for me about the illusion of control and the often impenetrable distance between ourselves and what we desire. There is nothing infantile about an enormous cabinet that took 19 years to build and furnish, enamelled in tortoiseshell and pewter, costing as much as a townhouse in the most expensive part of Amsterdam.
Indeed, the house was not intended as a toy – rather, it was a status enhancement for a wealthy merchant couple, a proto-Facebook where they put their ideal life on show. People would come and visit their real house, and witness the miniature version, waiting in the hall. Like many cabinet houses of the time, every room was a replica of Oortman's real home, crammed with tiny Venetian glasses, oil paintings, silver candlesticks the length of a pin, a working fountain, hidden chambers, a library with calligraphy books no larger than a stamp, ceramics and silks shipped from the Indies. Anything she owned in full-size, she had shrunk down so that she could see all her treasures in one glance of her eye. It was, you might argue, a reminder of the Netherlands' extraordinary imperial power.
However, to a contemporary audience it also highlights (as it did for me, in 2009, in the Rijksmuseum), the restrictive, elusive nature of a woman's domestic sphere. Not for nothing are miniature tableaux used in novels and plays as a commentary on perception, secrets, ownership, domesticity and power – for they invariably orbit around the female experience. Women were the ones who historically had to stay at home, of course, and funnelling all their concentration into a beautiful dolls' house is a pointed reminder of the gilded cage that so many fictional heroines rail against (Ibsen's The Doll's House, anyone?). It was their husbands who were travelling from city to city, picking up the full-size Rembrandts, while they contented themselves with a picture you could fit on your thumb.
The first dolls' houses were actually known as "baby houses" – not after their intended audience, but because of their diminutive size. Imitative, statuesque and rarified – these beautiful structures originated in Germany and Holland from around the mid-16th to the early 17th centuries. Their initial presentation varied – the Germans liked to mimic real architectural styles one would see along the street. The Dutch, on the other hand, constructed their houses in unrealistic cabinets with doors or curtains, emphasising the idea of a box of curiosities, the hint of the hidden.
These "baby houses" or "cabinet houses" often had a didactic purpose, and were used as teaching tools for young women on the cusp of wife- and housekeeper-hood. There is a record of one woman, Anna Köferlin, who charged an admission fee for girls to come and see her miniature house, built in 1631. She wrote in a broadsheet: "Look at it and learn well ahead how you shall live in days to come… Look all around you, look behind you, look everywhere, how much there has been put on show for you, hundreds of pieces… so small, yet everything may well be put to general use."
While used ostensibly as an educational tool, the dolls' house became a grown-up site of aspiration, a perfect life on show, forever out of reach. One German princess put herself into so much debt finishing her miniature town that in her real life she had to rely on the charity of Ursuline nuns. Human folly, indeed. One can only wonder what boredom or fear the princess, with all her wealth and status, was trying to escape.
Yet the attraction of miniature worlds certainly endures into the 21st century, and the money people are willing to spend on them is surprising. This winter, the Museum of Childhood, site of my first encounter with powerful miniatures, will exhibit 12 of its dolls' houses from a collection of 100. Its range is astonishing, with houses built between the 17th century and the 21st, and it must have been hard to pick. Two favourites of mine are Roma Hopkinson's House (built in the 1990s and based on the memories of Hopkinson, who lived on a 1930s council estate in south London), and the extraordinary Whiteladies House of 1935, complete with swimming pool and Claude Flight murals. Take Köferlin's advice, and look everywhere – worlds in which you can both learn, and lose yourself.
Another gorgeous piece in the collection is Miss Miles' House, built in the 1890s. It demonstrates within its four walls the advances made in technology, boasting a telephone, a sink with running water and electric lighting. The servant class, with its endless duties, is also present, evidenced in the battery of saucepans and coal scuttles, in the doll-maids, caught in their toil. Rather than presenting a reductive history of the dolls' house, the exhibition reminds us that these objects are story-telling vessels for the intricate lives that were experienced by their long-dead owners and the people they employed.
These houses are tiny mirrors of a world in constant flux. They show times that are past while reminding us that our own will soon have moved on. The most modern piece is the 2001 Kaleidoscope House, brightly coloured and futuristic; a house of hope. Each dwelling has become a miniature theatre, with its own, newly recorded audio tracks, so that young visitors can listen to the imagined voices of the dolls within and the people who owned them – and learn about life in the 1930s, the 1870s, the 1600s. At once, we are the same as these disappeared people; and we are not.
While dolls' houses are used by historians in order to understand the social minutiae of the past – what contraptions people wheeled their babies around in, for example; or which crockery they ate off and which was merely for display; how they wedged their firewood next to their servants' pillows – they can serve a different purpose for the novelist. These structures certainly open out on to the real, and there are always human stories to be found in these puppets and tiny furniture. But they also inhabit the realm of the magical and supernatural, the potential for the macabre. The dolls' house is a site of the weird and waxen, orchestrated by invisible strings. For what happens – as so often happens in literature – when a doll takes on a life of its own, as in M R James' 1923 ghost story, The Haunted Doll's House?
While researching The Miniaturist, I entered the world of miniature makers and collectors, and it was a fascinating place to be. There was the man who had stolen the estate agent's plans of his mother's beloved old house, to be miniaturised as a surprise gift on her move to a retirement home. The woman who commissioned an agglomeration of her life's rooms – a 1950s nursery, a 1970s student bedroom and a 1990s conservatory – all under one roof. The single box living room with Chippendale chairs and Turners on the wall – items impossible to afford in real life. The female friends who had built a village, even making their own bricks, discussing guttering and boilers. The lady who so loved the BBC's 1995 adaptation of Pride and Prejudice, that she had ordered a miniature of Longbourn, complete with a tiny Elizabeth Bennett, waiting for Mr D.
For these individuals, the activity of miniaturisation was ineluctably linked to memory and empowerment. These people were building dreamscapes, a safe place to express that which could not be expressed or achieved in the hurly-burly and relentless chronology of normal life. It seemed to me that these confined spaces were boundless, Christopher Marlowe's "infinite riches in a little room". They were also entertaining, an unexamined pleasure in things that were shrunken in size, but not in relative volume. I can vouch that it is a curious delight to hold a minuscule chip and pin machine in the centre of your palm, no longer than a penny. You can't do anything with it of course, and its frivolity takes on a kind of importance.
In Siri Hustvedt's novel, The Blazing World, an artist creates miniature rooms in which she vents her fury at her powerlessness in the male-dominated world of selling art. In my own novel, the main character, Nella, imbues the mysterious Miniaturist with a power and responsibility that she would do better to assign to herself. She learns, in the end, to be the architect of her own fortune, and smashes her dolls' house to pieces. What started for her as an act of rebellion becomes one of artistic sacrilege and a means of setting herself free.
I knew dolls' houses weren't just for Christmas when I listened to Uta Frith on Desert Island Discs. The eminent developmental psychologist chose her dolls' house as the luxury item to take on her solitary journey. It was built for her by her husband and sons and full of her grandmother's doll furniture and Frith said that she would use it as a therapeutic tool, to work things out and to memorialise her family.
The influence of a dolls' house may stretch through a life, but it can never be the whole solution to understanding who we are or who we would like to be. They certainly help, as sites of memory, of self-expression and problem-solving. They bring pleasure as much as they have the potential to unsettle. They are tactile, social documents of times long gone. But wise is the child who leaves them behind, to live in her real world – and even wiser the adult who visits again, to marvel at their magical wonder.
'The Miniaturist' by Jessie Burton (Picador, £6.99) is Waterstones Book of the Year
'Small Stories' is at the V&A Museum of Childhood from 13 December 2014 to 6 September 2015, museumofchildhood.org.uk
Register for free to continue reading
Registration is a free and easy way to support our truly independent journalism
By registering, you will also enjoy limited access to Premium articles, exclusive newsletters, commenting, and virtual events with our leading journalists
Already have an account? sign in
Register for free to continue reading
Registration is a free and easy way to support our truly independent journalism
By registering, you will also enjoy limited access to Premium articles, exclusive newsletters, commenting, and virtual events with our leading journalists
Already have an account? sign in
Join our new commenting forum
Join thought-provoking conversations, follow other Independent readers and see their replies