Tintin is a girl and 'probably asexual', French philosopher claims
Blistering barnacles! Vincent Cespedes says he stumbled on the idea when re-reading the comic book series to his children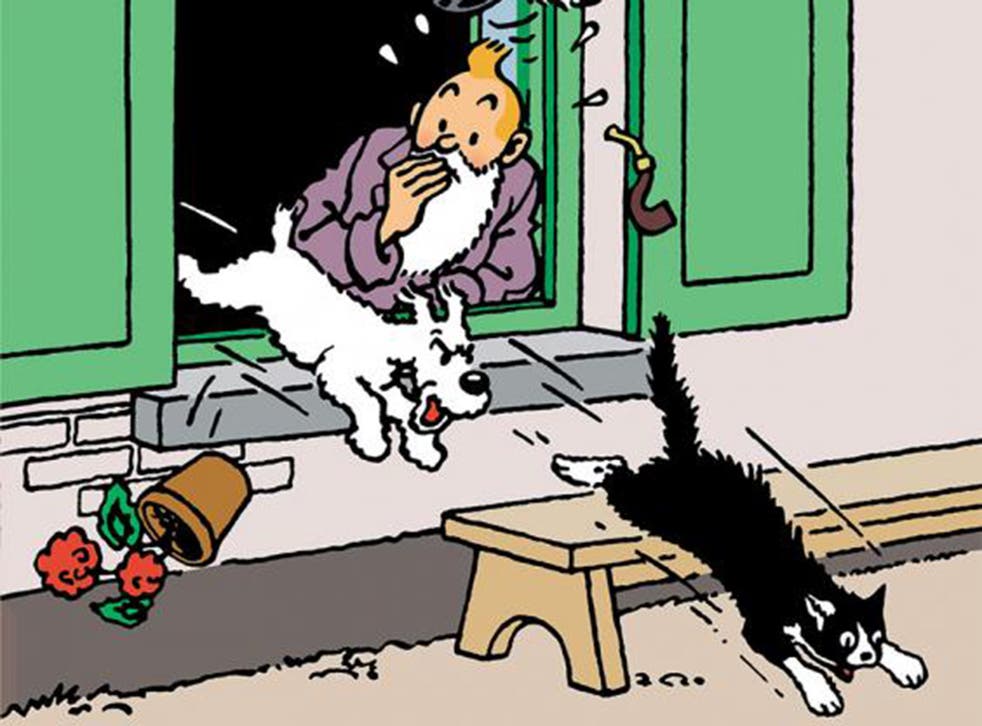 A French philosopher has claimed that beloved comic book character Tintin was in fact a girl, and "probably asexual".
Vincent Cespedes, who is also a painter, pianist and composer, is the author of essays on a number of subjects, and is causing a stir in the comic book world after announcing that the teenage reporter/detective is a girl - and Belgian creator Hergé and his friends were in on the joke.
The 44-year-old writes that the farce is "so enormous" that "the most cherished of the tintinophilies [Tintin fans], from the philosopher Jean-Luc Marion to the filmmaker Steven Spielberg, have not even detected it".
Cespedes says Tintin is "an androgynous redhead with blue eyes" and "presumably asexual". He stumbled upon the idea when reading the books with his children.
"I had just finished a book by Raymond Ruyer which shows that Homer is a woman, I had some sort of software in my head when I got back into Tintin and it immediately seemed obvious to me," he told French Huffington Post.
While he admits that there are few clues in Tintin's physical appearance, he says certain mannerisms, along with Tintin's "long history of dealing with gender issues", all pointed towards Tintin being a woman.
Cespedes says Tintin would have been disguised as a boy to allow him/her to travel "without fear of the misogyny of other cultures, modesty, manners, or the stupidity of prejudices".
When a villain accidentally smashed his fist on the wall in The Temple of the Sun, Tintin said "sorry". Tintin's attitude towards Captain Haddock when he was drunk in The Crab With The Golden Claws showed traits that would be interpreted as stereotypically feminine when Hergé was alive.
Cespedes claims that there are also several instances in the comic series where Tintin dresses in skirts or other items of female clothing when it is not necessary.
On his social media accounts, Cespedes claimed that in 1991, French actress Juliette Binoche played the role of the teenager. Several people said that this was in fact Judith Godrèche, but did not dispute that a woman had taken on the role in the past.
Georges Remi, who wrote under the pen name Hergé, was born in 1907 and is best known for his comic series The Adventures of Tintin, which have been the source of a range of adaptations in TV, film, radio and theatre.
Most recently, Jamie Bell, Andy Serkis, Daniel Craig, Nick Frost and Simon Pegg starred in the 2011 performance capture film The Adventures of Tintin: The Secret of the Unicorn, directed by Steven Spielberg and produced by Peter Jackson.
Register for free to continue reading
Registration is a free and easy way to support our truly independent journalism
By registering, you will also enjoy limited access to Premium articles, exclusive newsletters, commenting, and virtual events with our leading journalists
Already have an account? sign in
Register for free to continue reading
Registration is a free and easy way to support our truly independent journalism
By registering, you will also enjoy limited access to Premium articles, exclusive newsletters, commenting, and virtual events with our leading journalists
Already have an account? sign in
Join our new commenting forum
Join thought-provoking conversations, follow other Independent readers and see their replies