Well it is called noir... How French crime writers killed the competition
Nick Clark
Wednesday 17 July 2013 18:33 Comments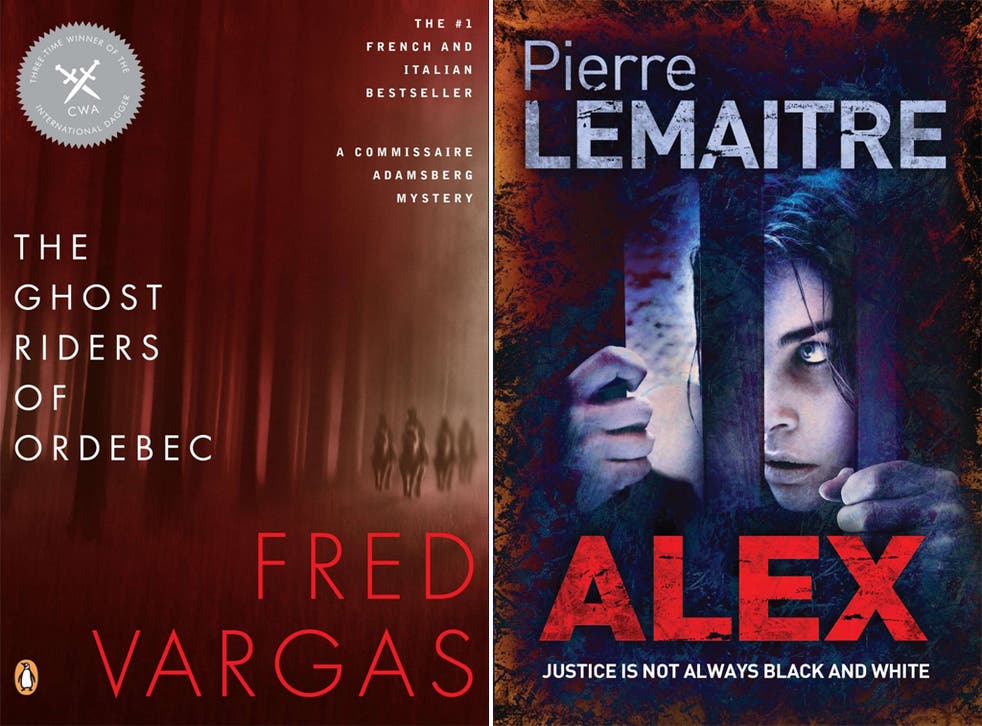 As the interest in Nordic detectives and killers wanes, publishers are looking across the Channel for the next wave of crime thrillers.
This week, Crime Writers Association (CWA) International Dagger was awarded to Fred Vargas for The Ghost Riders of Ordebec, and Pierre Lemaitre for Alex.
While Ms Vargas has won the Dagger three times before, the dual award added credence to those who predict that France is "the next big thing" with one literary expert predicting it "could trigger" a flood of French work on British shores.
Scandinavian crime fiction turned conventional publishing wisdom on its head, proving that readers had an appetite for works in translation. This culminated with Stieg Larsson's Millennium trilogy, which proved a runaway bestseller.
Christopher MacLehose, founder of MacLehose Press, brought Larsson to English-speaking readers and is now bullish on the talent emerging from France. The award-winning Lemaitre is among those on his books.
MacLehose picked out six French crime writers including Hervé Le Corre, Antonin Varenne and Dominique Sylvian currently on his roster. "They are as good as anyone who ever came out of Sweden," he said.
"Scandinavian crime became a commodity and far too many publishers put out too many books of less than superb quality," he said.
"Publishers are like sheep. They go off in droves in pursuit of the new big thing. France is the new big thing. There's a great combination of real writers with storytelling genius."
Frank Wynne, who translated Lemaitre's Alex, has been a translator for 15 years. He said: "For quite some time there wasn't a lot of French crime fiction being translated. But now the French are producing crime novels that are not only the best in the genre, but in translated literature."
Mr Wynne said his services as translator for crime work has increased recently "particularly this week after the award and that will continue to rise. Over the next two or three years a raft of French writers finding a place here."
The French have as good a crime thriller tradition as the UK, according to Ruth Morse, who teaches English Literature at the University of Paris and was on the jury for the CWA prize. While British audiences thrilled to the exploits of Sherlock Holmes in the late 19th century, France adored gentleman thief Arsène Lupin.
She continued that "something has happened here and in the US" to encourage the rise of French crime fiction pointing to the trailblazing Scandinavians, the rise of subtitled shows on television and support for foreign crime fiction from the CWA.
"The French have always been strong but this enables us to get a glimpse at what's going on across the channel," she said. "French crime fiction often intends to uncover a view of the past more overtly political than ours."
Helene Fiamma, head of the book department at the French Institute said the CWA prize "will probably trigger something," before adding: "As well as the prize, there is a hunger for great crime fiction. The whole Scandinavian wave is waning and this could well be filled by the amazing French writers out there. That's not just patriotism."
She added: "Something is really happening in France. There was an extraordinary crime writing tradition in the '70s which disappeared. And now there are amazing people in the field you couldn't find before."
Creme de la crime: Five to remember
'The Ghost Riders of Ordebec' by Fred Vargas
Vargas is the pseudonym of medieval historian, archaeologist and folklorist Frédérique Audoin-Rouzeau, who won the CWA International Dagger for this, her latest work.
'Alex' by Pierre Lemaitre
Joint winner of the CWA prize Lemaitre, a former teacher, was described as a "storytelling genius" by his UK publisher, Christopher MacLehose.
'Bed of Nails' by Antonin Varenne
Varenne is described by his translator Frank Wynne as a "stunning writer". His next book, Loser's Corner, is on its way.
'How's the Pain?' by Pascal Garniel
Garnier was a leading French literary figure until his death in 2010. How's the Pain? was only the second of his works to be translated into English.
'Death from the Woods' by Brigitte Aubert
Aubert's extraordinary book focuses on Elise, a girl left blind, mute and quadriplegic by a terrorist attack who is drawn into solving murders.
Register for free to continue reading
Registration is a free and easy way to support our truly independent journalism
By registering, you will also enjoy limited access to Premium articles, exclusive newsletters, commenting, and virtual events with our leading journalists
Already have an account? sign in
Join our new commenting forum
Join thought-provoking conversations, follow other Independent readers and see their replies