Where's the brains behind Wally?
As the geeky rambler prepares for his 25th anniversary, Paul Bignell finds that no one hides better than the unlikely hero's creator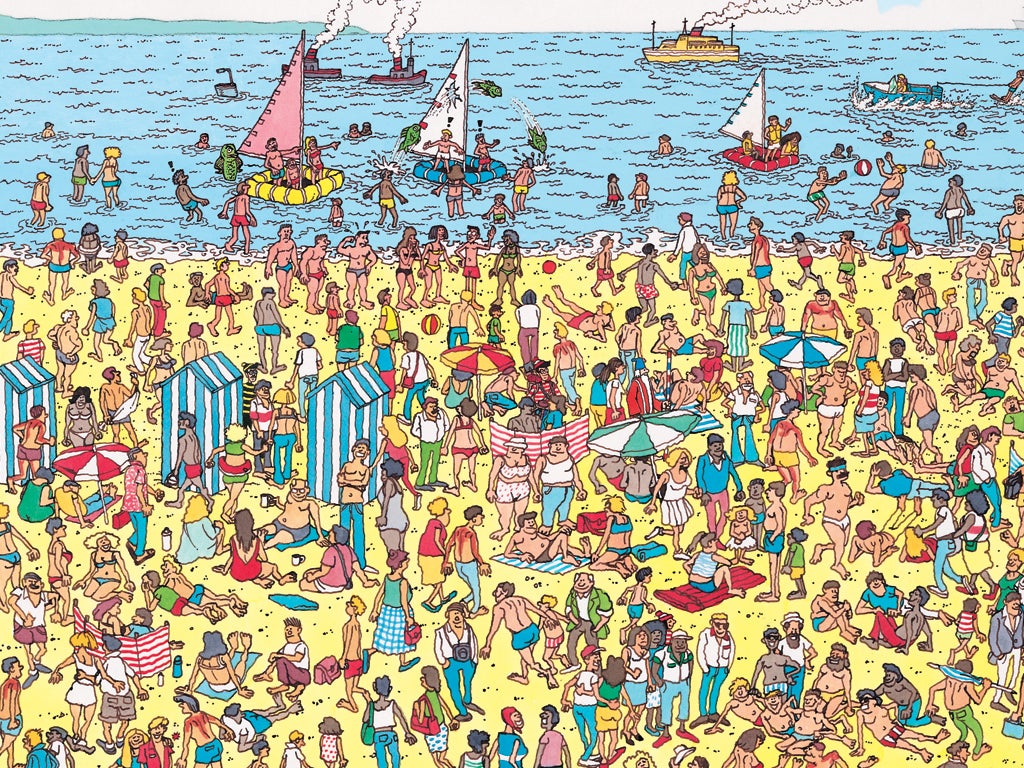 Like all great ideas, it is maddeningly simple, and simply maddening. All you have to do is look at a picture and find Wally. Should be easy enough: he wears distinctive glasses; a red and white striped jumper; a woolly hat and he walks with the aid of a stick. And yet, finding Wally is an industry worth hundreds of millions, with some 55 million book sales, myriad games and phone apps and now, inevitably, a Hollywood film.
How did this happen? Where did Wally come from? One person unlikely to provide any answers is his creator, Martin Handford. He hasn't given an interview since 1990 and appears to have no intention of doing so.
He unleashed Wally on the world in 1987, with the first book an instant hit, selling several hundred thousand copies and spawning a book franchise worth more than £80m. Six more Wally titles followed over the years, sparking a raft of spin-offs featuring Wally's friends. The books were translated into 30 languages – in Croatia they want to know "Gdje je Jura?"; in France "Où est Charlie?" and in Norway "Hvor er Willy?".
With the success of the books, comes the merchandising: pyjamas, cakes, board games, jigsaws and of course the stripy jumpers.
Thousands of fans even gather every year, dressed as their bespectacled hero, to break the world record for the largest number of Wallys congregated in one place. The current record was set in June when 3,872 people gathered in their white and red jerseys in Dublin.
While fans and investors in Brand Wally are rubbing their hands with glee at the prospect of still further enterprising adventures for the simply drawn boy, Mr Handford, its 55-year-old English-born illustrator, remains as elusive as Wally himself.
According to his publishers he is "shy" and a "creative genius who's very dedicated to his work". Others say he has no interest in publicity and works for eight weeks at a stretch to create each two-page Wally spread. He listens to the Bee Gees, the Clash (he was in a punk band at art college) or old Sergeant Bilko tapes, while he works. The pictures are drawn to the same scale as in the books, with each spread containing 300 to 500 figures.
Wally was the last character to make it into the crowd. David Bennett, of Walker Books, the publisher of the first Wally, was looking for a picture book similar to the work of the little-known French illustrator Philippe Dupasquier, whose Busy Places series featured detailed crowd scenes. Bennett recalled seeing crowds drawn by Handford and asked him if he would help to develop the book.
Donna Cassanova, character publisher at Walker Books, said: "The company was getting ready for Bologna Book Fair and, just a week or so before, someone – several laid claim to being the 'someone' – said, 'Wouldn't it be good if you were looking for an individual within that crowd scene, rather than just looking at a crowd?'
"Everybody thought there was something in that," she said. "David Bennett went back to Martin and floated this idea with him. He ran with it, and so Wally was born. In a very short space of time he illustrated two spreads that they showed in Bologna. Within 24 hours there was a huge crowd of people standing round looking for Wally."
Neither Handford nor his publishing company has looked back. Hanford sold the global rights to the brand in 2007, pocketing £2.5m in the process. His publishers believe that next year will be even bigger for their cartoon hero, his 25th anniversary. Plans are afoot to break the world record for people dressing up as Wally, this time in Wembley Stadium.
So what is the secret of his enduring appeal? Caroline Horn, the children's editor at The Bookseller, said: "I think firstly the books' strengths are with boys and boys who don't particularly like reading. There's nothing else like it and it's a brilliant travel book. The books are wonderful because they're very quirky, very colourful, and you can get hooked.
"Where's Wally is such a wonderful name, it just hit the nail on the head. Because he's such a nerdy character, adults like him too. There's nothing in the books that's difficult and there's no reason why anyone wouldn't buy it for someone."
'Where's Wally? 25th Anniversary Edition' is published by Walker Books Ltd
Join our commenting forum
Join thought-provoking conversations, follow other Independent readers and see their replies