Will it twerk? Oxford Dictionary Online embraces selfies, geek chic and Bitcoins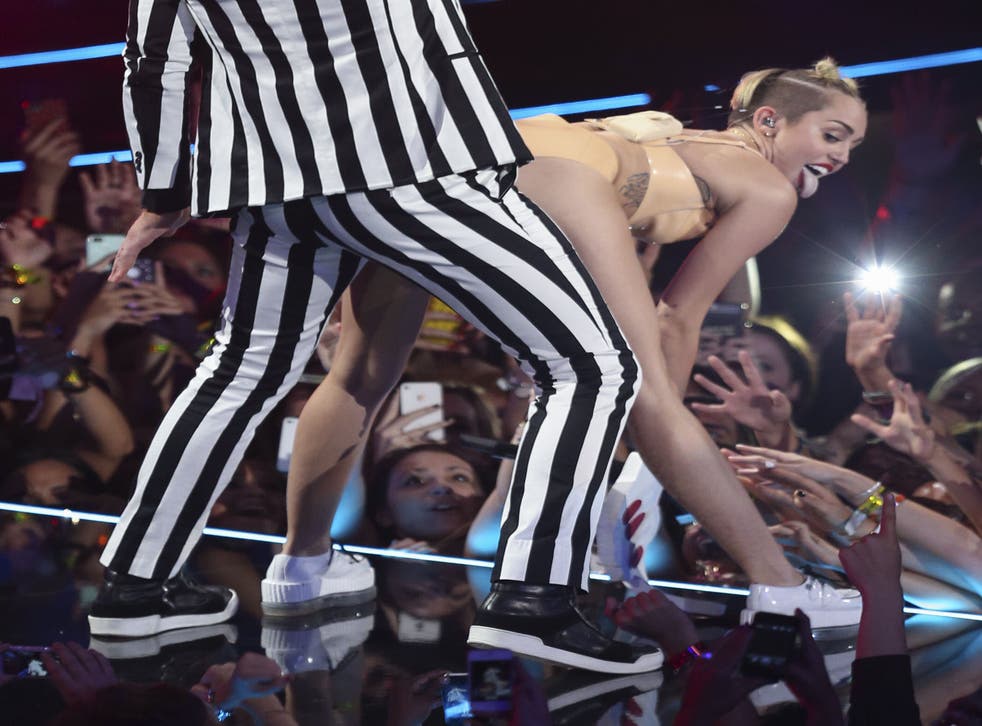 Twerking, the raunchy bum wiggling dance performed by Miley Cyrus at the MTV Video Music Awards, is among a slew of new terms included in an update of the Oxford Dictionary Online.
The move, which has been around on America's hip-hop scene for 20 years, has officially gone mainstream since it was adopted by the celebrity circuit. Recent "twerkers" include One Direction's Harry Styles, Beyoncé and Taylor Swift.
The word, first used in a song title, "Twerk Something", by New Orleans bounce legend Cheeky Blakk in 1995, has been included in the latest revision of Oxford Dictionaries Online.
Although Cyrus' energetic twerking at Sunday's MTV awards will have been many people's first exposure to the word, Oxford Dictionaries' Katherine Connor Martin said it had been in use for two decades.
"There are many theories about the origin of this word, and since it arose in oral use, we may never know the answer for sure," Martin told PA.
"We think the most likely theory is that it is an alteration of work, because that word has a history of being used in similar ways, with dancers being encouraged to 'work it.' The 't' could be a result of blending with another word such as twist or twitch."
The official dictionary definition reads: "Twerk, v.: dance to popular music in a sexually provocative manner involving thrusting hip movements and a low, squatting stance."
Technology has also provided a large number of new words and phrases for inclusion in the Oxford Dictionary. These include another favourite celebrity pastime, the "selfie", a camera-phone self-portrait published online, "digital detox" meaning time spent offline, and "Bitcoin", a new a digital currency.
New terms in the updated Oxford Dictionaries Online:
Twerk, v.: dance to popular music in a sexually provocative manner involving thrusting hip movements and a low, squatting stance.
 Selfie, n. (informal): a photograph that one has taken of oneself, typically one taken with a smartphone or webcam and uploaded to a social media website.
Bitcoin, n.: a digital currency in which transactions can be performed without the need for a central bank.
Vom: v. & n. informal: (be) sick; vomit
Digital detox, n.: a period of time during which a person refrains from using electronic devices such as smartphones or computers, regarded as an opportunity to reduce stress or focus on social interaction in the physical world.
Click and collect, n.: a shopping facility whereby a customer can buy or order goods from a store's website and collect them from a local branch.
Hackerspace, n.: a place in which people with an interest in computing or technology can gather to work on projects while sharing ideas, equipment, and knowledge.
Food baby, n.: a protruding stomach caused by eating a large quantity of food and supposedly resembling that of a woman in the early stages of pregnancy.
Street food, n.: prepared or cooked food sold by vendors in a street or other public location for immediate consumption.
Double denim, n.: a style of dress in which a denim jacket or shirt is worn with a pair of jeans or a denim skirt, often regarded as a breach of fashion etiquette.
Geek chic, n.: the dress, appearance, and culture associated with computing and technology enthusiasts, regarded as stylish or fashionable.
Unlike, v: withdraw one's liking or approval of a web page or posting on a social media website that one has previously liked.
Phablet, n: smartphone having a screen which is intermediate in size between that of a typical smartphone and a tablet computer.
Join our new commenting forum
Join thought-provoking conversations, follow other Independent readers and see their replies