Writers and historians fear for India's free speech as a resurgent Hindu nationalism uses law to bring publishers to heel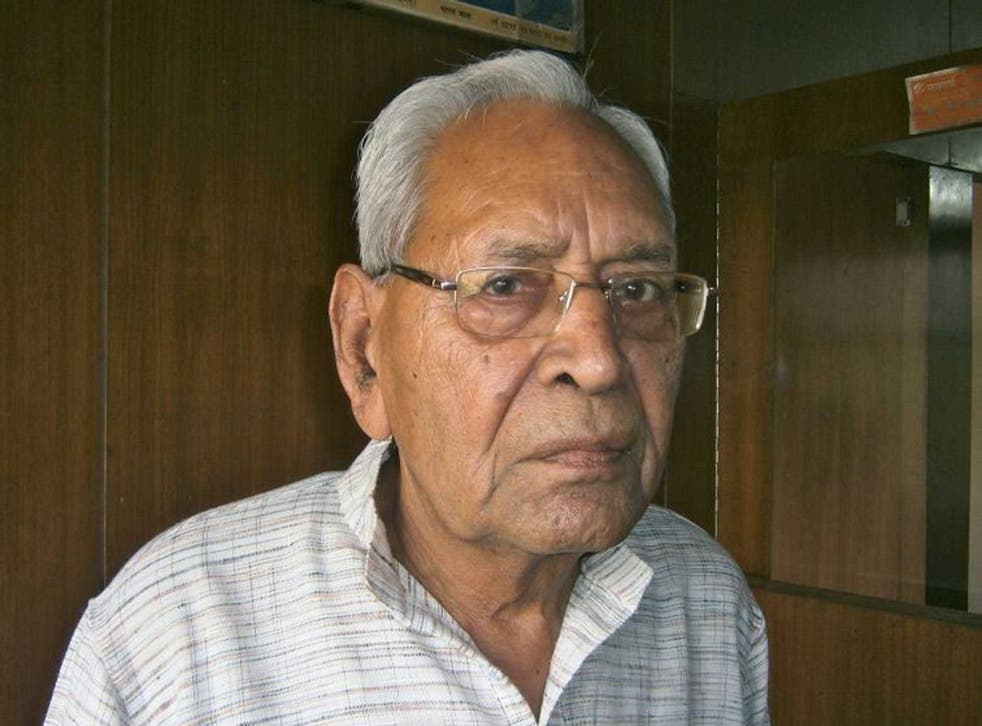 Dinanath Batra considers himself a campaigner with a cause.
Since retiring from his job as a headteacher, he has dedicated himself to an educational charity and to using the courts to challenge anyone who prints anything he considers damaging to Hinduism or to India.
Yet while the 84-year-old sees himself as a crusader for the truth, his opponents see him as a right-wing ideologue who sorely threatens India's tradition of free speech and debate. Earlier this year, Mr Batra hit the headlines when a three-year legal challenge resulted in the publisher Penguin Books India agreeing to recall all copies of The Hindus: An Alternative History by Wendy Doniger, a professor at the University of Chicago.
Last week, he was back in the news after another publisher, Orient BlackSwan, said it was suspending publication of several titles for further review, after receiving a legal letter from Mr Batra's influential organisation, the Committee to Save Education.
"If our lawyers advise us that certain books may be likely to be seen as violating one or more provisions of the law we will... pause and assess," said executive Mimi Choudhury. "We have had to take an extremely difficult decision, keeping in mind current laws, as suggested by our legal advisers."
Mr Batra, a tall, polite man who works from an office above one of his organisation's schools in west Delhi, said he had challenged Professor Doniger's book on its intent and content. He said the book, which looks at some of the lesser-known stories of Hindu mythology and its sacred texts, contained factual errors and bias.
His legal action claimed that Professor Doniger was jaundiced and her approach was that of "a woman hungry of sex". "I want to present it in a proper light," he said. "We do debate, but we try to stop those things that are wrong."
Mr Batra's latest challenge was against a school textbook, From Plassey to Partition: A History of Modern India, by Sekhar Bandyopadhyay. He claimed it was defamatory to the Rashtriya Swayamsevak Sangh (RSS), a Hindu nationalist organisation inextricably linked to India's ruling Bharatiya Janata Party (BJP) and which both himself and India's prime minister, Narendra Modi, were once members of.
Mr Batra has made 10 legal challenges so far. The law being cited by Mr Batra, who during a previous BJP government in the late 1990s helped push educational reforms that sought to add a Hindu nationalist perspective to the curriculum, is section 295a of the Indian Penal Code. The Act makes criminal "deliberate and malicious acts, intended to outrage religious feelings".
Penguin initially fought the issue but eventually capitulated, citing among other reasons a "duty to protect its employees against threats and harassment". "We believe the Indian Penal Code will make it increasingly difficult for any Indian publisher to uphold international standards of free expression without deliberately placing itself outside the law," the publisher said.
Penguin's decision sparked widespread debate, with many fearing that India's commitment to debate and academic free speech was being eroded. Some agreed the law was to blame, others said Penguin should have fought Mr Batra in a higher court. Some authors went as far as to end their contracts with the publisher.
"The courts have always held up freedom of expression, but these cases allow people like Batra to organise against perceived affront," said novelist Omair Ahmad, who broke from Penguin over the issue. "Writers, publishers and others need to pool resources and challenge the laws that are central to Batra's attacks. Just giving in has only emboldened Batra and others."
In the latest case, Orient BlackSwan has not agreed to stop publishing the history book that Mr Batra claimed was defamatory. Yet it has suspended publication of "several" other works for further review. Among those being set aside is Communalism and Sexual Violence: Ahmedabad Since 1969, by Indian academic and Rhodes scholar Megha Kumar. The work looks at the incidence of sexual violence during three communal clashes in the Gujarati city.
In its letter to her, Orient BlackSwan said: "Quite apart from the legal proceedings, our concern is that our authors, our staff and the families of both, could be exposed to the risk of violence."
Dr Kumar, now part of the global analysis firm Oxford Analytica, said she had not been told who would be reviewing her already peer-reviewed book or how long it would take. She was consulting a lawyer to examine Orient BlackSwan's obligations as a publisher. But she said the publisher's move over a book for which it had not even received a legal complaint was deeply disturbing. "India has a vibrant tradition of discussion," she said. "What does this mean for the future of research?"
India is no stranger to books being banned. In 1988, under the leadership of Congress prime minister Rajiv Gandhi, it banned Salman Rushdie's The Satanic Verses. In 2011, the western state of Gujarat, where Mr Modi served four terms as chief minister, blocked the sale of Pulitzer-prize-winning Joseph Lelyveld's book about Mahatma Gandhi.
Register for free to continue reading
Registration is a free and easy way to support our truly independent journalism
By registering, you will also enjoy limited access to Premium articles, exclusive newsletters, commenting, and virtual events with our leading journalists
Already have an account? sign in
Register for free to continue reading
Registration is a free and easy way to support our truly independent journalism
By registering, you will also enjoy limited access to Premium articles, exclusive newsletters, commenting, and virtual events with our leading journalists
Already have an account? sign in
Join our new commenting forum
Join thought-provoking conversations, follow other Independent readers and see their replies