4 3 2 1 by Paul Auster, book review: At 1.23 kilos you can barely pick it up
Paul Auster's hefty book of 866 pages, about a New Jersey man who leads four parallel lives, requires a great deal of concentration and commitment from the reader, but is well worth getting stuck into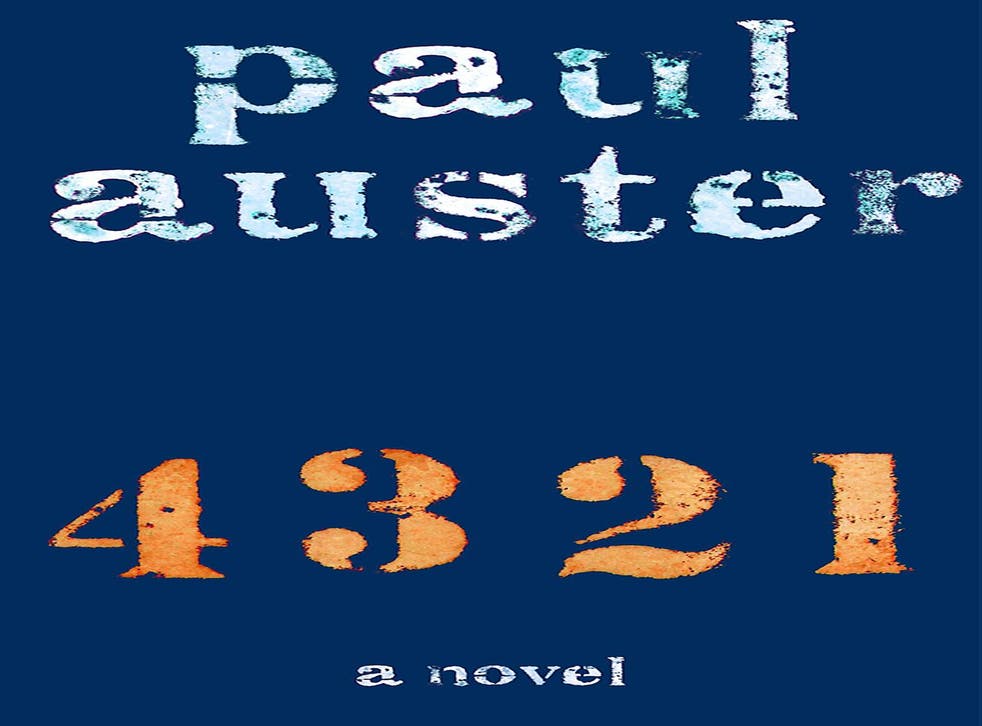 You cannot pick up Paul Auster's 4 3 2 1 without registering that it looks exactly like a book that has taken the best part of 10 years to write would look. In fact at 1.23 kilos you can barely pick it up at all. It is a colossus of a thing.
The reason for its significant heft is that popular device "what if…", when a story has one of a number of possible outcomes (think Sliding Doors or Kate Atkinson's Life After Life). It stands to reason that exploring them all will inevitably take more space than your standard linear narrative. Not that you necessarily know this is what the author has in mind when you begin. For this reason you need your wits about you from the off.
In the first chapter (1.0) a brief backstory introduces Isaac Reznikoff, a dispossessed Russian Jew from Minsk who arrives in New York Harbour aboard the Empress of China on the first day of a new century. By the time he sets foot in his adoptive country he has acquired a new name – Ichabod Ferguson – and in short order thereafter a wife and three sons. At the close of this chapter we meet his grandson Archie Ferguson. A family saga, then.
Yes and no. In chapter 1.1 infant Ferguson explores his world, liking some bits (his photographer mother Rose) more than others (his hardworking but shy father Stanley). There are a vast number of other family relations including Stanley's feckless brothers Lew and Arnold and a failing business that Stanley tries to hold together and Lew and Arnold do their best to bleed dry. By chapter 1.2 Ferguson is still an infant but the story has rewound and the role of the chapter headings becomes clear.
The characters are the same but are now set on an entirely different course. Ferguson, a precociously articulate child, gets to the nub of the plot after falling out of a tree and breaking his leg in 1.2: "if the branch had been one particle of an inch closer to him, it wouldn't have been stupid. If Chuckie hadn't rung his doorbell that morning and asked him to come outside and play, it wouldn't have been stupid. If his parents had moved to one of the other towns...".
Characters come and go. In some chapters they take centre stage, like the vivacious cousin Francie and the free-spirited aunt Mildred, all of them following different trajectories of their own. Throughout Ferguson is always wise beyond his years, as if having four lives running simultaneously brings with it a corresponding worldliness and maturity. The constants are his love for his mother and the sometimes requited, sometimes not, love for Amy, a cousin and occasional step-sister, and his irrepressible literary ambitions.
As he negotiates the tricky paths of adolescence and kissing anything that moves progresses to more intense couplings, the leitmotifs of Ferguson's four lives play out against a backdrop of pivotal social and political upheaval.
So what do we learn about a story that delivers one life four different ways? What was the point? Auster's narrative is never anything less than stylistically assured, his humour and humanity perfectly balanced. But did we really need four when one, arguably, would have done just as well? Possibly not, but although the 866 pages demand a singular investment in time and commitment from the reader, as a sophisticated and ambitious exercise in structure and plot, 4 3 2 1 has much to recommend it.
'4 3 2 1' by Paul Auster (Faber & Faber, £20 hardback)
Join our new commenting forum
Join thought-provoking conversations, follow other Independent readers and see their replies