Becoming by Michelle Obama, review: It's humbling and affirming to bear witness to the makings of the former first lady
'I found myself lifting my jaw from my chest at the end of every other chapter,' says Kuba Shand-Baptiste of Obama's memoir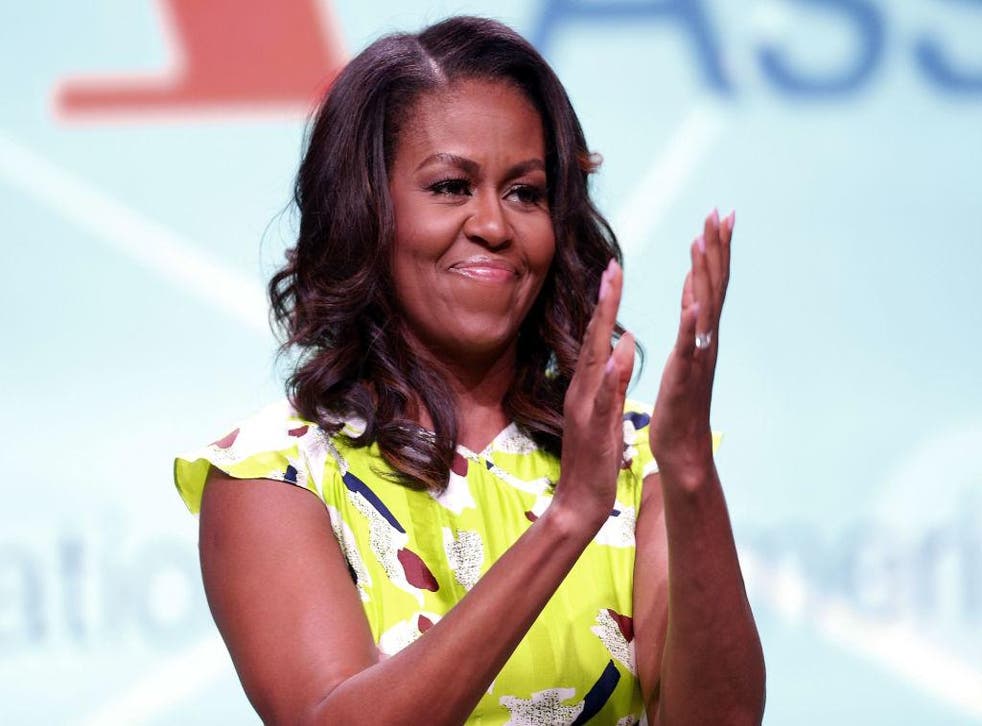 With the full weight of Trump's presidency on our shoulders, there's something devilishly comforting about losing yourself in a book that so effortlessly pulls you out of today's hellscape and thrusts you back to what, comparably at least, seem like the good old days.
Tempting as it may have been for Michelle Obama to resort to romanticising both her and America's past, in her highly anticipated memoir, Becoming, she instead analyses candidly. Which says a lot, these days.
She takes us through her life from Michelle Robinson, the South Side Chicagoan who relished Stevie Wonder's Talking Book at the height of white flight just as much as she enjoyed talking back to steely adults, to the unflappable former first lady we know her as. It's both humbling and affirming to bear witness to the very human makings of Obama.
This could be – up to a certain point, of course – anyone's story, notably any black woman's story. Naturally gifted as Obama clearly is, her choice to divulge small joys like opening windows wide (a luxury she couldn't enjoy in the White House), her lack of patience with politics, or running through fields with ex-boyfriends at college for the sheer fun of it, is what makes this such an honest endeavour.
Reading about her (at one stage) unrelenting imposter syndrome – which forced her to turn the phrase "not enough, not enough", over in her mind "like a malignant cell that threatened to divide and divide again" throughout her life – was a revelation I didn't know I needed. I found myself lifting my jaw from my chest at the end of every other chapter, not because of any seedy insight into stories I'd always wondered about, but because, armed as I was with knowledge about her career, her mannerisms and even her elbow-heavy dancing, this was not the Obama I thought I knew. She was more.
There's girlish excitement in the way she talks about her first loves. This, and other revelations – of feeling indebted to parents whose hopes and dreams had been poured into her brother Craig after the remnants of slavery and the Great Migration stunted theirs; her experience of motherhood, pregnancy complications, miscarriage and IVF; and later, knowing what it meant to navigate all of those things on as public a stage as you can get – were especially illuminating.
Her decision not to hold back on calling the current president "a bully" who "among other things demeaned minorities and expressed contempt for prisoners of war, challenging the dignity of our country with practically his every utterance", too, was welcome – although not as much of a surprise.
But it was good all the same, to see someone, especially her, remind us of the importance of continuing to highlight the "painfully familiar" sense of "menace and male jocularity" in his voice, a voice that, in the famous Access Hollywood "grab 'em by the pussy" tape, betrayed: "I can hurt you and get away with it."
Each chapter of Becoming reads like a window into a humanised, nuanced version of America that has always existed, but is increasingly sidelined by mentalities like those.
Like a number of western nations with similar histories, it's a country as full of interpersonal love as it is of a national, lurking, multiplying fear – an existence as inseparable from its historical horrors as it is from its achievements.
Not only does Obama know that, but she leans into it, understanding full well just how much ongoing discrimination in America has "altered the destinies of generations of African Americans", how code-switching, and, most importantly, how allowing herself to become whatever version of herself she willed – and not what she was supposed to be – was central to her survival.
Becoming is published by Viking
Support free-thinking journalism and attend Independent events
Join our new commenting forum
Join thought-provoking conversations, follow other Independent readers and see their replies