Big Sky by Kate Atkinson review: The return of Jackson Brodie is an exuberant, entertaining read
After a nine-year hiatus, Atkinson returns to the gruff-but-loveable private detective Jackson Brodie, who in the intervening years has been played onscreen by Jason Isaacs in 'Case Histories'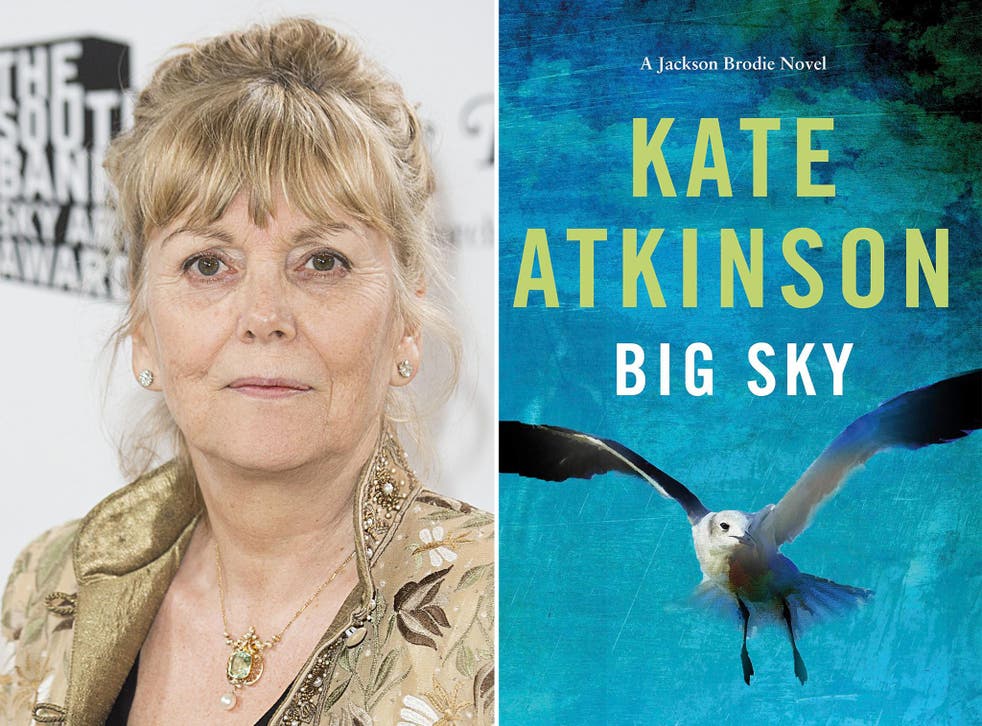 Jackson Brodie has been away for nine years – but now Kate Atkinson's private detective (played by Jason Isaacs on screen in the intervening years in Case Histories) is back, older too and somewhat world-weary. But he's still got a habit of ending up in the thick of things – and in this case, in a thicket of very tangled plot strands. Almost every character (and there's quite the cast) has a history that simply won't stay put: "The thing about the past was that, no matter how far you ran or how fast you ran, it was always right behind you, snapping at your heels."
Working out how their histories intertwine is the work of not only Brodie but also a winning pair of young female detectives, Ronnie and Reggie. And for the reader: Atkinson throws in many entertaining diversions, and a fair few juicy red herrings.
The crimes at the centre of Big Sky are of a particularly nasty, and rather topical, variety: a historical investigation into a paedophile ring of elite, establishment figures is reopened, while an active company traffic young women into the UK. Yet while Big Sky never makes light of such depravity, it also makes for an exuberant, entertaining read.
Set across seaside towns along the Yorkshire coast – Whitby, Scarborough, Bridlington – Atkinson squeezes all the sleaze she can from a world of grotty arcades, dubious tourist attractions and rundown theatres: the paedophile ringleaders, Bassani and Carmody, made their money through fairgrounds and an ice cream empire, because of course they did.
The 25 best books by women

Show all 25
Into this seedy milieu, Atkinson places various plucky underdogs. As well as the gruff-but-loveable Brodie, there's the luckless Vince, a "middle-aged, middle-of-the-road, middle-class man" who's been booted out of his job, and his marriage to a vicious, grasping wife. Atkinson also seems to skewer the "trophy wife" of Tommy, one of Vince's golf buddies: Crystal is described as "a construction made from artificial materials – the acrylic nails, the silicone breasts, the polymer eyelashes", and has a dark past that's heavily alluded to. But she's both wilier and kinder than first presented, while her bookworm teenage stepson Harry provides another decent soul to root for in a despairingly venal world.
But Atkinson's work is always playful, and there's a brisk, jaunty tone to Big Sky and much dry observational comedy. Her characters have their own, distinctly British gallows humour, and there are blackly comic asides in even the most heinous of situations ("You would have thought that getting divorced from a woman would free you from the obligation of identifying her corpse, but apparently not," goes one typical grumble).
If Atkinson's crime writing has at times raised eyebrows for its reliance on coincidence, it also faces up to that with a sly wink: "A coincidence is just an explanation waiting to happen," goes Brodie's repeated truism. In fact, many of the plot strands are here tightly and cunningly braided together – but there are still coincidences, not least in the arrival of Reggie Chase, last seen as a teenager in a previous Atkinson novel, When Will There Be Good News?
She's a welcome addition here, however, forming half of a terrifically deadpan double act. The "spick and span", petite and neat Ronnie and Reggie – both liable to be criminally underestimated – provide a foil to the sordid corruption that oozes through the book. Surely a spin-off is in the offing.
We do, however, get more of Reggie's back story than we strictly need. There's a lot going on in Big Sky, and it can get bogged down in allusions to previous stories, especially from Brodie's past (often delivered in parentheses). These half unpotted case histories feel unnecessary for existing fans, cumbersome for new readers.
Atkinson is on surer territory with new characters – she has an almost cruel ability to capture a person in a line or two. On Vince's Bonsai-growing wife Wendy, for instance: "She shopped from the Boden catalogue and was proud of having grown a horrible stunted little tree." But you also come to really know and love (or loathe) many of them. While this focus on character means Big Sky can lack the relentless propulsion associated with crime writing, getting to know a plethora of her tenacious, memorable characters seems like a fair trade, especially as they gently offer hope that, in the end, good will out.
Big Sky by Kate Atkinson is published on 18 June by Transworld, £16.99
Join our new commenting forum
Join thought-provoking conversations, follow other Independent readers and see their replies