Birth of a Bridge by Maylis de Kerangal; translated by Jessica Moore; book review: An extraordinary construction from a distinctive voice
Each of the character's histories is laid down in muscular, breathless prose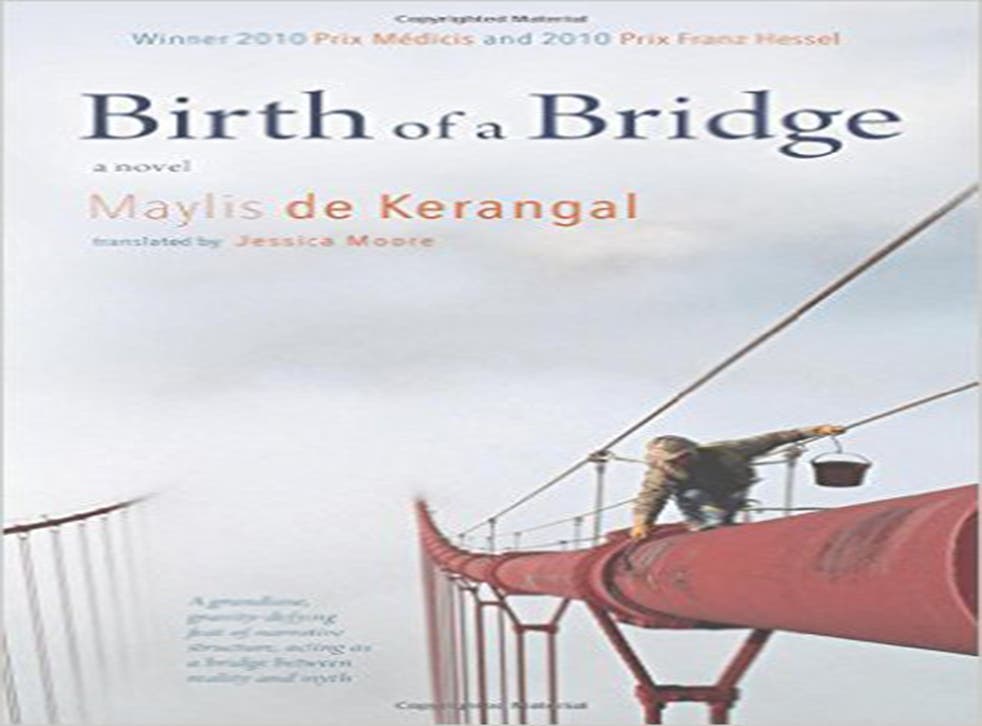 Not far into Maylis de Kerangal's extraordinary novel the narrator highlights the ambivalence the reader might be feeling: "The bridge against the forest, the economy against nature, movement against immobility – you wouldn't have known who to cheer for". This is the tension we're led to feel throughout the book, caught between admiration and revulsion, as we witness each stage in the construction of a 200m high, six-lane suspension bridge in northern California. The bridge is often presented as a symbol, while simultaneously the narrator gently punctures the pretension of such a highfalutin conceit. Yes, as in Hart Crane's classic poem "The Bridge", the achievement this structure embodies is of America, and more widely, of progress, ambition and human endeavour, but it's also just a bridge.
Coca, a make-believe nowhere place nestling between high plateaux, is recognisable only for its generic characteristics and universality. The new mayor, John "The Boa" Johnson, has towering ambitions for his town whose economy and prestige would boom with the addition of a bridge that "will emblazon the city with an avenging optimism, a new affirmation". So the project is put out to tender, eventually won by an international consortium that tasks Georges Diderot with running the site.
Despite his philosopher namesake, this hard-drinking taciturn Breton couldn't care less for the abstractions personified in Ralph Waldo, the architect whose artistic vision is that the bridge be an "interpretation of the landscape". Likewise, we vacillate between a sense of mythic symbolism of the bridge and a simpler admiration for it as a feat of engineering.
So the whole world converges in Coca seeking work. Carpenters, welders, laid-off factory workers, immigrants, drifters, riveters and desperados descend on the town as in a gold rush. Other memorably named characters are: Katherine Thoreau, Diderot's love interest; Shakira Ourga, the leggy Russian driver who has an affair with crane operator Sanche Alphonse Cameron; and Soren Cry, the loner with the dark secret.
Everyone is in flight from something or trying to forget, and each of their histories is laid down in De Kerangal's muscular, breathless prose. The short passages that make up the text build, piece by piece, like the frame of the bridge itself.
The way De Kerangal uses imagery is unusual, compressing description into tense vignettes. This is her first book to be translated into English. Hopefully we won't have long to wait for more.
Order for £14.99 (free p&p) from the Independent Bookshop: 08430 600 030
Register for free to continue reading
Registration is a free and easy way to support our truly independent journalism
By registering, you will also enjoy limited access to Premium articles, exclusive newsletters, commenting, and virtual events with our leading journalists
Already have an account? sign in
Register for free to continue reading
Registration is a free and easy way to support our truly independent journalism
By registering, you will also enjoy limited access to Premium articles, exclusive newsletters, commenting, and virtual events with our leading journalists
Already have an account? sign in
Join our new commenting forum
Join thought-provoking conversations, follow other Independent readers and see their replies