Book review: 'A Highly Unlikely Scenario: Or A Neetsa Pizza Employee's Guide To Saving The World' by Rachel Cantor
A riff on a cosmic joke turns this space comedy into something far greater
James Vincent
Sunday 19 January 2014 01:00 Comments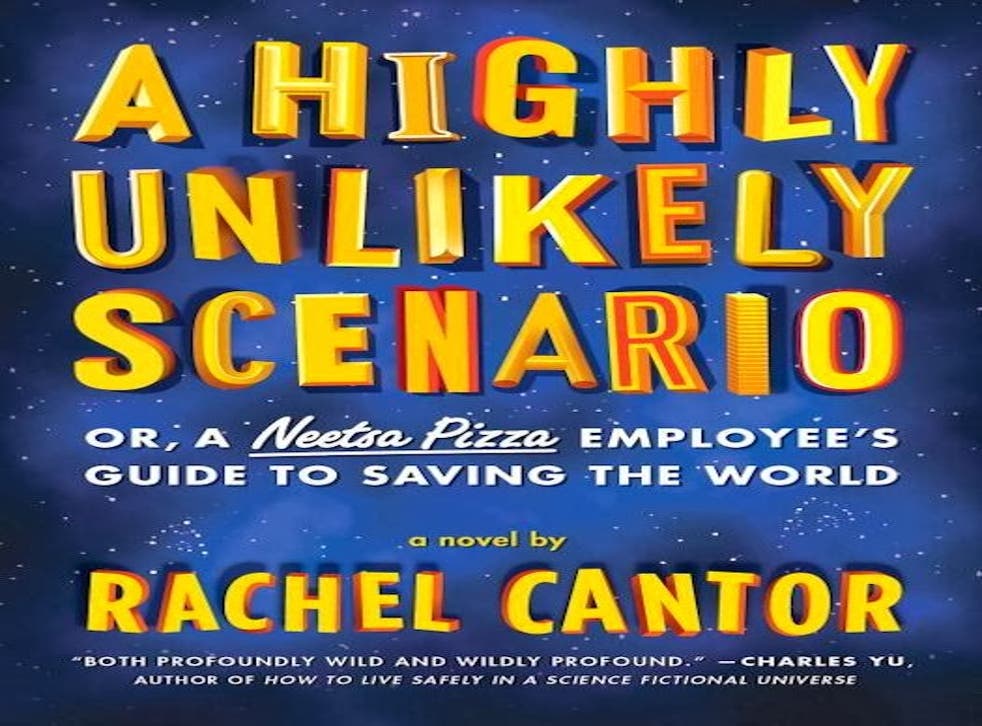 I can't think of many genres more easily maligned than "space comedy". Perhaps 2013 offered a competitor in the form of "dinosaur erotica", but even that managed to capture something of the self-publishing-and-sticky-thrills zeitgeist. For this reason, I should start by assuring readers exactly what A Highly Unlikely Scenario – a debut novel from Rachel Cantor compared in its marketing spiel to Douglas Adams's peerless Hitchhiker's Guide to the Galaxy – is not. It's not wacky. It's not a romp. It's not "English". It is very good.
Set in an unspecified country in a not-too-distant future, the novel follows Leonard (second name also unknown) a customer service rep for the "Pythagorean" fast-food chain Neetsa Pizza. Leonard spends his time placating irate customers with discount vouchers and displays of Neoplatonist Total Compassion until his happy, boring life is capsized by a phone call from the 13th century and he finds himself up to his neck in Kabbalists, conspiracies and time travel. He might even have to save the world.
This summary suggests that all the elements are in place for some light space comedy, but Cantor refuses to fulfil the expectations of the genre. There is time travel involved but it's never explained how it happens; and although Leonard has saved the world by the end of the novel, it's not clear how he did it, or even why. In A Highly Unlikely Scenario the reader is never shown anything dead-on; events are constantly taking place out of the corner of your eye.
This style helps shape our understanding of Leonard, a Candide-like naive who is both trusting and trying in his simplicity. As he stumbles about at the behest of others, aspects of his wider world are only briefly outlined, such as, for example, the casual amalgamation of fast-food chains and political parties – a conceit which includes warring factions such as the Jacobin Jack-o-Bite franchise, the monarchist Food Court and the Whiggery Piggery. And although Cantor never fully embraces the schematic and satirical pleasures this sort of world-building affords, she also avoids stalling her brilliant ideas by serving up every single detail.
Instead, she chooses to focus on her characters, all of whom can be as frustrating and intriguing in their simplicity as Leonard. It's not that they're thinly characterised but rather that they all seem so wrapped up in their own desires and motivations that they operate independently of one another, dialogue bouncing back and forth but rarely connecting. The resulting novel can be disjointed at times, but it also exceeds our expectations of the genre by properly reflecting the surreal and anarchic nature of the universe. Not space comedy then, but a riff on a cosmic joke – the idea that any of us knows what's going on.
Register for free to continue reading
Registration is a free and easy way to support our truly independent journalism
By registering, you will also enjoy limited access to Premium articles, exclusive newsletters, commenting, and virtual events with our leading journalists
Already have an account? sign in
Register for free to continue reading
Registration is a free and easy way to support our truly independent journalism
By registering, you will also enjoy limited access to Premium articles, exclusive newsletters, commenting, and virtual events with our leading journalists
Already have an account? sign in
Join our new commenting forum
Join thought-provoking conversations, follow other Independent readers and see their replies