Book review: Expo 58, By Jonathan Coe
Swinging, snooping Brussels is the odd backdrop to this artful comedy of postwar manners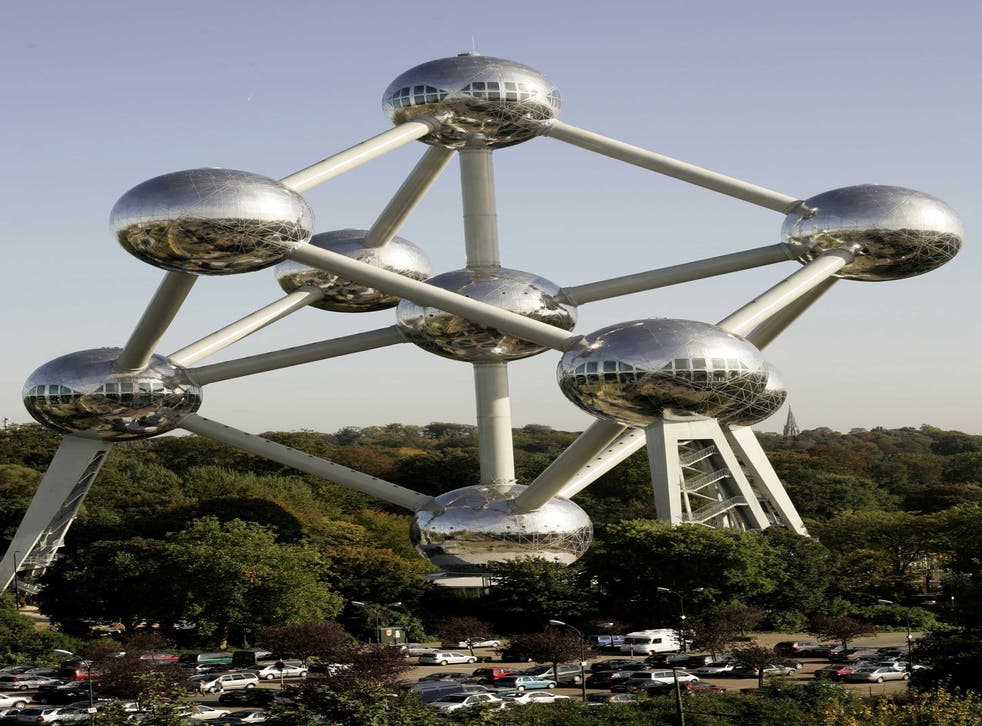 Jonathan Coe's tenth novel begins with historical fact. There was indeed an Expo (Exposition, or World's Fair) in 1958, hosted by the Belgian government on the Heysel plateau just north of Brussels. It was the first to be held since the Second World War and its defining sight was a gigantic structure called the Atomium, 300 feet high and built to resemble the unit cell of an iron crystal: a symbol of the connectedness of nations. The intention of the Expo was to show off the contributing countries' achievements in arts, science and technology, and to develop "a genuine unity of mankind". This high ambition suffered a real-life setback when the Russians accused the Americans of pinching their Sputnik model.
Get money off this title at the Independent book shop
The Sputnik incident doesn't feature in Coe's fictional account of the Fair. But he has seized with a kind of restrained English glee on the comic possibilities offered by a postwar gathering of nations showing off their wonderfulness in supposed harmony. Leading us through the fair is Thomas Foley, 32, handsome, married and restless; he works for the Central Office of Information, writing pamphlets to alert the public to the safest way to cross a road. Thomas's father ran a pub, and his mother is Belgian. So when the Foreign Office decides that, among the emblems of Britishness in the British Pavilion, there should be a mock-up of an English pub called The Britannia, Thomas is the natural choice as overseer.
Coe's Expo is a place of resplendent fakery. The Parc des Attractions features a fake Bavarian beerhouse with lederhosen-clad orchestra and foaming tankards. The host country lays on a "living museum" or fake village, La Belgique Joyeuse ("Gay Belgium".) Thomas's friend Emily, from Wisconsin, is employed in the American pavilion to demonstrate to awestruck Russians the range of US labour-saving devices by Hoovering all day long in a mocked-up sitting-room. And as Thomas meets hostesses, delegates, barmaids, scientists and assorted visitors, it gradually dawns on him that hardly anybody is who they seem.
Hints of espionage prickle like static. Secrets are being passed to the Russians but nobody knows how. Warnings are murmured in Thomas's ear by chaps in suits. One day he is abducted, blindfolded and has a gun pressed to his ribs. He falls in love with a Belgian hostess, but is told to romance a different girl, in order to steer her from the clutches of handsome editor Andrey Chersky, who may be KGB…
It's a rich and splendidly comic confection. Coe doesn't avoid clichés in depicting the late 1950s – he delights in them, and draws them, postmodernistically, from a dozen sources. His narrating voice is studiedly old-fashioned, guarded, mildly bigoted: "Thomas turned to get the measure of this speaker for the first time. With one remark, all his prejudices about Americans had been confirmed. The man was young, in his late twenties or early thirties and his hair was crew-cut…" Characters say things like "Tickety-boo" and "I don't quite see what you're driving at, old man." Others, like hard-faced platinum blonde barmaid Shirley Knott (geddit?), seem to have strayed from a Carry On film.
It's no surprise to find that Thomas, up to his neck in spies and temptresses, is reading From Russia With Love, published in 1957. A pair of Foreign Office suits who pop up to advise or warn Thomas in antiphonal cross-talk are called Radford and Wayne, a nod to the actors Basil Radford and Naunton Wayne who played the cricket-obsessed buffers Charters and Caldicott in Hitchcock's The Lady Vanishes. And the story is decidedly Hitchcockian: there's a McGuffin (the "Zeta machine", which disappears) and the plot often hangs on tiny ephemera, including a corn plaster and a crisp packet. The whole novel is an amusing echo-chamber of allusions.
Coe thickens the texture with a sub-plot involving Thomas's mother-in-law's attempt to confront the gruesome past when German soldiers razed her idyllic Belgian village. In the last chapter, he fast-forwards the action to 2009, to reveal the characters' fates and dramatise a poignant encounter between Thomas and a woman from Expo 58. But these darker hues sit rather uncomfortably beside the bright pastel colours of the main events: Europe's emergence from her dreadful past, and Thomas's glimpse of a new neo-Sixties world of reckless hedonism, galaxies away from Sunday lunch in Leatherhead.
Register for free to continue reading
Registration is a free and easy way to support our truly independent journalism
By registering, you will also enjoy limited access to Premium articles, exclusive newsletters, commenting, and virtual events with our leading journalists
Already have an account? sign in
Register for free to continue reading
Registration is a free and easy way to support our truly independent journalism
By registering, you will also enjoy limited access to Premium articles, exclusive newsletters, commenting, and virtual events with our leading journalists
Already have an account? sign in
Join our new commenting forum
Join thought-provoking conversations, follow other Independent readers and see their replies